Ahead of the game
Share - WeChat Appropriate housing is key to winning competition for China's young talent workers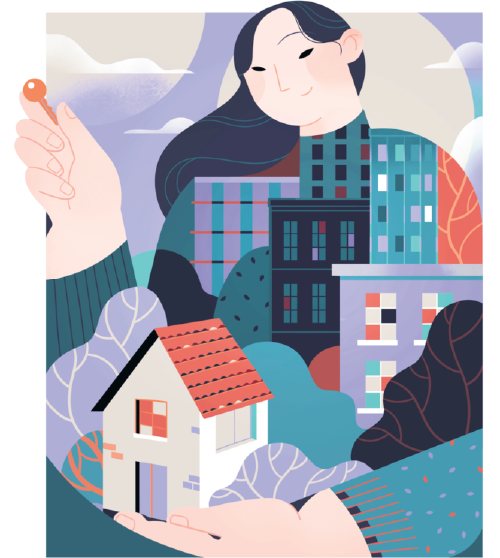 China continues to urbanize rapidly, reaching 65 percent urbanized by the end of 2022. Such a revolutionary change in the distribution of the population has called for exceptional policy innovations to accommodate the hundreds of millions of rural-to-urban migrants. But while such urbanization has been rapid, the reversal in China's population growth has been even more sudden. Recent reports in January 2023 show that the overall population declined by 0.06 percent last year. The population decline will have a long-term impact that will be magnified in China's largest cities.
Faced with the challenge of a population decline, China's principal cities will increasingly depend on the net in-migration of "talent", the highly skilled men and women, often with graduate degrees in science, technology, engineering and mathematics disciplines. One of the key elements in the competition for talent is the development of public housing programs for skilled professionals at the start of promising careers.
It might be asked, why is it necessary to apply public funds to the housing of talent workers? First, in China's largest cities such as Beijing and Shanghai, quality housing has become unaffordable for most early-career talent workers. To compete for talent, employers need to subsidize housing costs and work with municipalities to fund this expense. Subsidized housing for talent workers is essential if cities are to attract and retain leading-edge employers such as research laboratories, high-tech companies and other knowledge-intensive establishments. Thus, policies to provide quality and price-suitable housing for young talent workers have become a priority for cities as they manage the transformation to a knowledge economy.
China has recently announced its completion of the largest affordable housing system in the world and improvement of housing conditions of over 200 million people. Since the late 2000s, Chinese cities have gradually developed public rental housing (PRH) for new urban residents, including young talent workers, who cannot afford market housing yet are not eligible for low-income affordable housing. By the end of 2021, the PRH accommodated 38 million residents, and megacities had constructed millions of PRH units. Shenzhen is one of the foremost cities providing the PRH and plans to build at least 1.2 million public housing units, mainly for talent workers, by 2035. Shenzhen, like other Chinese megacities, has established a novel approach to allocating much of this housing. Instead of allocating individual housing units to people in need through some form of city housing authority as in the West, Shenzhen city government rents out large blocks of public housing to employers who become responsible for allocating each unit. But this model of housing allocation may not be optimal in terms of equity or efficiency.
Public housing for talent workers is planned for individual employees. However, many talent workers have spouses, and they often have children requiring childcare from grandparents, all living in an extended three-generation family setting. The public-private space of the gated enclosure accommodates a variety of recreational activities and social interaction for all three generations. Unlike the anonymity that is said to characterize high-rise apartment complexes in the West, we have witnessed a rich social network reminiscent of traditional danwei housing. Like most residential communities (xiaoqu) in urban China, the complex is secured and gated, which contributes to community formation despite the challenge imposed by verticality in residential tower blocks that are growing ever higher.
Notwithstanding the comfortable, clean, and modern housing units and the vibrant social environment in talent worker housing complexes, many talent workers do not seem to be settling in the urban communities that woo them. We argue, perhaps provocatively, that the talent workers of the new millennium constitute a "new age floating population". Public housing may be regarded as a stepping-stone until something better and more affordable comes along. Public housing programs may help to attract talent workers, but as long as housing prices put property ownership out of reach in cities such as Beijing, Shanghai and Shenzhen, long-term retention of talent is not assured.
The third generation commonly present in these urban extended family households, the parents and in-laws of talent workers who provide grandchild care, exemplify the "drifting elderly", a newly-identified phenomenon in China's cities. They seldom have a local hukou and their future intentions are mixed — many intend to return to their place of origin. Thus, a significant proportion of young talent workers and virtually all the drifting elderly constitute a new age floating population, challenging traditional conceptions of the floating population as an urban underclass. Talent worker housing is planned for singles and couples, yet the multi-generational family structure of talent households (usually four to five persons) has distinctly Chinese characteristics which are poorly served by apartments of 40-to-60 square meters.
The implications of this suggest some important policy directions for China's urban housing policy. First, the long-term retention of talent workers will depend on the provision of accessible and affordable housing for upwardly mobile talent workers. Most talent workers are migrants and the competition for talent will be won by the cities that can offer both suitable employment and housing of a quality and location that satisfies their aspirations. Second, family migration is becoming prevalent, yet housing designs do not seem to acknowledge the short-to-medium term need for grandparents and children to live in proximity to their progeny. Faced with the prospect of a declining population, urban China will depend on the knowledge economy as never before, which requires new policies to attract and retain talent.
Ian MacLachlan is a professor at the School of Urban Planning and Design at Peking University Shenzhen Graduate School. Gong Yue is a professor at the School of Urban Design at Wuhan University. The authors contributed this article to China Watch, a think tank powered by China Daily.
Contact the editor at editor@chinawatch.cn.
Most Viewed in 24 Hours
China Views