Good, bad and ugly of negative growth of population
Share - WeChat Editor's note: Faced with demographic challenges, the Chinese government has made more efforts to implement the national strategy of proactively responding to the low birth rate and population aging, and promote high-quality development of population growth, writes a veteran journalist with China Daily.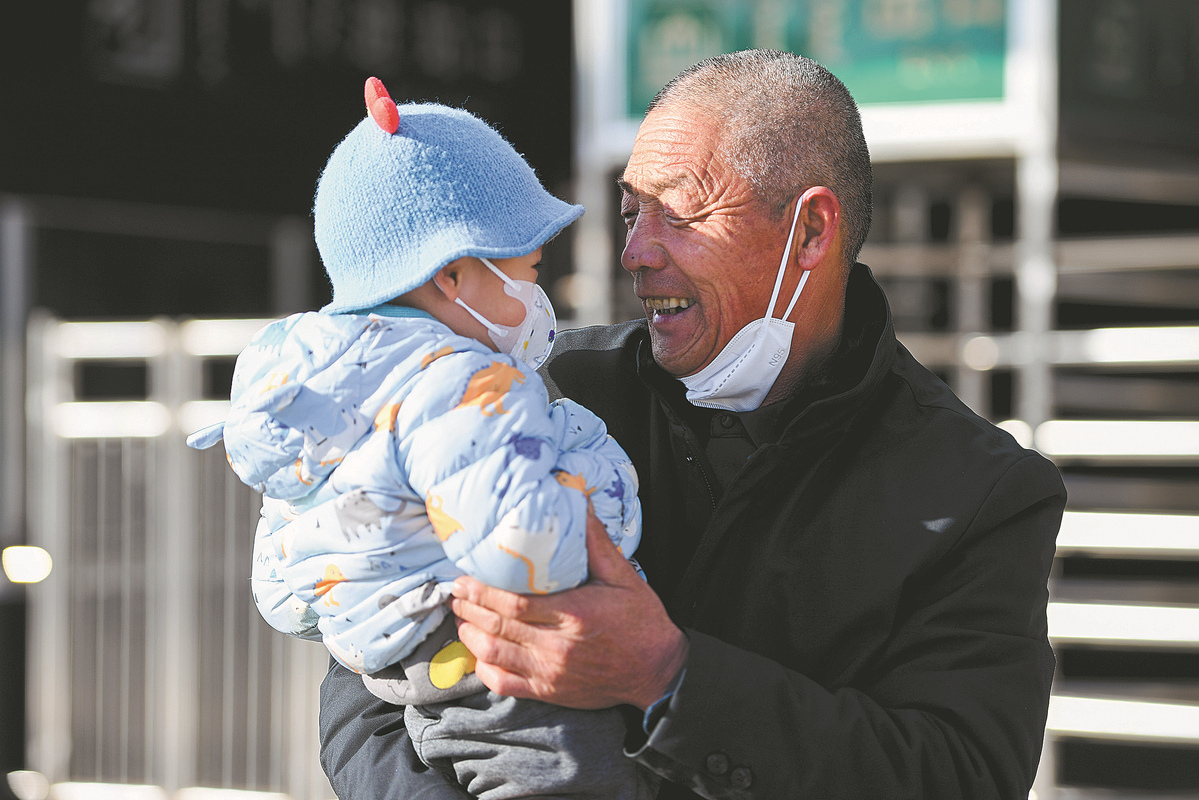 The year 2022 will be remembered as a year when the world's most populous country witnessed negative population growth. According to central government statistics, only 9.56 million births were registered last year while the number of deaths was at 10.41 million, meaning a negative growth of 850,000.
It is the first decline in population in more than 60 years — 1962 was the last time when China, hit by natural disasters such as droughts and floods for three years, reported negative population growth. But while that decline was followed by a baby boom, few demographers expect that to be repeated this time.
China's population growth has been slowing down over the past decades thanks to the country's strict one-child family planning policy implemented in 1982. The policy successfully contained the country's fast population growth, which, if left uncontrolled, could have raised the country's population to 1.6 billion or more instead of the present 1.4 billion.
Realizing that China's population growth was moving downhill, the government started to adjust the family planning policy about 10 years ago, later allowing all couples to have two children. But the expected baby boom didn't happen, leading the central authorities to adjust the family planning policy yet again a few years ago and allow couples to have up to three children.
Despite the government's encouraging measures such as providing tax deductions, cash subsidies, affordable housing and better access to education, including nurseries, couples generally seem reluctant to have more than one child. To many of them, the upper limit is to have two children, especially because childcare and a child's education are very taxing both economically and physically if both parents have to work to run the household.
While population replacement level fertility is 2.1 children per couple, in China it was only 1.3 in 2020.
Now that China's declining population trend is irreversible, it is time governments at different levels adapted to the new situation and worked out their economic and social development policies accordingly. And more preferential policies should be implemented to encourage couples to have more children.
Although such policies may not be able to reverse the declining population trend — as seen in many countries with negative population growth — they could help slow down the slide.
There is also a need to reconsider the existing family policy that allows all couples to "have up to three children", as few couples choose to have three children and the few who do can go ahead and have them anyway.
With China's population declining, policymakers should keep in mind that demographic dividends, which helped turn China into the world's second-largest economy within a few decades, won't last long. So, more investments should be made to improve the quality of education, from kindergarten to university.
About 10 million students enroll in Chinese universities every year. But now that fewer than 10 million babies are likely to be born annually, preparations should be made to merge or even shut down some schools, so the expenditure thus saved can be used to improve education quality.
Pre-school education is the only sector that needs to be expanded, because only about 5 percent of children below three now have access to kindergartens — a big problem that hinders working parents from having more than one child.
With a better-educated labor force, China can expedite its economic structural transition by shifting from labor-intensive growth to high-tech, innovation-led development, which will also help deal with China's rapidly aging population. Statistics from last year show that 14.9 percent of China's population is aged above 65, while according to the United Nations, a country is considered a middle-level aging society if 14 percent of its population is aged above 65. Worse, the UN has forecast that 21 percent of China's population will be aged above 65 in about 10 years.
Vowing to provide a better life for all Chinese people and to realize national rejuvenation before the middle of this century, the Chinese government has a tough task ahead given the new challenge of negative population growth — a challenge it has to take seriously.
kangbing@chinadaily.com.cn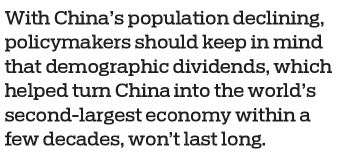 The author is former deputy editor-in-chief of China Daily.
Most Viewed in 24 Hours
China Views