Hopes raised over NI protocol talks
Share - WeChat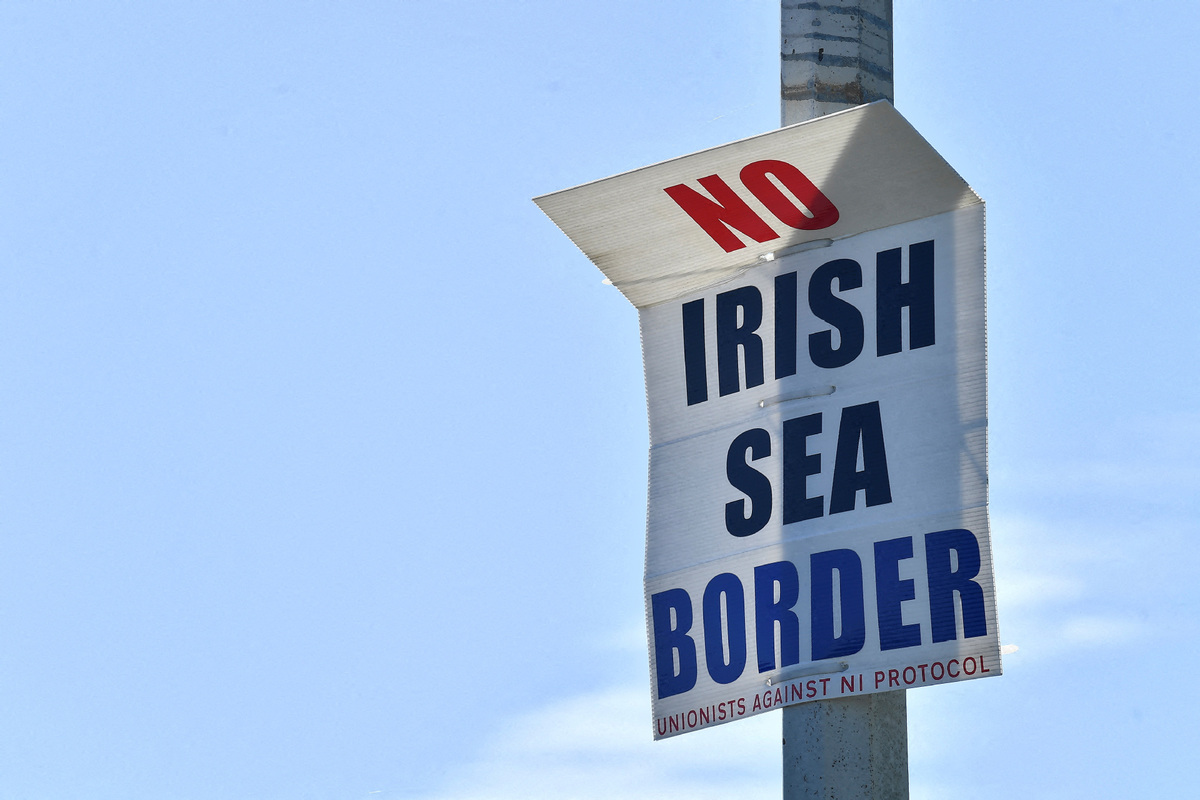 Negotiators from the European Union and British government have reportedly made a breakthrough in discussions over customs checks on goods moving between the British mainland and Northern Ireland, a sign that progress could be being made in the long-running post-Brexit dispute over the Northern Ireland protocol.
The protocol is the legislative arrangement that keeps Northern Ireland, for trade purposes, subject to EU rules and regulations, despite the United Kingdom having left the bloc three years ago.
It was a key part of the withdrawal agreement agreed at the end of 2020, but has since become a major bone of contention.
And the ongoing dissatisfaction and disagreement over it has brought politics in Northern Ireland to a standstill, as well as remaining an unresolved issue on an international level.
But now The Guardian newspaper reports that an agreement is within reach over the issue of food and animal health checks, allowing the introduction of two different customs lanes for goods going over the Irish Sea, with one for goods going from the mainland to Northern Ireland, and another for those moving on to the Republic of Ireland, entering EU territory.
The latest development follows on from January's agreement to share data on goods making the crossing, which the European Commission's chief negotiator, Maros Sefcovic, at the time called "very important" and the product of talks he described as "very cordial".
When questioned by journalists about the latest reported development, Sefcovic was careful with his answer, rather than addressing the issue directly, but indicated that talks were moving in the right direction.
"Progress is being made, but difficulties remain," he said.
"We reestablished trust in the relationship with the UK ... the greater the safeguards we get, the more flexibility the EU can offer."
He went on to describe the progress as "gradual, incremental work".
However, Irish state broadcaster RTE said no major announcements were expected ahead of an EU leaders' summit taking place in Brussels later this week.
Any suggestion of continued EU control over any part of life in Northern Ireland is particularly unacceptable to the Democratic Unionist Party, or DUP, the largest political party representing the province's unionist community, who identify as British rather than Irish, whose political loyalty is to the UK, and who generally support Brexit.
The unresolved issue of the protocol has led to the DUP for the last 12 months refusing to take part in Northern Ireland's devolved assembly, which is run on a power-sharing basis with the nationalist community.
Nationalists identify as Irish and oppose Brexit, but their main political parties have accepted that the protocol needs improvement to make it easier to implement.
DUP leader Jeffrey Donaldson recently said his party wanted to" (replace) the democratic deficit created by the protocol" with "the restoration of democratic decision making" at the devolved assembly.
Following a recent meeting with Micheal Martin, the foreign minister of Ireland, he gave a more optimistic outlook, calling their talks "useful and constructive".