European Union should stop letting Washington play the block for a sucker: China Daily editorial
Share - WeChat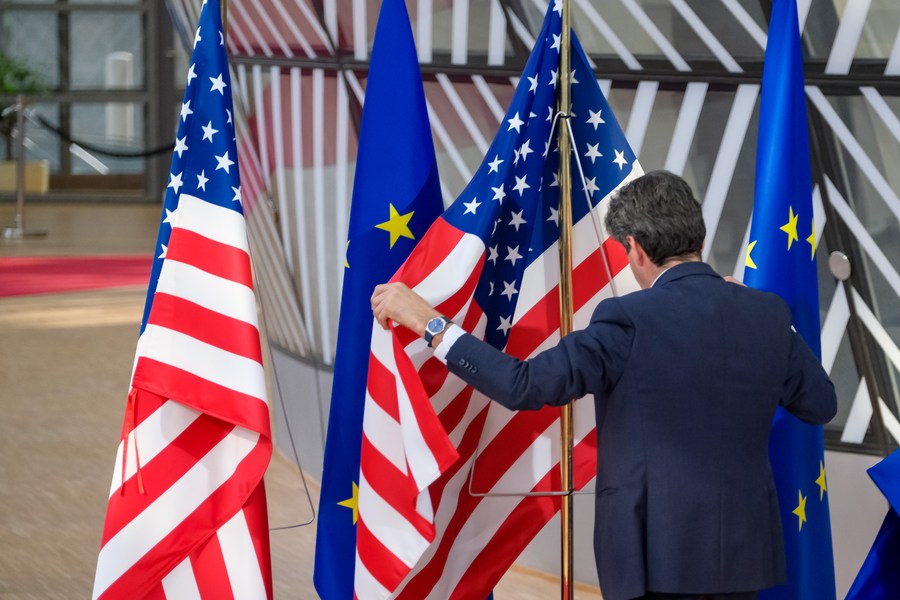 The European Union imposed a ban on imports of Russian diesel fuel and other refined oil products on Sunday, in a bid to limit Moscow's funds for its "special military operation" in Ukraine.
The bloc has joined the US and other allies in imposing a price cap of $100 per barrel on products that trade at a premium to crude, principally diesel, and $45 per barrel for products that trade at a discount, such as fuel oil and naphtha.
There is a 55-day transition period for seaborne Russian oil products bought and loaded before Sunday, the European Council said in the statement, so that the EU can monitor, evaluate and adjust the new price caps to ensure they serve their desired effects.
Given that the measures will reshape the global oil trade and inevitably push up inflation because of disrupted supplies, the EU should take a broader perspective in evaluating the measures' effects to include those impacts, rather than only focusing on the reduction of Moscow's revenue from its oil trade. That will provide it with a bigger picture to help weigh the gains and losses of the sanctions, as well as the sanctions' overall effects.
The EU should also bear in mind that almost one year on, contrary to their desires, the sanctions being imposed on Russia as well as the increasing military assistance being provided to Ukraine have not brought an end to the conflict, but only served to continuously escalate the tensions and generate strong global spillover effects instead.
And that while the prolonging of the conflict has caused an acute energy shortage in Europe and food shortages in less-developed countries, raised inflation worldwide and damaged global supply chains, the US has benefited tremendously, on both the commercial and strategic levels.
The easing of the energy shortage in the EU, largely thanks to various channels through which it imports Russian energy, steering clear of its own sanctions, and the overall adjustment of the oil producing countries to fill the gap, by no means indicates it has become less reliant on energy imports or has more space to roll out new sanctions.
Also, since there are many countries and regions not taking part in the sanctions, there is still a broad market for Russian oil and gas, particularly Asia, Africa and Latin America.
The Ukraine crisis should and can only be resolved through peaceful dialogue. And what will bring Moscow and Kyiv to the negotiation table will not be extreme pressure on Russia and military assistance to Ukraine, but the sincere efforts to build a lasting peace mechanism in Europe.
If the EU continues to pretend to be blind to the fact that its interest and that of the US divert on the issue, as it is the US that has continuously taken advantage of the Ukraine crisis to weaken Russia and tighten its grip of Europe, it will always be taken for a ride by the US.
Most Viewed in 24 Hours
China Views