Opinion: US shooting down airship a blatant provocation
Share - WeChat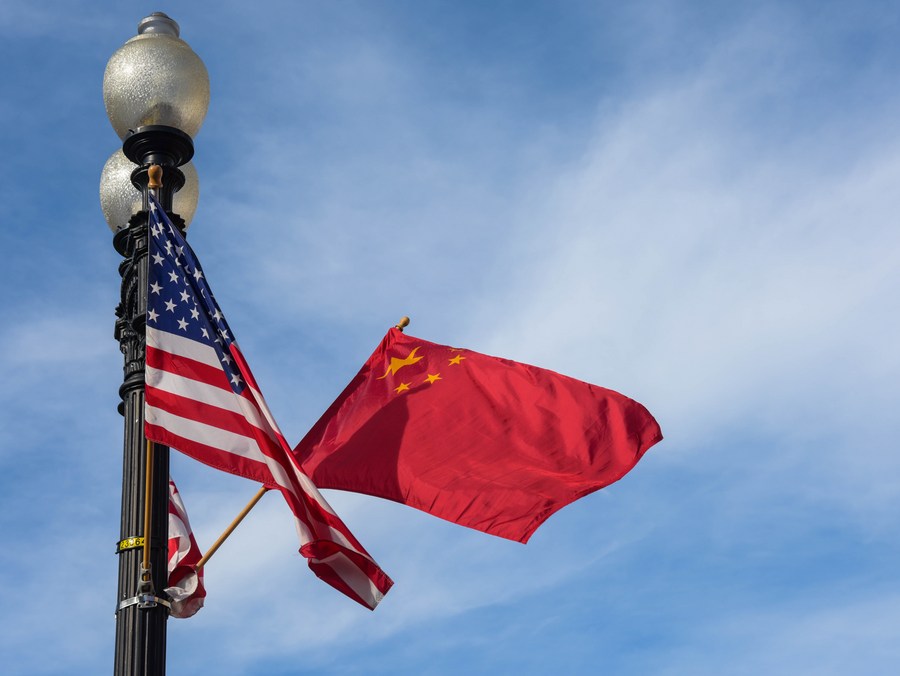 Editor's note: On Sunday, the Chinese Foreign Ministry expressed its "strong dissatisfaction and protest" against the US for shooting down its balloon. The US shooting was a blatant provocation. Three experts share their views in this regard with China Daily. Excerpts follow:
US should pay a price for shooting down airship
The Pentagon has confirmed that the US military has shot down the suspected Chinese "spy balloon" after it drifted off the East Coast near the Carolinas, which is a blatant provocation. The US should pay a price for what it did.
Earlier on Friday, the Chinese Foreign Ministry had confirmed that the entity seen over Montana was a civilian airship from China used for research, mainly for meteorological purposes. It deviated far from its planned path due to the Westerlies and its limited self-steering capability. A Chinese civilian balloon deviating from its path and straying into the skies over the United States because of force majeure does not constitute infringement of sovereignty.
Instead, the US has many a time encroached into Chinese sea and air space on purpose in the name of freedom of navigation and overflight. It's the US provocations that should not be indulged by any means.
On Saturday, the US announced it was postponing Secretary of State Antony Blinken's visit to Beijing on Feb 5. Apparently, the US politicians wanted to, step-by-step, make the incident escalate into a bigger crisis. However, the US' tricks to defame China will only end up in failure. China had not confirmed a final schedule for Blinken's visit, though the Chinese Foreign Ministry had earlier responded to the US announcement of a visit by welcoming it for the improvement of bilateral ties.
What's more, in the run-up to the expected visit, Washington had not done anything to create the right ground for talks. Instead, it further intensified its containment of China, from its military hawks' seeing a war with China in 2025, to escalating tech decoupling by pressing Japan and the Netherlands to restrict export of chip manufacturing tools to China. The US State Department even said that Blinken will, during his visit, instruct China on what to do and what not to do.
The US should realize that such a bossy demeanor will not help achieve any fruitful results. Instead, it will destroy bilateral ties. Therefore, a visit, if its aim is to dictate China, is not welcome in the first place.
Now the US is stepping up its bullying tactics, which shouldn't be tolerated at all. China should be prepared to take countermeasures.
Wang Xiaoxuan, a Beijing-based expert on international studies
US domestic struggle escalates crisis
The US media reports that US President Joe Biden ordered the military to shoot the balloon down "as soon as possible" when he was briefed about it on Wednesday. And on Saturday the US announced it was "postponing" Blinken's widely expected visit.
The domestic struggle in the US should take full blame for the turn of events should things spiral out of control.
The Chinese Foreign Ministry had said the airship was used for meteorological and other scientific research purposes, and it flew into the US airspace because of force majeure. And yet many US media outlets kept calling it a "Chinese spy balloon" to attract attention. The use of balloons to spy on the military intelligence of hostile countries has long become outdated. The US used to employ balloons to spy on other countries decades ago. It is not only difficult to control the flight trajectory of balloons, but also they are easy to spot because of their large sizes. In contrast, low-orbit satellites have much better intelligence-gathering capabilities.
Domestic politics forced Blinken to postpone his visit to China, as key Republican figures made an issue out of the balloon incident, saying the Biden administration was soft on China. Being tough on China has become an important strategy for US politicians to gain political capital, as Republicans hope to make a comeback in 2024. Politicians there are letting go of no opportunity to hype up the "China threat theory" and influence public opinion while discrediting China. That's why the Biden administration was forced to act tough on China.
During the meeting between the heads of state of China and the US in Bali in November, China proposed that the two countries should adhere to mutual respect, peaceful coexistence and win-win cooperation, and keep bilateral ties on track.
The "airship incident" required calm negotiations between the diplomatic teams on both sides. They should have taken an objective view in order to find the truth. Only then could a reasonable solution be found.
Managing differences in Sino-US relations is an ongoing process, and the two sides should continue to strengthen communication and exchanges and promote practical cooperation. Only in this manner can Sino-US relations remain healthy and stable, serving the fundamental interests of the two countries and their peoples.
Li Hengyang, a research fellow at the Institute of American Studies, Chinese Academy of Social Sciences
Talks vital to keep things in control
On Saturday the US announced it had "postponed" Blinken's visit because a suspected "spy balloon" from China strayed into US skies, flying at an altitude of around 20,000 meters, well above commercial air traffic lines and that of spy planes. What's worse, the US shot down the balloon the same day.
The Chinese Foreign Ministry confirmed on Friday that the vessel was a civilian airship from China meant for meteorological research, and having limited self-steering capability.
According to The Outer Space Treaty, outer space shall be free for exploration and use by all states; the space objects' registration country owns the right of jurisdiction; the information gathered by space objects should be for peaceful purposes; states shall be liable for damage caused by their space objects.
But there are various theories and doctrines considering the scale and distance of outer space outside of countries' territories. If the unmanned Chinese airship was located far from the path of commercial flights, it should abide by the Outer Space Treaty. And this kind of flight does not harm US sovereignty in the slightest manner.
It's vital for the US government to collect the debris of the balloon and it's necessary for China and the US to jointly investigate the matter. Thus, the Chinese Foreign Ministry and other authorities should communicate with relevant US departments to keep the accident from escalating into a bigger crisis of distrust.
Talks are essential for keeping things under control.
Jin Yongming, a professor of law studies at Ocean University of China.
Most Viewed in 24 Hours
China Views