A heritage of unity and color
Share - WeChat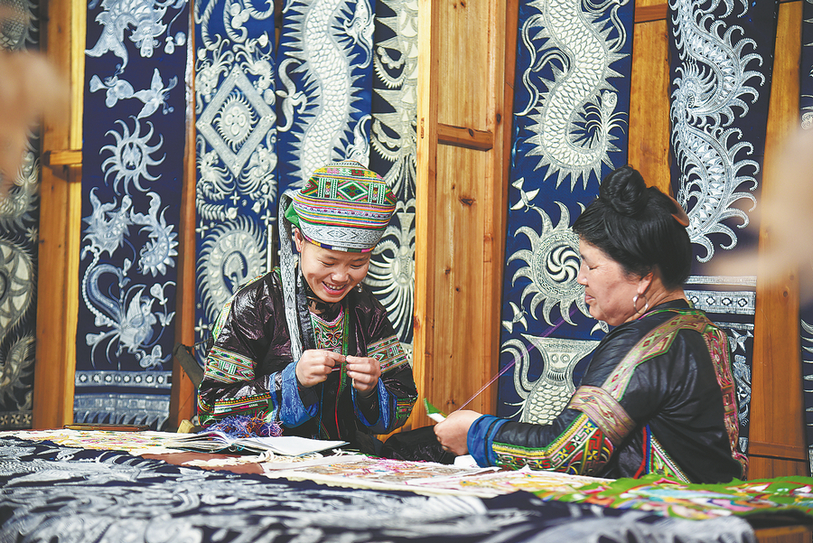 The name of the festival derives from the two Chinese characters gu and zang, meaning "drum" and "to bury" respectively. Thus, "guzang" means "to bury the drum."
Drums are a central feature of the festival. During the celebration, the Miao beat wooden drums made of maple trees to summon their ancestors' souls, which are believed to rest inside. Other ceremonial activities include xinggu (awakening the drum) and yinggu (welcoming the drum).
Music and dance play a vital part in the festival. One of the traditional instruments played is the lusheng, a reed-pipe flute. Festival goers form a circle around a drum, accompanied by men playing the lusheng, and as more and more people join in, a huge throng of dancers will form.
The festival is also an opportunity for the young and single to find love. If a man fancies a woman, he serenades her with the lusheng. If the man is in luck, the woman takes a flower belt and hangs it on his lusheng, signifying her reciprocation.
Luo Laojin, 47, is a member of the Baibei village lusheng troupe, which performed at last year's festivities. His first memory of the Guzang Festival is from his childhood, which inspired him to be trained to take part.
"While I was watching the performers playing, I wanted to become one of them. The instrument is loud and appears at every ceremonial activity of the festival," says Luo, who started to learn the lusheng from other villagers at 13 years old.