Country's growth has positive intl impact
Share - WeChat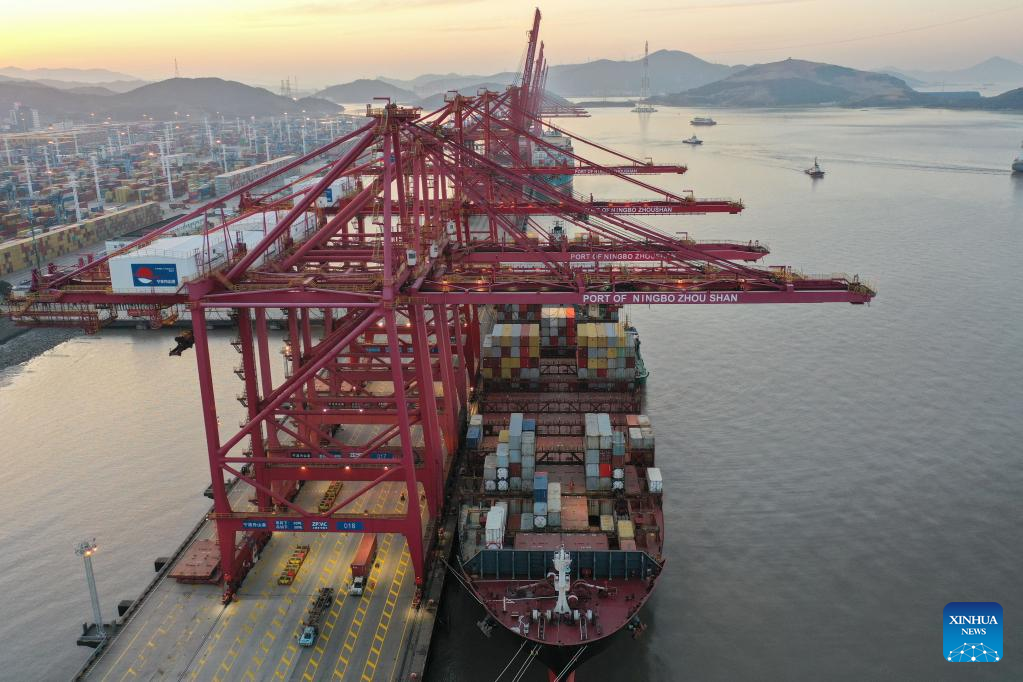 Struggling to gain economic momentum in 2023, the world is looking at China's economic growth policies.
Acceleration of economic growth was a major concern for China against the backdrop of the negative implications of COVID-19 in 2022, especially during the second and third quarters. The poor global economic situation also contributed to a lower GDP growth rate.
However, contrary to Western propaganda, the Chinese economy was quite stable and has rebounded since the fourth quarter. China posted a positive GDP growth rate of 3 percent and its GDP reached $17.88 trillion. We have to keep in mind that China is the only major economy that has registered positive GDP growth rate since the start of the COVID-19 pandemic.
Despite this, the Chinese economy has to gain further momentum, which would have a positive impact on the global economy. As a result, China has to deliberate on policy choices which can cater to the needs of domestic and global markets. A global recovery will also help China. Rapid growth is a prerequisite to achieve the long-term goal of common prosperity, both at the national and global levels.
This was at the heart of discussions at the Central Economic Work Conference in December, where a scientific decision-making approach was applied to analyze performance and identify pro-economic growth policies and strategies as priority areas of work.
The central authorities are working to translate this vision into policy and action frameworks. The process of policy formulation will be completed before the start of the annual sessions of the country's top legislature and top political advisory body in March.
The steps taken by China since the conclusion of the Central Economic Work Conference give us an indication of how China will accelerate its economic growth.
A look back over the past few months suggests that domestic consumption, real estate facilitations and expanding investment have been adopted as leading tools to accelerate the growth rate.
First, China will work to enhance domestic consumption not only to increase the GDP growth rate but also to limit the impact of negative external factors.
Increased incomes and policy cushions will encourage people to consume more.
According to the Ministry of Human Resources and Social Security, China had extended social security cover to 1.368 billion people by the end of 2022.
Moreover, the middle-income group will be instrumental in giving a push to consumption. It is also anticipated that family savings will be a factor contributing to enhanced consumption, as these witnessed rapid growth during the 2020-22 period.
Second, China has introduced many measures related to the real estate sector, including a 16-point agenda to facilitate development of the sector. Chinese central policy banks are also preparing to offer credit lines of $256 billion. These credit lines will increase to $431 billion following contributions by local banks and financial institutions.
Third, China is investing in infrastructure and expanding public spending. Ni Hong, minister of housing and urban-rural development, said that China will renovate 53,000 communities in 2023, which is more than the previous year. Furthermore, China will also renovate 100,000 kilometers of gas pipelines and build or renovate 15,000 km of rainwater pipes. These are all initiatives contributing to enhanced growth.
Fourth, technology has been identified as another accelerator of growth. The Central Economic Work Conference proposed that policies should prioritize self-sufficiency and self-reliance, with tech companies being encouraged to cultivate and pool talent.
Fifth, China will encourage foreign direct investment by improving the business environment, and further advancing opening-up and building links. China has already increased the number of preferred foreign investment fields, and this process will be further accelerated. The number of items in the Catalogue of Encouraged Industries for Foreign Investment increased from 987 in 2017 to 1,474 in 2022.The number is expected to further increase with the publication of the 2023 catalogue.
Sixth, to share the growth dividend with the world, China will also further advance work on the Belt and Road Initiative and the China International Import Expo. In the pursuance of this objective, China is planning to organize the BRI Forum this year. The CIIE will be including new fields for attracting exporters to China. It will offer new opportunities to exporters to benefit from the Chinese market.
This indicates that China will be working to accelerate growth on two fronts, domestic and international.
Despite these proactive measures, the acceleration of growth will not be a smooth ride. There might be bumps on the way.
In the words of Han Wenxiu, executive deputy director of the office of the Central Committee for Financial and Economic Affairs, the first quarter of next year was likely to suffer from significant disruptions but the second quarter was expected to see an economic improvement at an "accelerated pace".
The author is a political economist and CEO of the Asian Institute of Eco-civilization Research and Development, a think tank in Pakistan.