Cosmetics mix well with nation's biotech industry
Share - WeChat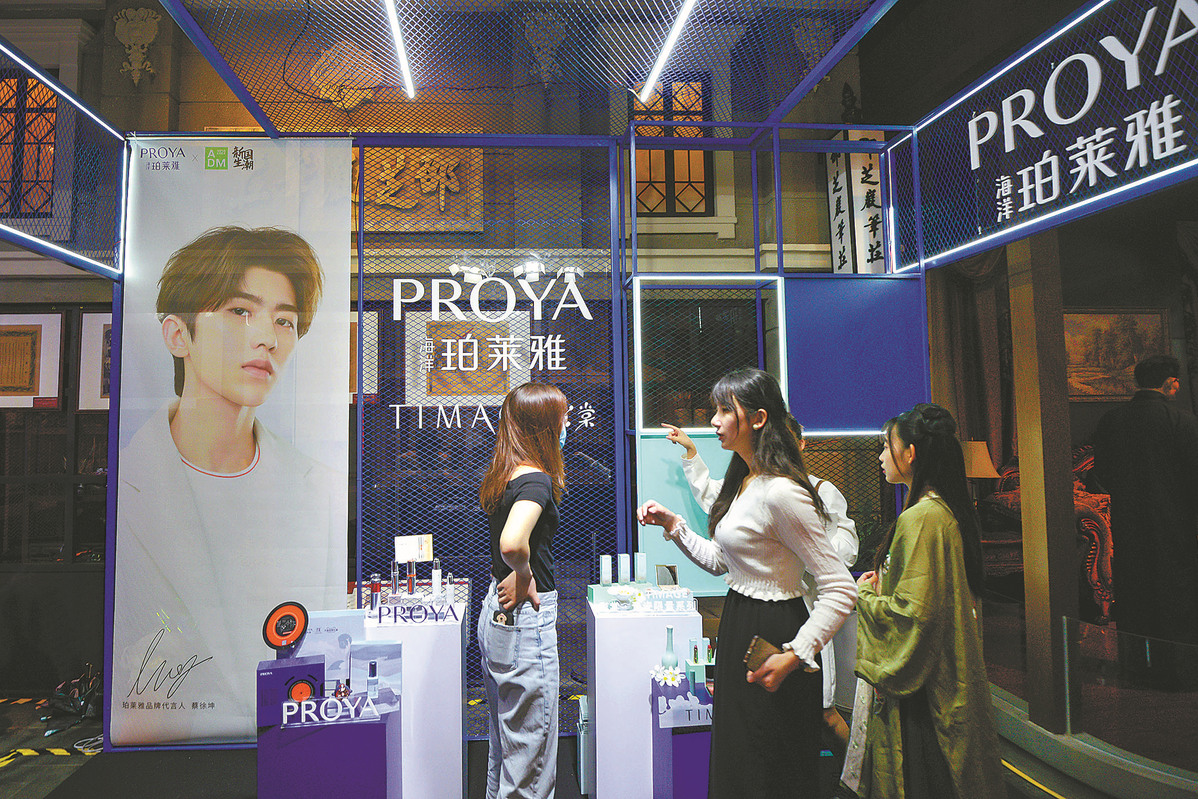 With rapid development and a promising future, cosmetic companies are stepping into China's biotech industry.
In 2022, Hangzhou-based cosmetics company Proya invested in Shenzhen, Guangdong province-based Siyomicro Bio-Tech Co Ltd. Later on, it signed a strategic partnership with Zhejiang Peptites Biotech Co Ltd, working on innovative peptide research and development, peptide green synthesis, and raw material production and supply, demonstrating its latest efforts in using synthetic biology to reconstruct the upstream raw materials of the medical aesthetics industry.
Coincidentally, after Japanese cosmetics company Shiseido established its fund company in China in May 2022, the first enterprise that it invested in was Jiangsu Trautec Medical Technology Co Ltd, a local company that focuses on the development and production of recombinant collagen-based biomaterials.
"More and more cosmetics giants are entering the biotech industry as venture capitalists, gradually shaping the application of biotech in the medical aesthetics industry. Ideally, they hope to create a hyaluronic acid-like best-selling product in the next decade," said Zhao Hongwei, a biotech analyst at VBData.cn, a Chongqing-based online healthcare service provider.
The two major bestsellers in China's biotech industry are hyaluronic acid and collagen. China is the world's largest hyaluronic acid-selling country. Hyaluronic acid is a natural substance found in eye and joint fluids and acts as a cushion and lubricant in the joints and other tissues. Used in cosmetics, it helps with skin elasticity, reducing wrinkles and lines.
Data from market research firm Frost & Sullivan showed that between 2017 and 2021, China's sales volume of hyaluronic acid raw material surged from 361.2 metric tons to 590.4 tons, with a compound annual growth rate of 13.1 percent. In 2021, China sold 82 percent of the world's hyaluronic acid raw material.
According to research company Grand View Research Inc, in 2019, China's collagen market totaled $983 million. It was estimated that the market will reach $1.58 billion by 2027.
In January 2022, the National Medical Products Administration issued an industrial standard for recombinant collagen, a subcategory of collagen that is widely used in the medical aesthetics sector, specifying its quality control requirements, test indicators, test methods and biological evaluation. In December, the NMPA launched a set of standards, further clarifying the evaluation process of recombinant collagen for medical aesthetics use.
With over 30 years of development, enterprises had broken the technical barrier of producing recombinant collagen, and the sector has witnessed explosive growth. Leading enterprises such as Shanxi Jinbo Bio-Pharmaceutical Co Ltd and Giant Biogene quickly entered the secondary market, accelerated market education with a first-move advantage and quickly gained the market share. Meanwhile, companies with medical backgrounds such as Jiangsu Trautec and Tidetron Bioworks Technology Co Ltd gradually matured their production technologies, focusing on the business-end market.
"The burgeoning of the sector offered a foundation for cosmetics companies such as Proya and Shiseido to enter the biotech industry, as currently, the production technology is mature and cosmetics companies do not need to spend a great deal of money to purchase listed companies to acquire the technology," Zhao said.
However, he noted that investments from cosmetics companies are more like "wait and see", as the companies are not yet able to predict the future trend precisely. What they can do now is to plant high-quality seeds and wait for them to take root and sprout in the future.
Yuan Shuai, deputy head of the Rural Revitalization Committee, a research institute, said: "In recent years, basic research and applied research in the biotech industry in China experienced rapid development, new technologies emerged and the biotech industry has become an important driving force for the world economy."
The country's 14th Five-Year Plan (2021-25) includes measures to accelerate the application of biotech in healthcare, agriculture, energy and environmental protection, providing policy support for the development of the industry.
"To develop China's biotech industry, more efforts are needed in enhancing innovation capability, accumulating scientific theoretical foundation, developing high-end equipment and gathering bio-information resources. In this way, more cosmetics companies will be willing to enter the industry," Yuan said.