'Snow Town' attracting tourists to Heilongjiang
Share - WeChat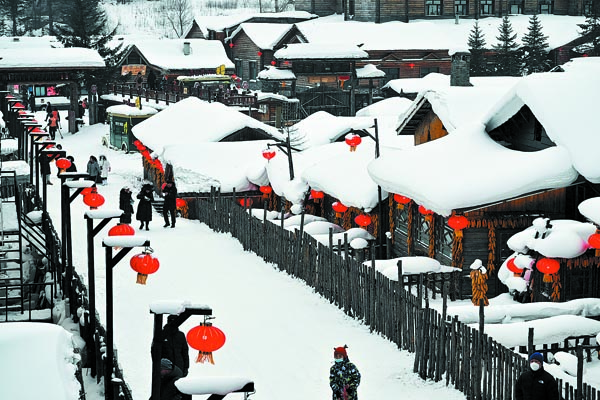 HARBIN — Over the last two decades, one village has transformed from a forest farm into China's "Snow Town".
Located about 280 kilometers from Harbin, capital of Heilongjiang province, the Shuangfeng Forest Farm in Mudanjiang city offers visitors stunning snow views. The snow season at Shuangfeng can last up to seven months with an annual average snowfall of about 2.6 meters.
Thanks to the high mountains, dense forests, low winds, suitable temperatures and humidity, the snow in Shuangfeng is thick. It takes on various shapes depending on where it falls, appearing as snow mushrooms, snow curtains and other forms.
"In the past, most people here made a living by logging," said Fan Zhaoyi, who owns a hotel at the forest farm. "It was difficult to transport wood because of the heavy snow."
With the reduction of timber production, lumbering lost its glory. "Many forestry workers went to work elsewhere. No one wanted my house for 500 yuan ($74.60)," said Gao Xiuli, Fan's neighbor. Her husband also transitioned from a forestry worker to a car mechanic.
Fan recalled the difficulties workers had as lumber waned.
"At the time, forest farms encouraged workers to engage in tourism, but many people were afraid to try. Fewer than 10 households dared to open hotels, but I was one of them," he said, explaining the massive change in 2000. "I opened four rooms the first year and started making a profit the second year."
In 2018, Fan invested over 4 million yuan and expanded his hotel to 30 rooms. His success also encouraged other people to invest. Today, there are more than 200 business entities in Snow Town.
The resort has also been upgraded to offer better tourist services. Visitors do not need to line up for tickets because advanced technology such as face recognition and other smart platforms have been adopted.
"The platform can count tourist numbers, collect reviews and monitor the environment. It is able to do tourists' portrait analysis and give early warnings of dense tourist flows," said Ren Jianpeng, deputy head of the forest-tourism industry development department of Dahailin Forestry Bureau.
Next summer, Shuangfeng is going to build healthcare and study-tour centers to encourage year-round travel. On Dec 12, the winter tourist season began at Snow Town, and 100,000 tickets were pre-sold.
The resort has continued to gain popularity among various travel agencies and online platforms.