E-CNY boosts holiday consumption
Share - WeChat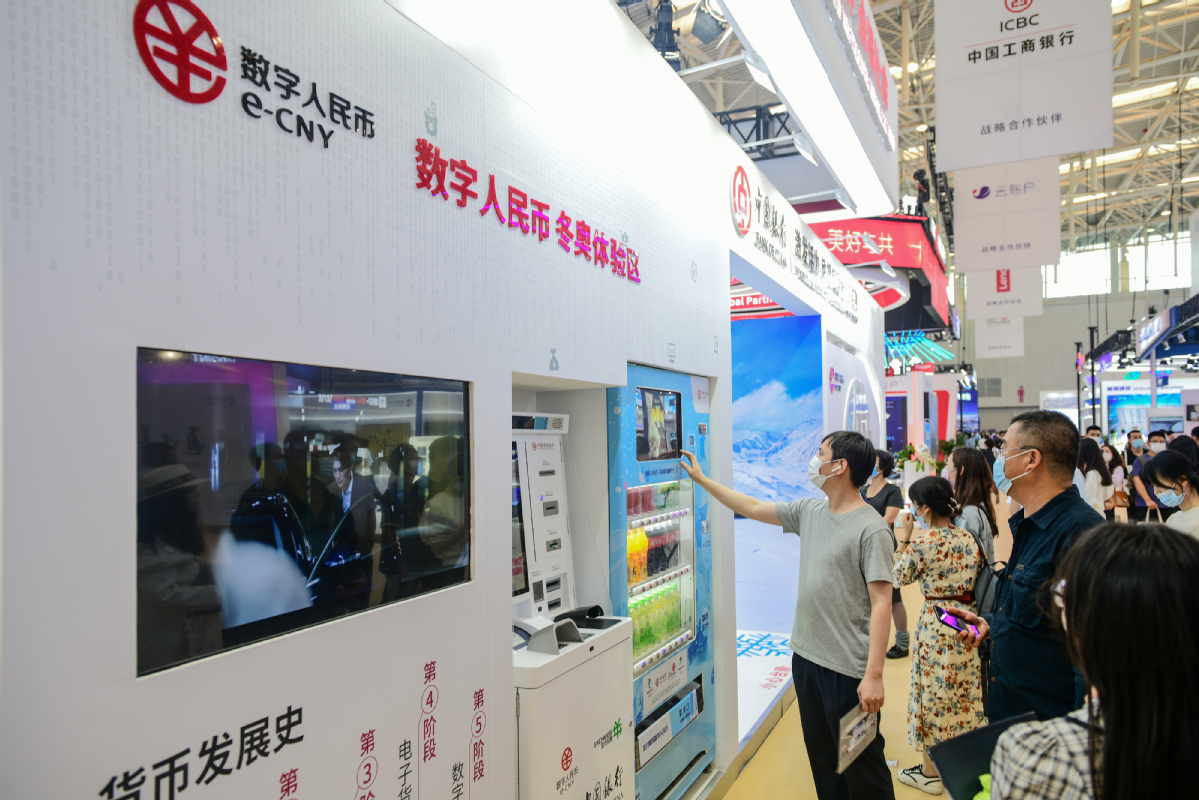 TIANJIN — On Jan 22, the first day of the Year of the Rabbit, Li, a citizen of North China's Tianjin, prepared for her daughter what in China is called a "red packet", a monetary gift traditionally given by the elderly to the younger generation during Spring Festival or the start of the Chinese New Year.
Instead of withdrawing cash from a bank and putting it in a red envelope, this year, she chose to use the e-CNY mobile application, passing on her blessing with digital fiat currency.
This virtual red packet of 200 yuan ($29.62) has a lively cover with not only lovely animated images on it but also a message carefully selected by the mother: Try not to be bothered. "Red packet of the digital yuan is easy for elderly like me to operate and interesting enough to draw youngsters' attention," Li said.
Issued by the People's Bank of China, the country's central bank, the digital yuan is positioned as legal tender, designed to be treated as M0, meaning cash in circulation, such as coins and banknotes. At present, 17 provincial-level regions in China have piloted the use of digital yuan.
During the weeklong Spring Festival holiday, which began on Jan 21 this year, a large number of red packets of digital yuan have also been distributed to residents across the country to stimulate the consumer market. Cities including Beijing, the capital, Hangzhou, Zhejiang province in the east, and Shenzhen, Guangdong province in the south, have issued e-CNY coupons.
Starting from Jan 16, Hangzhou has issued digital yuan vouchers worth 4 million yuan to people in the city, each with a face value of 80 yuan.
The Tianjin branch of China Construction Bank has launched a digital yuan promotion activity, offering discounts of up to 50 percent to those who spend the digital yuan on watching movies, shopping or catering consumption during the Spring Festival holiday.
Shenzhen distributed 2 million red packets of the digital yuan for catering consumption in mid-January, with a total value of 100 million yuan. By drawing lots, citizens could receive coupons ranging from 28 yuan to 666 yuan. The numbers of six and eight both symbolize good luck in Chinese culture.
Qiu Qiu (not the real name) from Shenzhen had a free KFC meal with a digital yuan coupon with a face value of 28 yuan. "Several friends of mine have drawn red packets using digital yuan, and everyone is discussing how to get better discounts using them."
Gao Nan, a professor at Tianjin University of Finance and Economics, believes that the integration of the digital yuan and the Chinese New Year could accelerate the public's cognition and promotion of the e-CNY.
"Technological innovation is also injecting more new impetus into traditional festivals," Gao said.
The amount of the digital yuan in circulation reached 13.61 billion yuan by the end of 2022, PBOC data showed, as it called for efforts to facilitate interconnectivity between the digital yuan system and traditional e-payment tools to make it more convenient for customers to use digital currency.
As of late January, more than 90 internet platforms, including majors such as JD, Taobao and Meituan, which gather rich consumption scenes, have also opened up to embrace the digital currency.
According to Meituan data, more than 16 million sub-wallets of the digital currency were pushed to the Meituan app, generating nearly 40 million digital yuan trading orders.
Xinhua