Younger customers backbone of novel consumption trend
Share - WeChat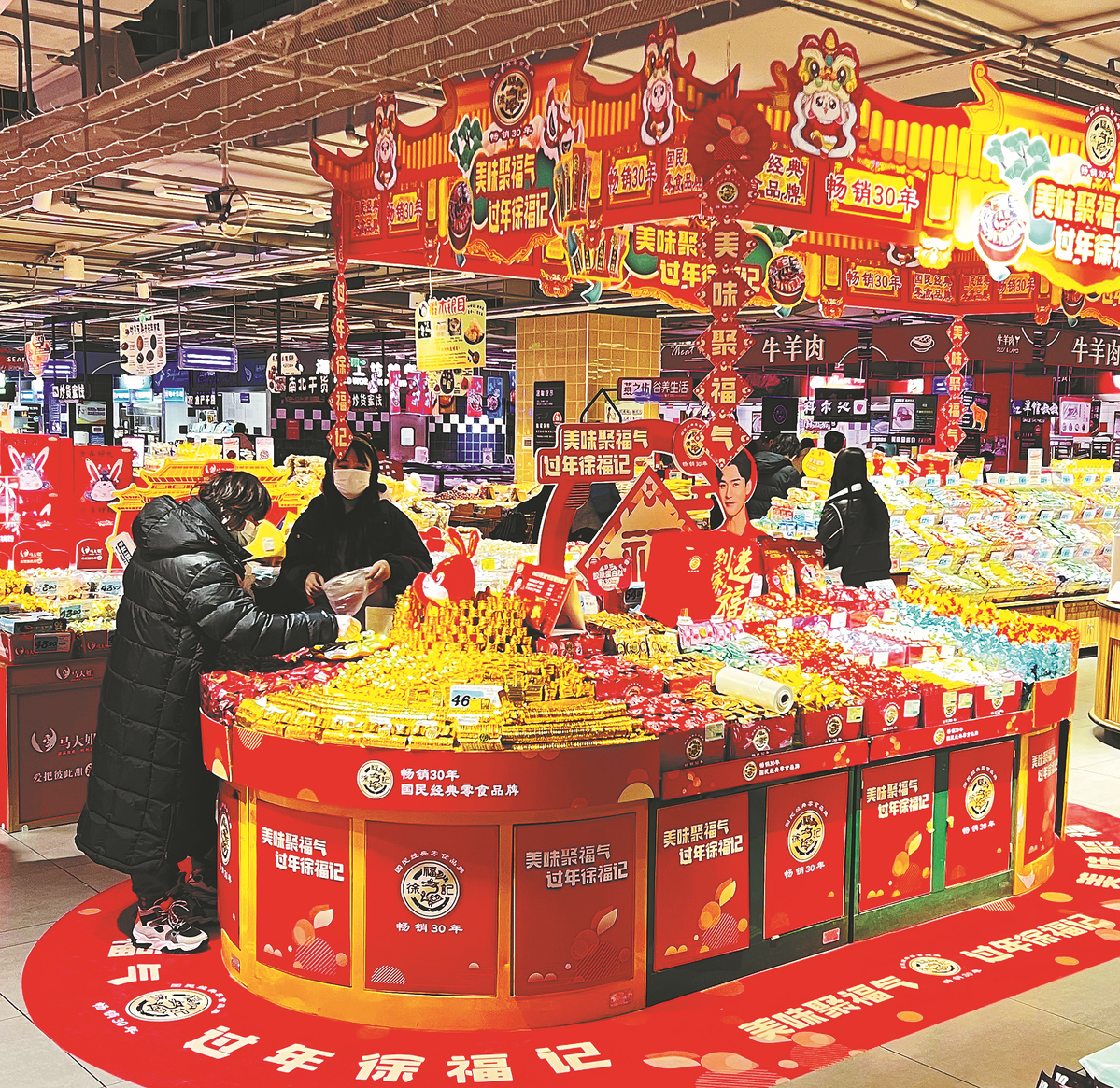 Post-1995 buyers account for 40% of catering sales in China, generating diversified demand
On a sunny afternoon, Wang Feifei, a 28-year-old office clerk in Beijing, invited her friend to a raccoon-themed dessert shop in Beijing.
She and her friend ordered a peach oolong-flavored tiramisu, coconut milk jelly and a pot of Longjing osmanthus black tea. After placing their order, they headed upstairs to play with the raccoons in the store.
"We spent around 200 yuan ($29.6) in total. Maybe the price is slightly higher than that of a regular dessert shop, but I think the idea of a raccoon-themed store is fun and novel. Spending some quality time with a friend, having delicious desserts and playing with the raccoons — it is definitely worth the extra cost," Wang said.
Wang and her friend's experience is a vivid glimpse of China's rapidly evolving catering industry. The sector is undergoing key transformations, featuring a focus on younger consumers, boundless catering and digitalization, said a recent report.
The report, issued by Beijing-based think tank EqualOcean, said that the post-1995 generation is creating demand in China's catering market at lightning speed, quickly shaping the industry.
The China Cuisine Association said that currently, making up 18 percent of the population, the post-1995 generation accounts for 40 percent of sales revenue in China's catering industry. It has become the largest consumption group in the sector.
"For most catering enterprises, not winning the post-1995 generation is losing the future. It's worth mentioning that diversified demand from post-1995 consumers is constantly generating diversified business models, and the trend has been specifically prominent in the past one to two years," said the EqualOcean report.
For example, snack brands Luxihe Taosu and Dim Sum Bureau of Momo have featured guochao — a consumption trend wherein younger consumers prefer products with Chinese cultural elements — while traditional noodle restaurants like Wuyebanmian, or Wuye Noodles, and Chen Xiang Gui have upgraded their stores to better cater to youthful consumers.
Another characteristic of China's catering industry, according to EqualOcean's report, is boundless catering. Companies are exploring more dining scenarios, including dine-in, self-supporting takeaway and third-party takeaway, enabling full-time operations and adding more catering categories.
"When single category and single business mode encounter growth bottlenecks, compound business modes and full-time operations offer more possibilities," said the report.
Data from the National Bureau of Statistics showed that in November, sales revenue of China's catering industry totaled 443.5 billion yuan. In the first 11 months of last year, total catering sales revenue was 3.98 trillion yuan.
Another trend is low-carbon catering. As an increasing number of consumers prefer greener lifestyles, catering enterprises are embracing low-carbon business models.
For example, during this Spring Festival, Chinese snack and candy maker Hsu Fu Chi International Ltd gave some green thoughts to its nianhuo — special goods consumers buy to celebrate the festive occasion. Its crispy peanut candy container and Chinese New Year candy jar both acquired recyclable certification from the China Synthetic Resin Association and Beijing Pro-eco Material-Tech Ltd. Its lollipop products are also expected to acquire such certification soon.
Apart from using fewer primary plastics in its packaging, its Australia-imported Kit Kat chocolates will use 100 percent recyclable paper wrappers. In addition, with its low-carbon packaging, Hsu Fu Chi has joined Alibaba's "88 carbon account", a system that covers more than 1 billion consumers who can use digital platforms to trace the amount of carbon emissions they save. In this way, the company is encouraging its consumers to lead low-carbon lifestyles.
According to Guangdong province-based online research consultancy ChinaIRN, China's catering industry has been growing at a compound annual growth rate of 8.6 percent during the past decade. Between 2020 and 2025, the industry is expected to surge from 3.9 trillion yuan to 7.6 trillion yuan. Major reasons behind the growth are the increase in GDP, rising disposable incomes and the development of digital platforms.
"The key for catering enterprises to stand out from the crowd is digitalization," said the report from EqualOcean.
Industry experts said complete digital infrastructure construction is key to catering to enterprises' transformation, as digital technologies help enterprises lower costs and increase efficiency, and help them solve the dilemma of high rent, high labor costs, high raw material prices and low profitability.
Guo Tao, deputy director of the China Electronic Commerce Expert Service Center, said: "Digitalization effectively promotes the transformation of the catering industry. The wide application of intelligent robots, Software-as-a-Service systems and ordering systems increases the production and service efficiency of the industry. Meanwhile, online takeaway platforms and big data help catering enterprises further extend their service radius, lower customer acquisition costs and increase profits."
Wang Dongfeng, president of the Digitalization Specialized Committee of the China Hospitality Association, said: "Digitalization has become one of the core competitiveness requirements for catering enterprises. If they want to enhance their efficiency, digitalization is a must. In addition, market competition in China is so fierce that competition in promotion and marketing makes enterprises embrace digitalization."
A report from Beijing-based consultancy iResearch Group showed that in 2021, the digitalization rate of China's leading catering enterprises was 60 percent, and that of small and medium-sized companies was lower, demonstrating the huge growth potential.
Guo said that currently, digitalization levels in the online marketing and delivery links of the catering industry are relatively high, so more efforts are needed in whole-process management, including purchasing, stock, sales and logistics.