Women custodians who 'love' the mountains
Share - WeChat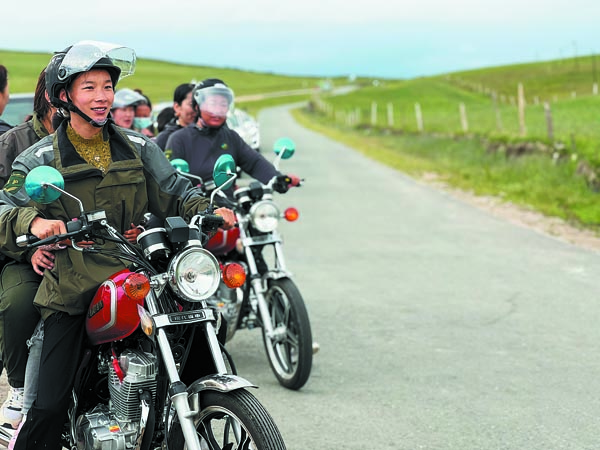 Wildlife returns as patrols ensure the protection of a scenic national park in Qinghai, Xu Haoyu reports.
In the front yard of Qingyanggou Ecological Management and Protection Station, in Qilian county, Haibei prefecture, Qinghai province, a row of red motorbikes are parked neatly. Beside the clean and well-maintained motorbikes, a little girl plays.
Established in 2016, the station employs 32 female custodians, with the oldest being 45 and the youngest 21. Among them, 27 are mothers. Most of their children spent their preschool childhood in the embrace of Qilian Mountains, following their mothers on the patrol.
"The concept of 'loving the mountains and forests as much as loving ourselves' was buried deep in the children's hearts like a 'seed' through the day-to-day patrols," says Yangmotso, 44, the head of the station.
In the Qilian Mountains, there are many places named gou, which means ravine in Chinese. Most of the places that hide in the folds between peaks have sufficient water resources and healthy grassland, and they provide a perfect setting for both people and animals.
The farmers, herdsmen, wildlife researchers and ecological custodians attribute the beautiful scenery and the growth of the wildlife population to the persistent ecological care over the past 10 years, and the creation of the Qilian Mountain National Park as a pilot project over the past five years.
It's also a result of people's rising awareness of environmental protection. It is now clearly and deeply appreciated by the local residents that harmony between man and nature is counting on everyone's input.
During the day, custodians focus more on patrolling the 15,874 hectares of nearby forest.
And it's also their duty to promote ecological protection, rescue wildlife and prevent fires and poaching. In the past few years, with the support of the government, the facilities of the station have been much improved, and it is now equipped with nine motorbikes and a pickup truck.
Also, many custodians developed photography skills.
"We are excellent photographers who are also good at riding horses and motorbikes. When we see rare species during the patrol, we capture and show the beautiful moment," says Dekyi Sangmo, 27, who proudly pats the camera in her hand.