Improved holiday consumption good for economic turnaround
Share - WeChat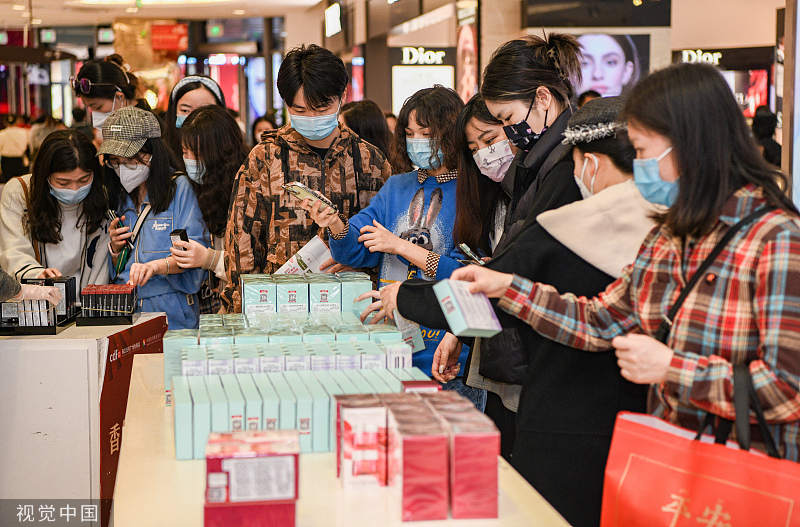 The central authorities' recent emphases on consumption and foreign trade show how the country's decision-makers attach great importance to the recovery of both domestic and external demand.
Both the rapid rise in travel by Chinese people and the soaring sales of local business supermarkets in the week-long Lunar New Year holiday demonstrate that China's consumer market has bid farewell to winter and is ushering in a vibrant spring.
The issue of demand is in essence the issue of expectations. When people hold expectations of income growth in the future, effective demand recovery will become inevitable. The robust consumption growth during this year's Spring Festival holiday reflects people's optimism.
To stabilize economic growth and promote economic recovery, the country must boost effective demand. The previous lack of demand and confidence was clear in people's increasing willingness to save, the decline in their willingness to buy houses and the contraction of corporate investment. This is why the State Council executive meeting emphasized that the country will accelerate the recovery of consumption, such as in the automobile and real estate sectors.
In the past, when facing downward economic pressure, how to stabilize cash flow was the key to the development of enterprises. When the economy starts to go upward, enterprises want to increase investment and expand production, meaning they have increasing demands for funds. Therefore, whether the country can continue previous financial, fiscal and other supporting policies is of vital significance to them.
Given multiple uncertainties in external demand, boosting domestic demand should be the key task. The strong recovery of consumption during the Spring Festival holiday undoubtedly offers an opportunity for China to accelerate the transformation of consumption into the main driving force of the economy.
The rise in China's per capita disposable income has slowed over the past few years. Therefore, the key to increasing people's consumption willingness lies in easing their consumption misgivings. This also has a bearing on whether the good momentum of China's economic development can be maintained.
Most Viewed in 24 Hours
China Views