Attacks leave anger over guns
Share - WeChat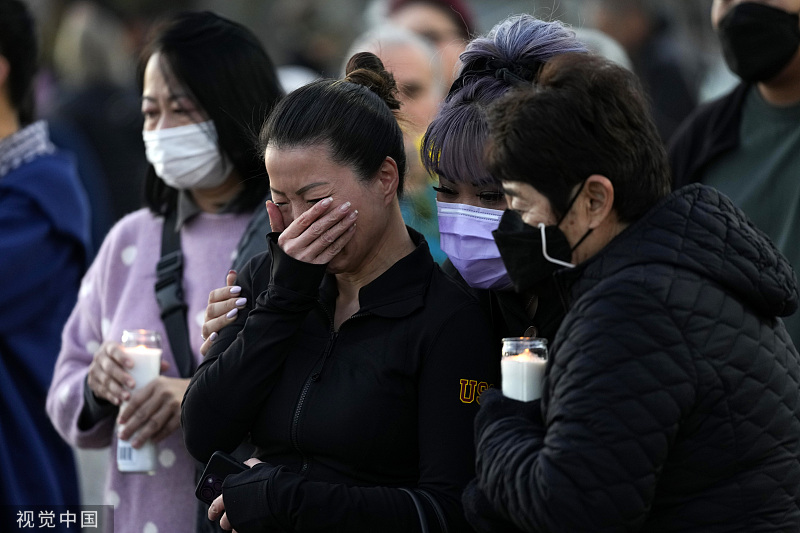 Back-to-back mass shootings less than two days apart in California have claimed 18 lives, including those of Chinese citizens.
On Monday afternoon, news broke of a shooting in Half Moon Bay, near San Francisco, that left seven dead in an attack that came as police were continuing their investigations into a Saturday shooting that killed 11 people at a dance studio in Monterey Park, southern California.
On Monday evening, hundreds of people gathered at the Monterey Park City Hall for a memorial service for the victims of the shooting.
For residents who live near the dance studio, the shooting has rattled a close-knit and peaceful community.
"We have never expected such a tragedy could happen in such a peaceful community when everyone was enjoying the Chinese New Year holiday," said July Wong, a Vietnamese Chinese living in Monterey Park.
People in the neighborhood condemned gun violence and urged that action be taken.
"We have the highest rates of gun deaths in the world. We have more guns than people. ... We have more than one gun for every man, woman and child in America. That is insanity," said Paul Cole Padilla, an educational administrator.
He held a poster that read "The Problem is Guns!"
Consular assistance
The Chinese Consulate-General in San Francisco said on Tuesday that some Chinese citizens were among the victims in the second attack,allegedly carried out by 66-year-old Half Moon Bay resident Chunli Zhao.
"We are shocked and deeply regretted to learn about this severe shooting incident. According to various sources, Chinese citizens were among the victims," the consulate-general said in a statement.
It is in further contact with the police and has contacted some of the families of the victims, the consulate-general said, adding: "We will do our best to provide consular assistance".
A spokesperson for the Chinese Consulate-General in Los Angeles confirmed on Monday that at least one Chinese citizen died in the Monterey Park shooting.
At 10:22 pm on Saturday, 72-year-old Huu Can Tran walked into Star Ballroom Dance Studio and began spraying bullets at the frightened guests, who were celebrating Chinese New Year. He killed five men and six women between the ages of 57 and 76. Nine people were wounded.
Tran then went to a second dance studio in the nearby city of Alhambra, but Brandon Tsay, the 26-year-old operator of the club, managed to wrestle the gun away from Tran before he was able to harm anyone else. Tran died of a self-inflicted gunshot wound in his van at a parking lot the next day as police closed in on him.
According to the Los Angeles County Department of Medical Examiner-Coroner, the female victims were named as Xiujuan Yu, 57; Hong Jian, 62; Lilian Li, 63; My Nhan, 65; Muoi Ung, 67; and Diana Tom, 70. The male victims were identified as Wen Yu, 64; Valentino Alvero, 68; Ming Ma, 72; Yu Kao, 72;and Chia Yau, 76.
Police said jealousy over a personal dispute might have been a motive behind the Monterey Park shooting.
Less than 48 hours after Tran's rampage, Zhao opened fire at a pair of northern California mushroom farms, killing five men and two women, all of whom were Asian or Hispanic, according to the San Mateo County Sheriff's Office. Another male victim suffered injuries and is being treated in hospital.
Zhao was arrested in the parking lot of the sheriff's Half Moon Bay substation more than two hours after the shooting.
Authorities have yet to confirm the motive for either shooting.
US President Joe Biden ordered flags to be flown at half-staff to honor the victims. California Governor Gavin Newsom said he was meeting with the victims of the Monterey Park shooting when he was pulled away to be briefed on the Half Moon Bay shooting.
"Tragedy upon tragedy," Newsom said in a tweet on Monday.
June Chang in San Francisco and Xinhua contributed to this story.