Events to celebrate Chinese Lunar New Year across UK
Share - WeChat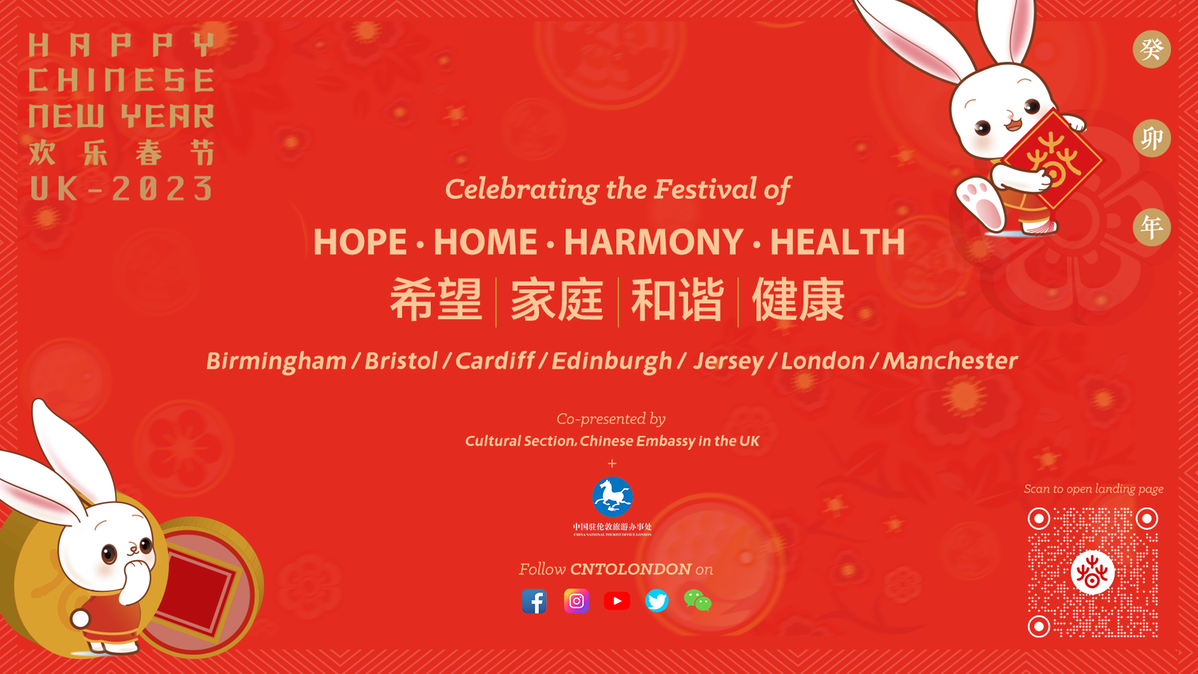 A wide range of cultural events celebrating the Chinese Lunar New Year, which falls on Sunday, will be taking place across the United Kingdom, said organizers in a news conference held by the Cultural Section of the Chinese Embassy in the UK on Tuesday.
The London Chinatown Chinese Association will host the 22nd Festival of Spring celebrations in London's iconic Trafalgar Square on Sunday, which is one of the largest Spring Festival celebrations outside of Asia, following two years of scaled-down celebrations.
Various exhibitions and activities related to Chinese culture will be held in museums, including the National Maritime Museum, Royal Observatory Greenwich, and Science Museum in London from this weekend and into next month.
Bristol Museum & Art Gallery will host many family-friendly events on Jan 28 and 29, with a rich program of interactive events including kung fu demonstrations, traditional lion dances, craft activities, and an exhibition of traditional folk paintings from Hebei province.
Colorful parades led by a dragon dance troupe will be organized in Manchester's Chinatown, alongside performances of martial arts and music, and with tasty Chinese snacks available.
Up north in Edinburgh, Chinese New Year Festival has been a featured event, gaining huge popularity since 2019, and this year the celebration program includes a castle light show, cultural workshops, and other performances that start from Friday and last to Feb 3.
Besides arts and foods, music is another bridge that brings people together during festive times.
On the first day of the Lunar New Year this Sunday, the London Philharmonic Orchestra will stage the UK premiere of Buddha Passion, an acclaimed work combining the ancient music of Dunhuang, Chinese folk songs and Western symphonic music by famed Chinese composer Tan Dun.
Early next month, celebrated pianist Xiao Di will host her 10th annual Didi & Friends Chinese New Year Concert, which expounds the spirit of Sino-British friendship via the form of music. This time she will be performing with dancer Zhou Hangyu on Feb 2.
Singer Shen Yang, an awarding-winning bass-baritone, will bring Chinese and Western songs together under the theme of Tang poetry to audiences in Cardiff, London and Glasgow on Jan 25, 28 and Feb 3.
For people who cannot attend concerts in person, two online concerts will be hosted by the China-UK International Music Festival on Feb 3 and 4 – the former combining visual elements into a multimedia concert named Non-classical Journey, and the latter celebrating traditional Chinese music by Central Conservatory of Music in Beijing.
Yang Xiaoguang, minister of the Chinese Embassy in the UK, said: "In recent years, various Chinese New Year celebrations have been carried out across the UK, and the concepts of hope, home, harmony, and health on which the events are based have been widely recognized by people in the UK.
"I believe the Happy Chinese New Year events will present opportunities for China and the UK to enhance exchanges, expand cooperation, and promote new progress in bilateral relations."