Charging piles enhance ease for NEV drivers
Share - WeChat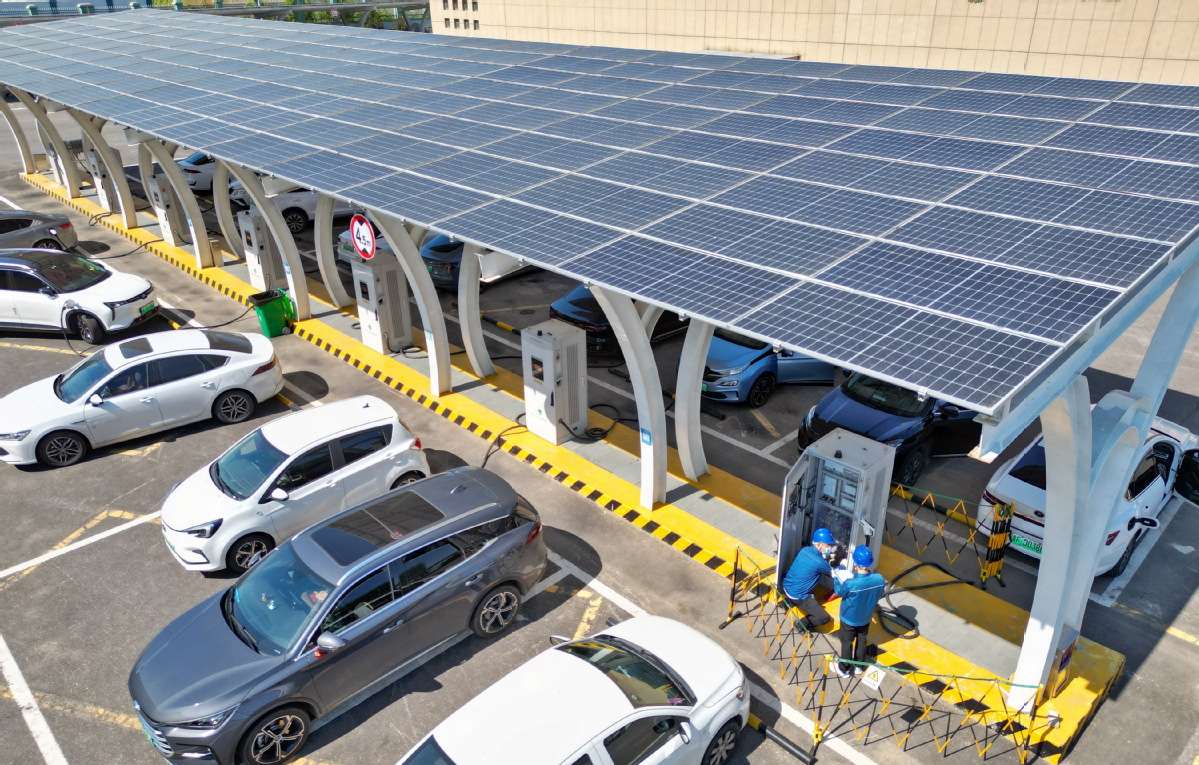 Policy support, greater demand lead to additional, better stations nationwide
Xiao Qing, a 36-year-old Beijing resident, was excited to see a new power charging station for electric vehicles set up near his community.
"Finding a charger that is safer, faster and cheaper is important to an EV owner like me. I felt insecure driving my car when the remaining power dropped below 20 percent. I was afraid of not finding a place to charge, because there had been a few cases of power suddenly dropping from 20 percent to zero, especially in winter," Xiao said.
"Luckily, there's more charging infrastructure with improved services across the country, which really helps us feel like we can continue to use EVs for commuting," he said.
The country saw about 2.33 million chargers added to the market in the first 11 months of 2022, a development encouraged by the burgeoning EV market and policy support. The number of public chargers was up 105.4 percent year-on-year and private chargers increased 316.5 percent, said the China Electric Vehicle Charging Infrastructure Promotion Alliance.
By the end of November 2022, the country had about 4.95 million EV charging facilities, up 107.5 percent from a year earlier, the alliance said.
Experts said that as key infrastructure to support EV development, charging piles are ushering in a new development phase.
Builders and operators of such facilities are moving away from installing large amounts of low-end equipment as a preemptive investment to claim markets. Instead, they are employing high-quality development plans, leading to new technologies and business models emerging in the market.
China's market for chargers is expected to reach nearly 250 billion yuan ($37.2 billion) in 2025, with an annual compound growth rate of over 33 percent during 2021-25, according to a forecast by Beijing-based Huaon Industrial Research Institute, based on policy support and growing demand spurred by the EV industry.
The market for chargers reached 78.51 billion yuan in 2021, up 55.68 percent year-on-year.
Promotion of the construction of public charging stations, while also encouraging private charging facilities, has proven effective in helping solve the insufficient charging infrastructure that had hindered EV development, according to Wang Lining, director of the oil market department of the Economics and Technology Research Institute of China National Petroleum Corp.
The charging infrastructure promotion alliance said that the growth of charging facilities is generally in line with the country's booming EV sector. The growth of chargers basically meets the demand of the rapidly growing number of EVs with a ratio of one charger for every 2.6 EVs. New energy vehicle sales hit 6.067 million from January to November.
In recent years, the development of private charging facilities has outpaced that of public stations, which has turned it into a strong force supporting the rapid development of EVs, according to Jiang Yunzhe, an NEV researcher at the Center for Automotive Strategy and Policy Research of China Automotive Technology and Research Center.