US-led West's pandemic trick won't succeed
Share - WeChat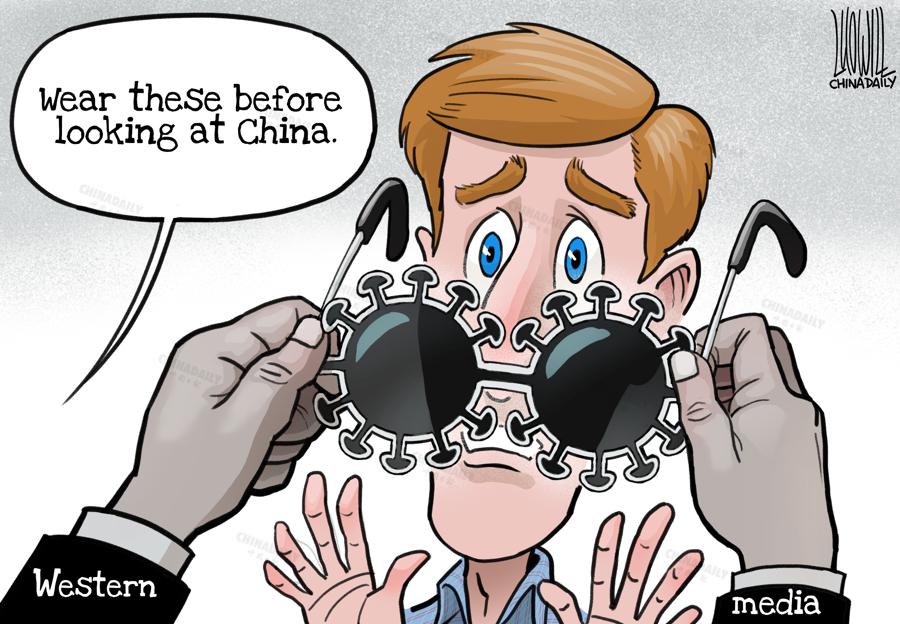 Right from the initial days of the COVID-19 pandemic, China has been stigmatized by some Western countries, especially the United States, with many people of Chinese origin becoming the target of hate crimes.
Hate-mongers in some Western countries, the US in particular, used the pandemic as an excuse to target people of Asian, especially Chinese, origin. They blamed people of Asian origin for the spread of the novel coronavirus. Worse, previous US president Donald Trump played a key role in increasing racist attacks by labeling the novel coronavirus as the "Chinese virus".
"People first" has remained at the core of China's COVID-19 response over the past three years, during which the virus mutated many times and the pandemic situation got from bad to worse before improving. Yet the worsening pandemic situation also spurred different governments and pharmaceutical companies to invest more resources and use more scientific minds to develop vaccines and prescribe the treatment for COVID-19 patients. As for China, the pandemic not only prompted it to develop COVID-19 vaccines but also provide free vaccination for all Chinese citizens.
But with China lifting almost all anti-pandemic restrictions on Jan 8, some countries, including the United States and the United Kingdom, reintroduced compulsory pre-flight COVID-19 tests for Chinese visitors, while countries such as Japan, the Republic of Korea and Italy, now require Chinese visitors to undergo COVID-19 tests on arrival and quarantine if they test positive.
The World Health Organization has said that it is very concerned about reports of rising number of severe cases in China after the country abandoned the dynamic clearing COVID-19 policy.
Most countries have not announced new entry requirements for Chinese visitors, and a select few have ruled them out entirely, including Poland and Bulgaria which refused to toe the European Union's line on entry requirements for Chinese visitors.
The US has made it mandatory for Chinese visitors to take an RT-PCR test less than 48 hours before boarding a flight and test negative to gain entry into the country from Jan 5. China fully opened its borders from Jan 8, welcoming visitors without mandatory quarantine and allowing Chinese citizens to travel abroad.
At the Hong Kong airport, hundreds of people were recently seen waiting to check in for flights to cities on the Chinese mainland, but the arrivals hall was relatively quiet. Many of Hong Kong's border checkpoints were fully opened, as were transportation halls and shuttered storefronts.
Given the present situation, therefore, China may first normalize economic ties with some countries, including Belt and Road countries, before it does so with Western nations to establish a channel for the normal movement of people and goods.
The Global North is also trying to reduce China's expanding global presence in the fields of infrastructure and technology. For example, the G7 Summit in June 2022 launched a $600 billion fund to mobilize investment in global infrastructure projects as an answer to the Belt and Road Initiative. But the G7's endeavor is a decade too late and short of billions of dollars, because the China-proposed initiative was launched in 2013 and completed or is working on projects worth more than $4 trillion.
There are also presentation problems. The industrialized countries claim they are banding together to defend universal values, underpinning a liberal world order. But China and Russia argue that the industrialized countries are trying to rebuild a hierarchy based on imperialism and white supremacy. Opinion polls in the Global South show the arguments of Russia and China have found a receptive audience. Even within the Global North, many countries believe unilateral US actions are alienating some of their business partners. In fact, the US' restrictions on technology exports to China will deal another big blow to the biggest tech enterprises in the ROK, Japan and the EU.
The Global North is also worried that China might end up controlling the technologies of the future and building what one senior US official said was "a terrifying surveillance autocracy" with a worldwide reach.
To be sure, the pandemic has intensified the competition between China and the US, and the US has been badmouthing and stigmatizing China in the hope that it will help it emerge victorious in the competition. But that might not happen.
The author is an independent expert in international relations based in Nepal.
The views don't necessarily reflect those of China Daily.
If you have a specific expertise, or would like to share your thought about our stories, then send us your writings at opinion@chinadaily.com.cn, and comment@chinadaily.com.cn.
Most Viewed in 24 Hours
China Views