Shanghai airports to gain profits in 2023
Share - WeChat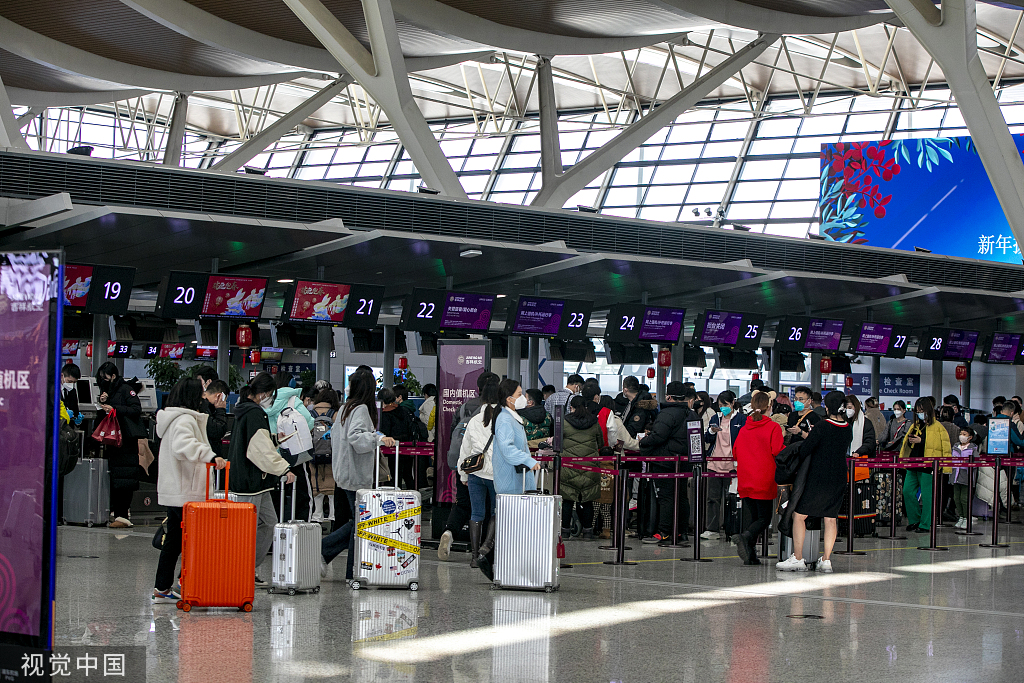 Airports in Shanghai are expected to gain profits this year with a gradual recovery in traffic flow, Feng Xin, president of Shanghai Airport Group, said in an exclusive interview with ThePaper on Jan 11.
Recently, the volume of domestic and international flights has increased compared with earlier times, as China has recently optimized its policies on COVID management and cross-border travel, as well as with an increasing travel demand from the upcoming Spring Festival.
The number of daily passenger flights operated domestically was 10,794 on Jan 10, the fourth day of the 2023 Spring Festival travel rush, recovering to 72.7 percent of the same period from the Spring Festival 2019.
Among them, the number of domestic flights was 10,531, which recovered to 86.1 percent from that of the same period in 2019, according to Flight Master, an intelligent travel services platform in China.
Internationally, about 43,000 passengers went through the immigration checkpoints in Shanghai airports over the four days from the removal of certain COVID-19 restrictions on international passenger flights on Jan 8 to Jan 11.
Over 20,000 of them were inbound passengers, according to the statistics from Shanghai Airport Border Inspection Station, the CAAC News reported on Wednesday.
In January, the flight volume and passenger traffic of Shanghai Pudong International Airport and Shanghai Hongqiao International Airport are expected to increase by over 40 percent from last December, said a news release from Shanghai Airport Group on Jan 6.
It takes time for the international aviation market to recover, as the optimized policies have just taken effect.
More time is also needed for the public's willingness to travel abroad to fully recover and for the application of international flight plans to be approved by both Chinese and foreign aviation regulators.
The two airports will gradually open more international routes by working together with all parts, including the airlines, customs and border control departments, to bring back international flights on track with 2019 levels.
It is estimated that the domestic aviation market will be faster in recovery than the international market, and airports will recover quicker than airlines, said Feng.