Strong potential of Sino-African ties to be tapped
Share - WeChat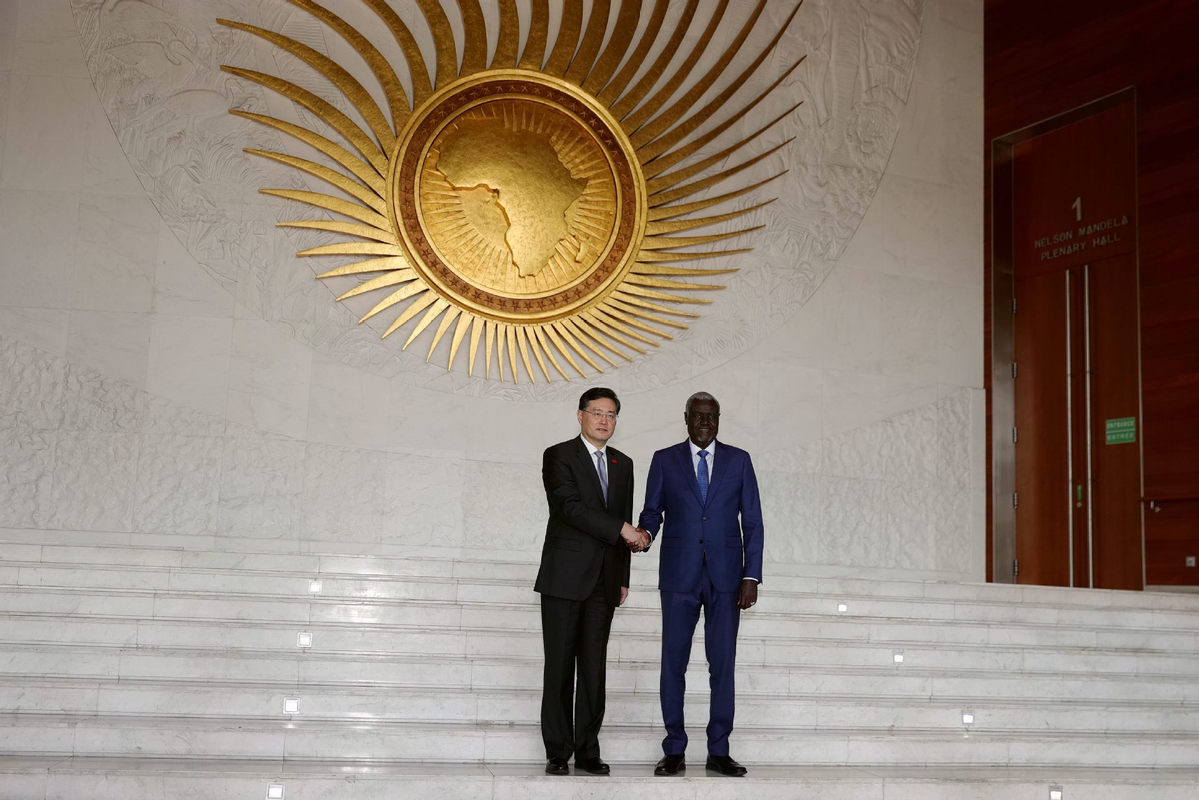 Qin Gang, China's new foreign minister, will travel to five African countries — Ethiopia, Gabon, Angola, Benin and Egypt — on his first trip abroad after his appointment. The visit continues the long tradition of Africa being the destination for Chinese foreign ministers' first overseas trip of the year.
It is not surprising that China is upholding this tradition, given the clear emphasis that China has given to strengthening relations with developing countries, especially those in Africa.
There are self-evident mutual benefits for China and African countries in their economic relations. Trade and investment between China and Africa have seen a steady increase. In 2021, bilateral trade reached $254 billion, a year-on-year increase of 35 percent. China continues to import oil, precious minerals and metals from Africa, but it is also increasingly importing agricultural products and manufactured goods. In essence, this is a strategically important relationship for China and the African continent that has strong potential for further growth and development.
The leaders of several of the countries that Qin will visit were hosted in Washington in December by United States President Joe Biden, who held a summit with African leaders in which he made political and economic commitments regarding Africa. These included support for a permanent seat for Africa on the United Nations Security Council, having the African Union as a member of the G20 and asking Congress to lend the International Monetary Fund $21 billion to provide access to necessary financing for low- and middle-income countries, which should help Africa's recovery efforts and support projects that build resilience against future crises. All this has clearly raised the bar for the expectations of African countries.
Economic cooperation will always constitute a substantial component of Chinese relations with developing countries, including African nations. Foreign Minister Qin's discussions with his counterparts will reflect this.
At the same time, commensurate with China's expanding economic footprint, a widened political discussion is a natural consequence. On each stop, global and regional issues will be on the agenda. The COVID-19 pandemic has highlighted the need for global cooperation. The Ukraine crisis has again raised the specter of a new Cold War and a recalibration of the prevailing world order.
China's perspectives will be on the minds of Qin's hosts. Responding to Africa's debt and poverty challenges will have prominence, as will how China can help Africa realize the transition to cleaner energy while pursuing robust development. This will include not only traditional infrastructure projects but also issues such as digitalization and cybersecurity.
Each stop will also have its own political, security and economic issues. Egypt was the first African country to establish diplomatic relations with China, in May 1956, and discussions there will naturally include the general security and stability of the Middle East as well as North and East Africa, including maritime security. Unresolved water management issues related to the Renaissance Dam on the River Nile, and relations with Ethiopia will be prominent in the discussions. Enhancing military and security cooperation will also be a topic, as will economic development.
Needless to say, invigorated Chinese foreign engagement attracts the attention of many global players. This was the case when President Xi Jinping visited Saudi Arabia to meet with Arab leaders recently, soon after Biden had embarked on a similar visit. Qin's Africa visit will be closely watched by the Biden administration, which sees China as attempting to expand its influence in Africa to challenge the prevailing international order.
Competition between China and the US is a source of increasing concern. I expect this anxiety to increase with every success, and countermeasures to be pursued. This is a reality that Africa and China cannot and should not ignore.
However, the pursuit of an expanding African-Chinese cooperative landscape should not be contained by the competitive sensitivities of others. Rather, it should be essentially driven by mutual interests and a cooperative win-win, long-term strategic perspective, as well as a strong, unwavering determination to pursue greater understanding between our peoples and communities. Qin's visit to the five African nations can be a good example in this regard.
The author is former foreign minister of Egypt and a visiting senior fellow at Peking University's Institute for Global Cooperation and Understanding. The views do not necessarily reflect those of China Daily.