New energy development powers ahead
Share - WeChat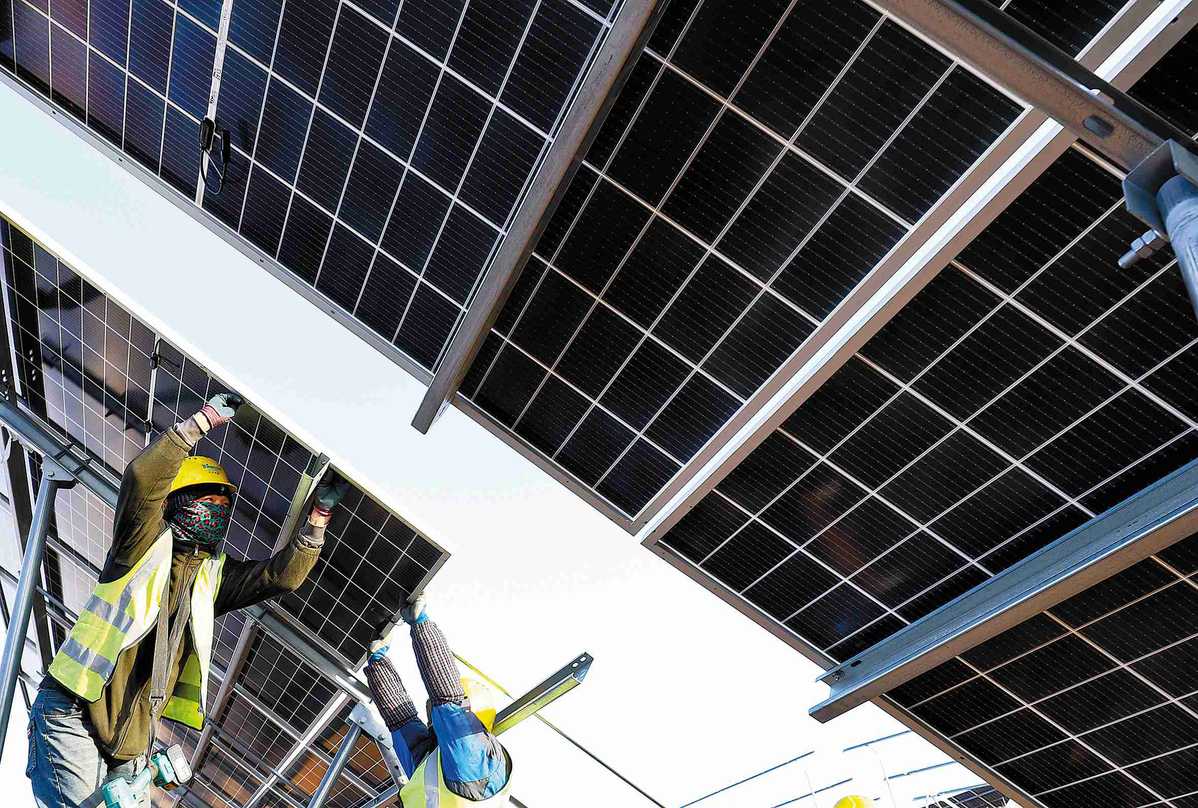 Rooftop solar gear, biomass heating, pumped-storage hydroelectricity among tech on rise
Yang Xiaoping, a villager from Linzi, Shandong province, was pleasantly surprised to earn an extra 5,000 yuan ($738) or so by selling electricity generated from his rooftop photovoltaic equipment.
Yang installed the equipment some 10 months ago and it has generated a cumulative 14,100 kilowatt-hours. "I didn't know about rooftop PV until a fellow villager recommended it. There's an increasing number of villagers like me who have decided to install PV facilities for some extra money."
Yang is among the many in 676 locations designated as demonstration sites for China's promotion of rooftop solar installations. The program is part of the country's concerted efforts to beef up new energy development to fulfill its green commitment.
Many villagers like Yang are contributing to the country's development of new energy in different ways. Some are utilizing biomass heating through burning pellet fuels made from crops and urban waste instead of coal. Other regions have embraced the installation of wind turbines, encouraging residents to use wind power as a way to promote the use of clean energy.
New energy development is on a fast track as new forms of power generation flourish, accelerating changes in the structure of energy use as part of China's goal to peak carbon dioxide emissions by 2030 and reach carbon neutrality by 2060, experts said.
Power generated from renewable energy is growing steadily. In the first three quarters of 2022, China's renewable energy power generation reached 1.94 trillion kWh, according to the National Energy Administration.
Among power generated from renewable energies, hydropower from stations whose annual revenue surpasses 20 million yuan reached 950.7 billion kWh in the first three quarters of 2022, up 5 percent year-on-year. Wind power totaled 544.1 billion kWh, up 15.9 percent from the previous year. Photovoltaic power generation was 328.6 billion kWh, up 32.2 percent on a yearly basis. Biomass power generation was 112.9 billion kWh, up 0.1 percent year-on-year, according to the NEA.
Authorities said that ensuring new energy generation projects connect to the grid in a timely manner will not only help increase the supply of clean electricity and ensure energy supplies during the winter, but also promote a low-carbon energy transformation as a way to achieve China's green goals.
The nation's installed capacity of wind and solar power accounted for around 50 percent and 30 percent of the world's total in 2021, respectively, according to Lu Xinming, deputy director-general of the department of climate change affairs at China's Ministry of Ecology and Environment.
Industry statistics show that of the world's top 10 wind turbine manufacturers, seven are Chinese companies. Seventeen of the world's top 20 solar companies are Chinese and six of the world's top 10 lithium battery enterprises are also from China.
The country has also rolled out new policies to improve infrastructure to support new energy development. A plan released in October 2021 by the State Council, the country's Cabinet, called for the country to develop a storage system for new energy, including new types of power storage and pumped-storage hydroelectricity.
That last type of storage allows energy from intermittent sources, such as solar and wind, or excess electricity from more renewable sources to be stored for periods of higher demand. The energy is stored by using it to lift water that can be used to generate electricity through falling water at hydropower stations when needed.
"To reach carbon neutrality by 2060, wind and solar will eventually need to account for about 65 percent to 70 percent of the total energy mix. How to transform intermittent wind power and photovoltaics into stable power sources will be a major issue to ensure energy security," said Lin Boqiang, head of the China Institute for Studies in Energy Policy at Xiamen University.
Ren Jingdong, deputy head of the NEA, said promoting integration between fossil fuel energy development and renewable energy development is an inevitable step toward achieving energy security and stability.
"In order to ensure energy security," Lin said, "attention should be paid to the stable operation of power grids over the short- to mid-term. In addition, in response to insufficient power supply in certain regions caused by extreme weather, and due to the high reliance on oil imports, efforts should be made toward more power grid construction and optimization, as well as diversification of power sources."