Brazilian corn to help meet demand
Share - WeChat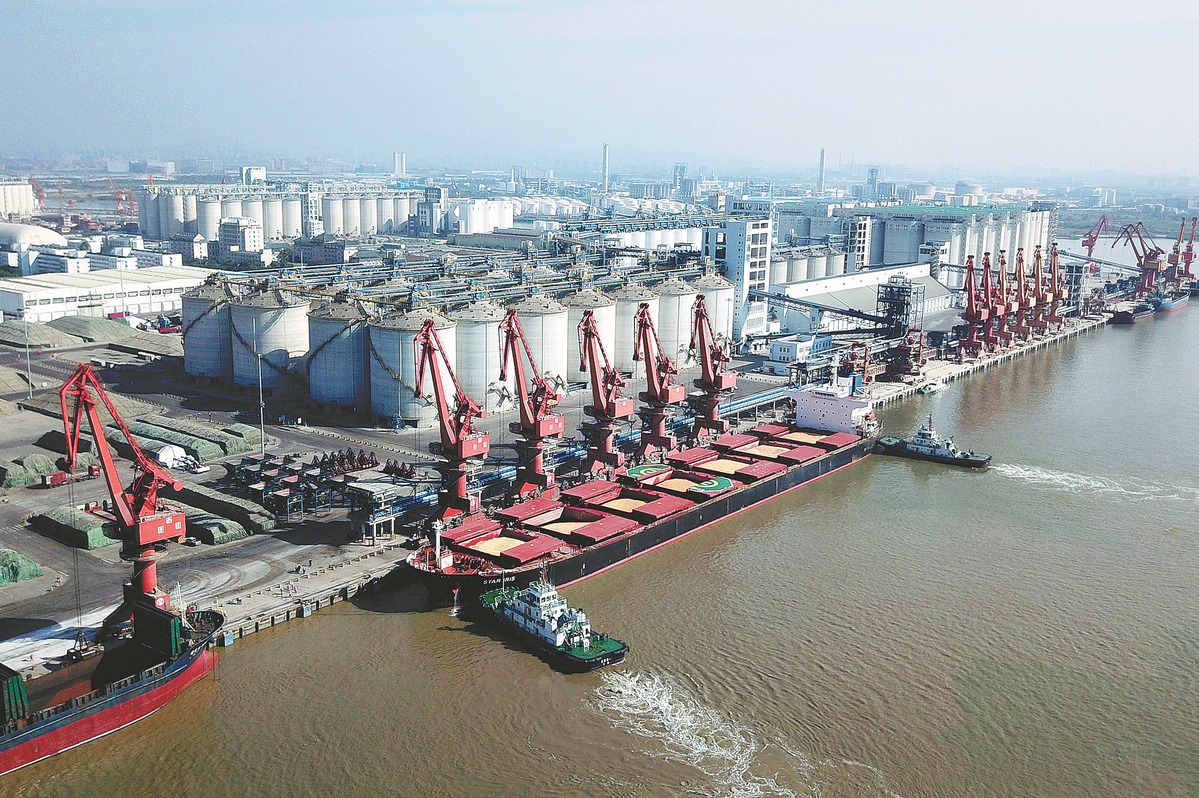 China's move to add Brazilian corn to its shopping list will help the former further expand corn import channels and lower geo economic risks so as to better secure its grain security, said market watchers on Monday.
The first bulk vessel carrying 68,000 metric tons of Brazilian corn to China arrived at a port in Dongguan, Guangdong province, on Saturday, marking the establishment of a new corridor for the South American country to export corn to the Chinese market, according to a statement released by COFCO Corp, the country's largest grain trader and foodstuff producer by sales revenue.
The shipments, imported by COFCO, will be transported to domestic feed processors via both land and water routes after quarantine and clearing inspection, said the Beijing-based State-owned enterprise.
To avoid risks caused by external factors such as the Russia-Ukraine conflict and falling US corn shipments to China, it is practical for China to diversify corn import sources, said Ding Lixin, a researcher at the Chinese Academy of Agricultural Sciences in Beijing.
The volume of China's corn imports dropped 26.89 percent on a yearly basis to 19.75 million tons between January and November last year, while its bulk corn imports from the United States and Ukraine dropped 26.3 percent and 31.95 percent on a yearly basis, respectively, said China's General Administration of Customs.
Ma Tongchao, head of corn business at COFCO Trading, a COFCO subsidiary, said the group looks forward to strengthening China-Brazil agricultural cooperation and is willing to import high-quality Brazilian agricultural products to China.
These efforts will not only offer a huge market for Brazilian farmers to sell their corn and other agricultural products to China, but also meet domestic demand. Therefore, it is able to achieve win-win results, said Ma.
China and Brazil — the latter being a major corn producer and exporter — reached an agreement on corn imports in May 2022. Over 130 Brazilian traders and cooperatives were given the green light to export corn to China in November last year, said the GAC.
Wang Yunchao, vice-president of COFCO International, COFCO's international arm, said more vessels loaded with Brazilian corn, purchased by COFCO, are currently en route to China.
"In addition to actively participating in global agricultural cooperation and agri-food resource allocation, we will continue to enhance the layout of global resources and industrial systems, as well as reinforce our international competitiveness," said Wang.
Brazil in the southern hemisphere and China in the northern hemisphere complement each other in corn harvesting seasons, and importing corn from Brazil has diversified the supply channels of corn in China, thereby easing seasonal and regional fluctuations in supply, COFCO said.
To meet demand from both domestic consumers and foodstuff manufacturers, COFCO signed over $10 billion worth of purchase contracts with foreign partners from countries including Thailand, Cambodia, the US, Canada, Australia, France, Kazakhstan, Russia and Brazil in November last year.
"Apart from importing edible oil, sugar, meat, alcohol and dairy products from overseas markets, we have purchased grain and bulk commodities such as wheat, corn and sorghum to meet the demand of domestic food processing companies," said Luan Richeng, COFCO's president.
COFCO has established a stable food corridor between major grain producers across the world and the emerging markets in Asia, including the network connecting Southeast Asia, North and South Americas, Australia, the Black Sea region and other regions. After years of growth in the South American market, its investments in Brazil have reached more than $2.3 billion, according to the company's statement.
China's import value of grains and related products declined 0.5 percent on a yearly basis to $19.67 billion during the January-November period of 2022, Customs data showed.