CBIRC to guide more financial support for consumption
Share - WeChat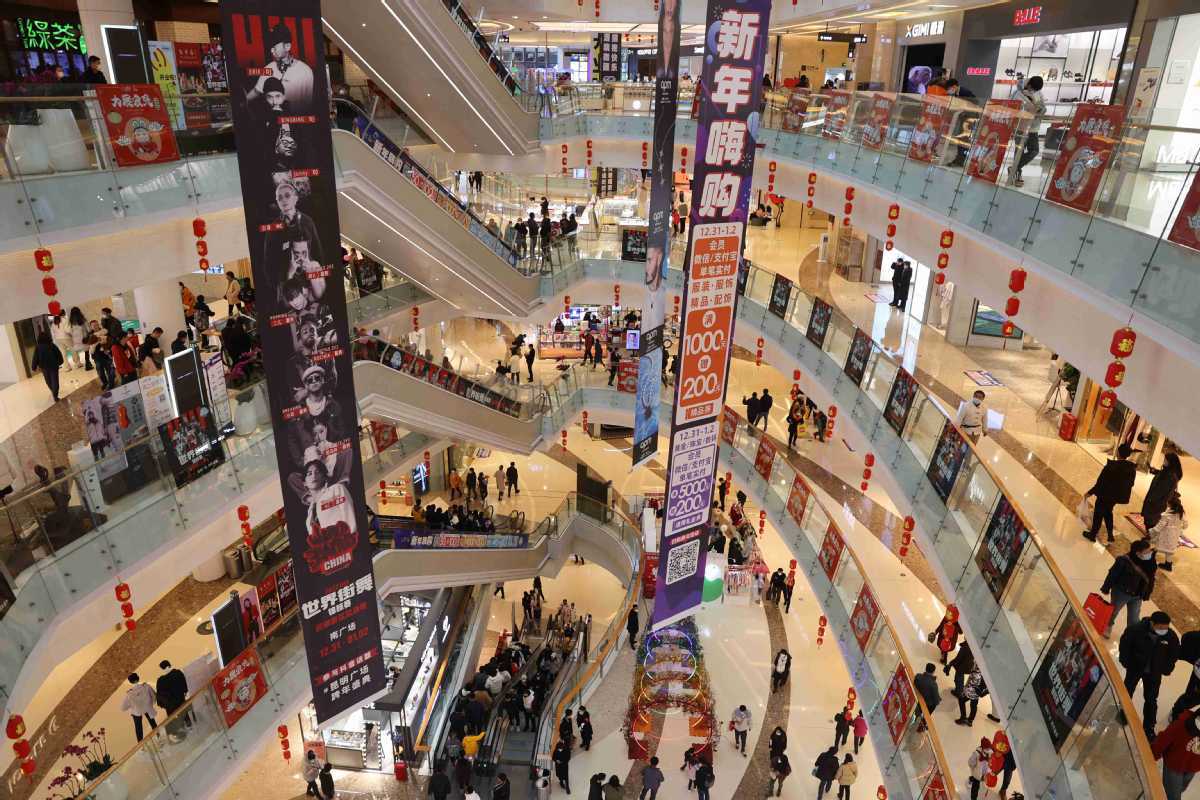 The China Banking and Insurance Regulatory Commission is launching new efforts to bolster the real economy by boosting consumption.
China's financial policy should cooperate with its fiscal and social policies more proactively by giving priority to its support for consumption recovery and expansion, according to decisions made at a recent meeting of the CBIRC.
The regulator said it will optimize consumer financial products and services to encourage consumption of durable goods, including new energy vehicles and eco-friendly home appliances, and promote the increase of consumption related to home purchasing, renting and furnishings. It will also provide credit support and insurance coverage to new types of consumption and service consumption.
As part of the move to achieve the goals, the CBIRC announced on Dec 29 that it has proposed the first revision of the rules governing auto finance companies since 2008 to strengthen oversight of such companies and help boost auto-related consumption.
The regulator intends to allow car buyers to apply for financing for add-on products such as navigation equipment, charging piles and batteries after they have received auto loans.
It also intends to allow auto finance companies to provide dealers and vehicle after-sales service providers with loans to buy maintenance equipment and build auto showrooms.
According to the draft regulation, the CBIRC will encourage auto finance companies to enrich financial products and step up support for micro, small and medium-sized car dealers, auto sales service providers and car buyers to further boost the steady growth of auto consumption.
Both housing finance and consumer finance are expected to pick up in 2023, and the expansion of consumer loans is expected to be the highlight this year, said a person in charge of the credit management department of China Construction Bank Corp, a large State-owned commercial lender, at a recent investor conference.
Wang Jun, director of the China Chief Economist Forum, said the lifting of COVID-19 restrictions in China will promote consumption recovery, which will also be driven by other factors like excessive savings and pent-up willingness to consume during the pandemic over the last three years.
However, whether excessive savings will become a driver for a consumption rebound still remains to be seen, some experts said.
Although the optimization of COVID-19 prevention and control measures is expected to spur consumption growth, continuous improvement of consumption will still rely on whether China can stabilize household income expectations and achieve recovery of consumer spending power, said Lu Zhe, chief macroeconomist at Topsperity Securities.
In the fourth quarter of 2022, the People's Bank of China, the central bank, conducted a survey on 20,000 depositors in 50 cities across the country.
Of the people surveyed, 22.8 percent preferred more consumption, basically the same as the previous quarter; 61.8 percent were in favor of more savings deposits — up 3.7 percentage points quarter-on-quarter — and 15.5 percent were inclined to make more investments, down 3.7 percentage points from the previous quarter.
In November, renminbi deposits in China increased by 2.95 trillion yuan ($428.76 billion), an expansion of 1.81 trillion yuan year-on-year. Among the total, household deposits rose by 2.25 trillion yuan, the PBOC said.
The huge increase of household deposits was caused by both short-term and long-term factors, including unstable employment and uncertainties brought by COVID-19 as well as China's imperfect social security system, said Dong Ximiao, chief researcher at Merchants Union Consumer Finance Co.
In order to better promote the development of the real economy, the government should face up to this phenomenon, take measures to guide rational expectations for improvement of household incomes, and increase people's willingness and capacity to consume and invest, Dong said.
China must strengthen efforts to ensure employment, which will help stabilize household income expectations, said Gao Ruidong, chief economist at Everbright Securities.
Given that the impact of COVID-19 on low-income groups is fairly large, policymakers should consider giving out consumption vouchers and increasing transfer payments to local governments to reverse the downturn in consumption, Gao said.