New findings unveiled at Lingjiatan relics site
Share - WeChat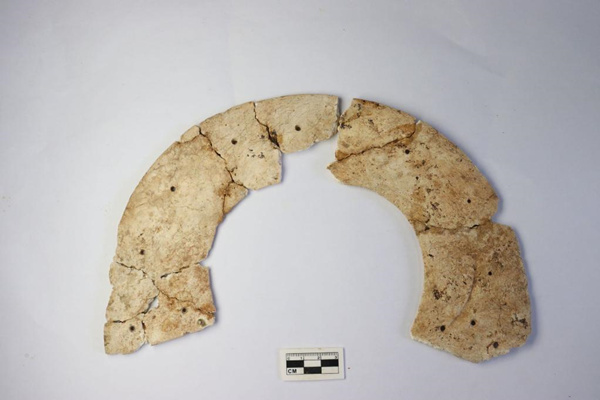 New findings have emerged at the Lingjiatan relics site in Ma'anshan, East China's Anhui province, says the provincial cultural relics and archaeology institute.
A remains site of sacrifice burning was discovered, the institute says. Several jade and stone relics were unearthed at the site, including the largest stone tool known as a yue and the largest jade ornament known as a huang in the Neolithic Age in China, which provides significant materials for in-depth study of the origin, formation and development of the Chinese civilization.
A dragon-head-shaped jade ware was also discovered, which archaeologists say is of great significance to China's prehistoric jade system studies and its influence on the ritual system.
From October 2021 to April 2022, the institute carried out excavations on the Lingjiatan relics site and found two ash pits, one sacrificial pit, one stone remains of the Neolithic Age and five Han Dynasty (206 BC-AD 220) tombs.
More than 400 cultural relics were unearthed, including stone tools, jade artifacts and a few potteries.
Archaeologists believe that the discovery of the sacrificial remains at Lingjiatan provides fresh materials for the study and restoration of sacrificial scenes at that time and improves the understanding of the layout of the sacrificial area of tombs.
The Lingjiatan relics site is a Neolithic settlement site dating back 5,300 to 5,800 years, with a total area of about 1.6 million square meters.
Since it was discovered in 1985, Lingjiatan has been famous for the jade ware unearthed in previous excavations, among which there are some representative jade artifacts in the shape of a turtle, eagle and dragon. Archaeologists believe that Lingjiatan predates Liangzhu Culture, a testament to the 5,000-year-old Chinese civilization, and has a successive relationship with it.
Most Popular