Opening-up in major sectors seen next year
Share - WeChat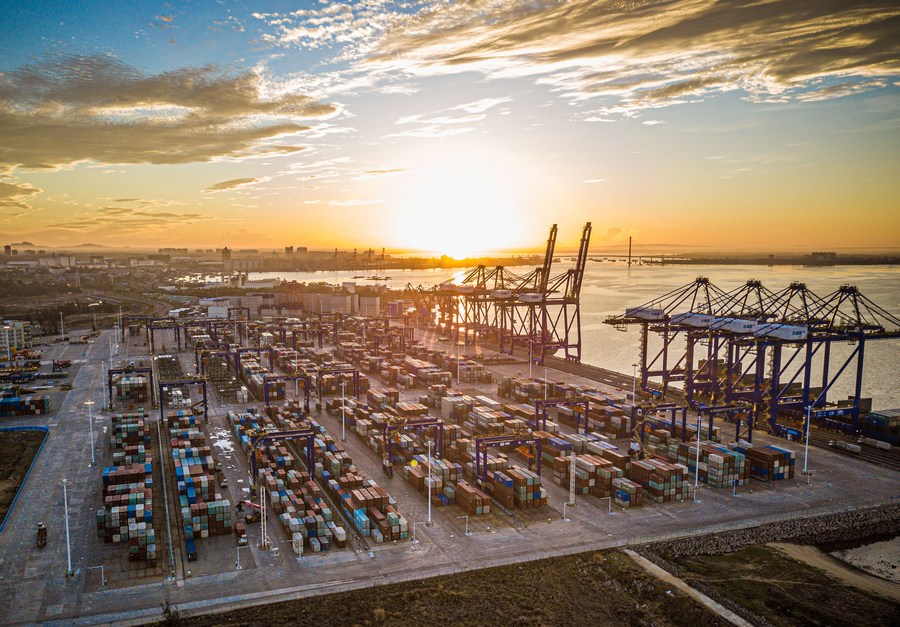 Advanced manufacturing, smart power, modern services to attract foreign funds
China will continue to widen opening-up and guide foreign companies to invest in key areas such as advanced manufacturing, modern services and energy conservation in its market in 2023, the Ministry of Commerce said on Friday.
The government will make appropriate reductions to the negative list for foreign investment and expand opening-up of the modern services industry next year, said Shu Jueting, spokeswoman for the ministry.
The official said that China will actively seek to join high-standard economic and trade agreements such as the Comprehensive and Progressive Agreement for Trans-Pacific Partnership and the Digital Economy Partnership Agreement, assiduously follow relevant rules, regulations, management and standards, as well as steadily expand institutional opening-up.
The tone-setting Central Economic Work Conference, which concluded last week in Beijing, pledged to make greater efforts to attract and utilize foreign capital, widen market access, promote further opening-up of modern services industries and grant foreign-funded enterprises national treatment.
"China will continue to optimize the structure of foreign investment, implement the new version of the catalog of industries to encourage foreign investment and guide global businesses to invest in key areas including high-end manufacturing, modern services, environmental protection and technological innovation in 2023," she said during an online news conference.
The actual use of foreign direct investment on the Chinese mainland expanded 9.9 percent on a yearly basis to 1.16 trillion yuan ($165.99 billion) during the January-November period, while investment from the South Korea and Germany climbed by 122.1 percent and 52.6 percent year-on-year, respectively, said the Ministry of Commerce.
Shu said China will intensify efforts to conduct trials on advanced platforms such as pilot free trade zones and national economic and technological development zones, and accelerate the replication and promotion of pilot experience in other parts of the country next year.
For instance, the State Council approved the launch of a three-year comprehensive pilot project to expand opening-up in the services sector in six cities, including Shenyang, Liaoning province; Nanjing, Jiangsu province; and Hangzhou, Zhejiang province.
The project aims to accelerate the development of the modern services sector, create new advantages in international competition and cooperation, and contribute to speeding up the construction of new development patterns and promoting high-quality development, according to a circular released by the State Council earlier this week.
Eager to seize more market share from China's fast-growing trade in services, A.P. Moller-Maersk, a Danish shipping and logistics services provider, announced on Wednesday that it will build its first green and smart flagship logistics center in China.
With a total investment of $174 million, the project, located in Lingang Special Area of the China (Shanghai) Pilot Free Trade Zone, is expected to be operational in the third quarter of 2024.
"Shanghai plays a critical role in Maersk's global network. With Lingang's proximity to Yangshan port and its favorable free trade policies, this facility will provide agile and sustainable solutions, connecting and simplifying our customers' supply chains, " said Caroline Wu, managing director of Maersk Greater China.
"We will continue to invest in China, contributing to Shanghai's position as a global shipping and logistics center, and the resilience of global supply chains," Wu said.
Apart from operating local businesses, foreign-funded companies in China saw their export value grow 2.4 percent year-on-year to 6.87 trillion yuan during January-November period, said the General Administration of Customs.
China's move to optimize COVID-19 prevention measures has also raised market expectations for an economic rebound, and global investors are viewing the updated policies as "a much-welcomed development" and expect it will help restore business confidence in the long run, said Zhao Ping, deputy head of the Academy of China Council for the Promotion of International Trade in Beijing.