A mental healing program with coffee, music
Share - WeChat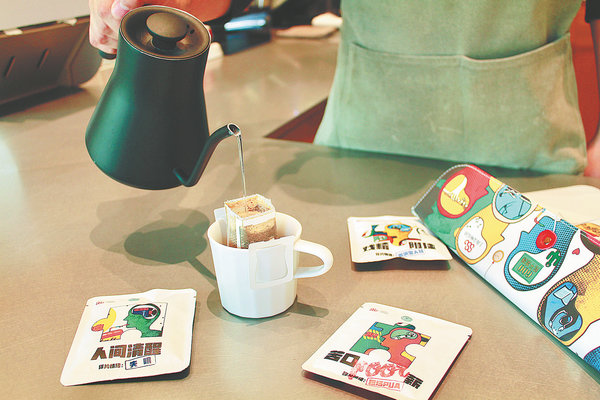 The Shanghai Symphony Orchestra and the Shanghai Mental Health Center, also known as the Mental Health Center affiliated to Shanghai Jiao Tong University School of Medicine, recently released a series of products that include 10 packs of blended coffee, with each claiming to be able to address a mental status or problem such as anxiety, depression and insomnia.
Each pack also comes paired with a short piece of symphonic music and a three-minute audio clip of a mental health professional's interpretation of symptoms.
For example, those who scan the QR code on the pack of coffee marked "anxiety" will hear Bach's Sheep May Safely Graze, while scanning the pack titled "inferiority complex" will produce sounds of Ravel's Morning Song of the Jester.
Developed by the two organizations, the products are aimed at addressing common mental health issues that have been exacerbated by the pandemic.
"We believe music has healing power and can provide emotional support for those in need," explains Qiao Ying, a doctor at the mental health center.
The new products have been an instant hit — the first 5,000 sets of coffee was sold out so quickly that even Xie Bin, the Party secretary of the mental health center, has to wait until mid-December before he can sip the coffee, which he ordered on the WeChat platform of the orchestra.
This is not the first time the mental health center has sold merchandise. The institution previously sold face masks together with Shanghai Museum that were just as popular.
According to Xie, the decision to sell official merchandise came about when the mental health center realized that many online vendors were selling goods that bore the institution's name and address as a joke.
This joke, however, has inadvertently played a role in raising awareness about mental health and eliminating the stigma associated with mental illness, he adds.
"People in China used to be evasive about their mental issues, and they would be afraid to let others know about their visits to mental health specialists," Qiao says. "Today, I have seen children who proudly share their experiences of receiving counseling at our clinics, and other children have responded with feelings of envy and admiration."
Regarding the decision to collaborate with the center, Zhou Ping, director of the orchestra, says that music and other art forms play positive roles in helping people through difficult times.
"We have quite a number of avid symphony lovers who have claimed that a particular piece of music has helped them through their difficulties. This particular piece of music would eventually lead them to other music and composers, until music becomes an indispensable part of their daily life," says Zhou.
"With the introduction of this coffee series we would love to see increased awareness of mental health issues. We would also consider presenting concerts aimed at helping people heal mentally in the future."
Most Popular