History books
Share - WeChat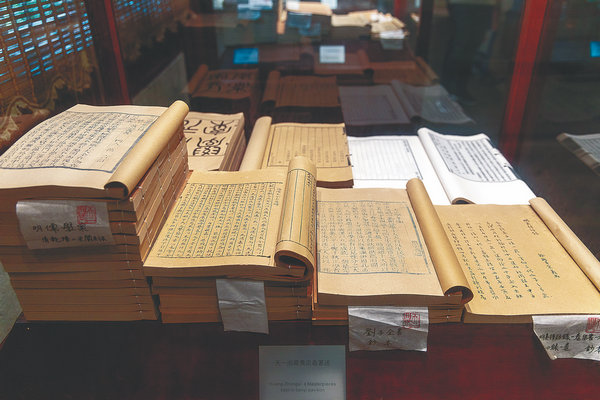 "Without books, we cannot review history and shape our future," Cristiano Maggipinto, diplomatic adviser to the mayor of Florence, Italy, said during an event at the Tianyi Pavilion, known as the Chinese mainland's oldest private library in Ningbo, Zhejiang province, on Nov 18.
Fan Qin, a high-ranking defense official during the reign of Emperor Jiajing in the Ming Dynasty (1368-1644), retired in 1560 and returned to his hometown Ningbo. Then, as a bibliophile, Fan spent five years building a two-story building — Tianyi Pavilion — near his house to store his book collections. In addition to traditional preservation methods, Fan set up strict rules to manage his library, including one that forbade people from going there after drinking alcohol.
In 1585, when he was 80 years old, Fan divided his property into two parts — his savings and the library with 70,000 books. He asked his descendants to choose. The one who chose the library would shoulder the responsibility of protecting it.
Fan Dachong, Fan's eldest son, understood that his father was worried about the precious book collection after his death. He decided to carry on with the duty of protecting the library. Since then, a family rule has been established that the descendants should not divide the collection and the books should never be taken away from the library permanently.
The book protection program of Fan's family has lasted more than 400 years, making Tianyi Pavilion the mainland's oldest extant private library.
"Preserving the book collection for so many years is a difficult task," said Zhuang Lizhen, current director of the Tianyi Pavilion, when sharing stories about the library at the event, Tianyi Talk, held in Ningbo last month.
"Fan's family has put on a strong show of resilience and love for books amid numerous challenges when protecting books," says Zhuang.
Elisabetta Bovero, director of the Malatestiana Library, one of the oldest public libraries in Europe, told a similar story about the library in Cesena, Italy, in the 15th century at the event. In 1454, Malatestiana Library, or Biblioteca Malatestiana, which was commissioned by Malatesta Novello, then Lord of Cesena, was opened to the public. Besides works of medieval culture, Novello also collected many books on Latin, Greek and Hebrew, among others.
Although it is a public library, readers cannot take the books out. Over the past five centuries, the 343 manuscripts of different provenances and eras, which are subdivided by subjects and kept in precise order, have been linked to the original wooden desks by iron chains.
In 2005, the well-preserved library was included in UNESCO's "memory of the world" heritage list.