Reorient funding to boost agricultural sustainability
Share - WeChat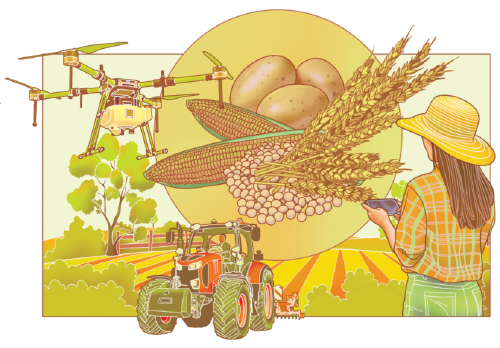 China has made remarkable progress in agriculture over the past few decades. It produces 95 percent of its own staple crops, particularly rice and wheat. Over the past 40 years, inflation-adjusted agricultural GDP increased by an annual average of 4.5 percent, well ahead of the 1 percent average annual population growth. This is despite the country having only about 5 percent of the world's freshwater resources and less than 9 percent of the world's arable land.
Many factors have driven the agricultural growth and transition in China. Among them, innovation in agricultural technology has been one of the major sources of agricultural productivity growth and it has enabled the transition to modern agriculture.
China has developed a strong government agricultural research and development system, supported by over 700,000 people.
The most impactful agricultural innovations include high-yield crop varieties (both conventional and hybrid), Bt cotton, greenhouse vegetable production, innovative animal breeding and feeding management for livestock. These technological breakthroughs were accompanied by innovation in institutional arrangements and incentive policies for farmers, as well as investment in irrigation and infrastructure.
However, increased food production has been at the expense of the environment, and intensive farming has led to soil degradation and water pollution. Climate change aggravates the problems. Malnutrition resulting from unbalanced diets and increasing obesity are additional concerns coming into play. China's agri-food system needs to be transformed to address these challenges. This transformation requires research and innovation, driven by the needs of farmers, consumers and the environment.
A recent study on China's agriculture R&D spending shows that the ratio of agricultural R&D expenditure to agricultural GDP increased from 0.14 percent in 2002 to 0.46 percent in 2018. Although in the right direction, this lagged behind the global average of 1 percent and 2 percent in developed countries. China's R&D system is almost entirely driven by public R&D institutes with very limited private sector initiatives. In comparison, private sector R&D plays a significant role in the more advanced economies.
Meanwhile, China's R&D system is geared toward increased food production and enhanced yields, with relatively limited attention being paid to long-term environmental sustainability or to nutrition aspects. China's R&D investments have been largely focused on the three major staple grains (rice, corn and wheat) and on meat products. For example, the ratio of research funding for staple grains, fruit, and vegetables at China Agricultural University was 65:14:9 during 2016-20. There is a need for more investment in more nutritional produce, such as non-staple grains, fruits and vegetables.
To make China's agri-food system future-proof, investments in agri-food innovation must be scaled up and targeted toward environmental sustainability, nutrition, and climate change related issues. R&D should be directed to the new trends in international agri-food science and technology, such as advanced breeding, precision agriculture and digitalization, protein alternatives, sustainable packing, and food waste reduction. Instead of focusing public support solely on increased production, funding should gradually increase to reach China's four development goals: higher yields and efficiency, nutrition and health, environmental sustainability and climate adaptation.
R&D spending should target both staple grains and the more nutritious non-staple grains (rich in minerals and vitamins), as well as fruits and vegetables. The stable supply of major staple crops and meat is currently the core objective of China's food security policy. But as people have recently begun to over-consume these foodstuffs, R&D should be redirected to also include other more nutritious foods to improve production and reduce prices to achieve a more balanced diet.
While ensuring government investment in agri-food R&D, China should also introduce a more diversified agri-food R&D strategy and encourage more private investment in the sector. The country's overall innovation system can be strengthened by providing incentives for private sector innovation, and by enabling private technology transfer through public-private partnerships, as well as financial support and tax incentives especially for agri-tech startups. The private sector, in turn, can stimulate more rapid access to new technologies for farmers.
Reorienting funding in agricultural innovation is an important step to cater for the future. It should ideally be addressed systematically along with corresponding changes in policy and institutions that support it. This will help ensure continuous food security in the country and achieve a healthy and sustainable food future.
Fan Shenggen is a chair professor at China Agricultural University, and Zhou Yuan is head of Agricultural Policy and China Program at Syngenta Foundation for Sustainable Agriculture. The views don't necessarily represent those of China Daily.
If you have a specific expertise, or would like to share your thought about our stories, then send us your writings at opinion@chinadaily.com.cn, and comment@chinadaily.com.cn.
Most Viewed in 24 Hours
China Views