FTA creates economic dynamo for Mauritius and China
Share - WeChat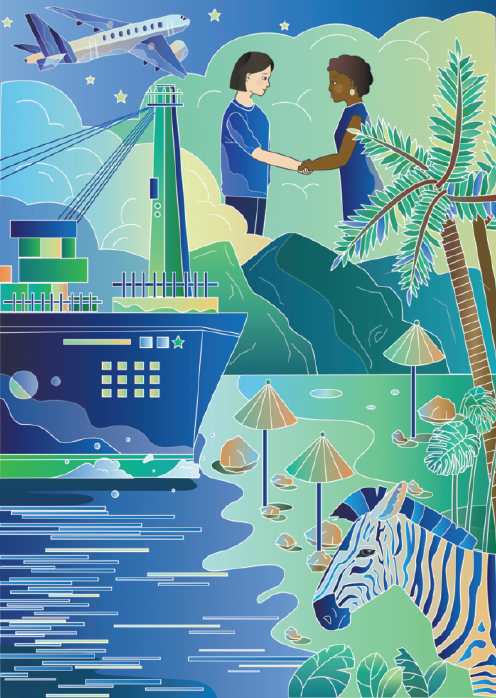 The economic barometer between Mauritius and China started rising 50 years ago when more than 100 Mauritian businessmen flew to China on a chartered plane to participate in the world renowned Canton Fair.
Over the years, Mauritius and China have signed numerous agreements of cooperation in various fields, such as economic cooperation, technology, culture, education, and sports. The ratification of the Mauritius-China Free Trade Agreement in January 2021 has served to start the economic and trade dynamo.
From the trade perspective, data from Mauritius suggest that after the ratification of the FTA, Mauritius' exports to China increased by 148 percent. According to data from China's Ministry of Commerce, Chinese direct investment in Mauritius in 2020 was estimated at $45.77 million, with Chinese cumulative investment in Mauritius reaching approximately $887 million, mainly in the finance, real estate, manufacturing and tourism sectors.
The FTA as an economic and trade dynamo has been constantly providing both countries a thriving ecosystem for economic and trade development capable of delivering outcomes for the people. Nowadays, the framework of the African Continental Free Trade Agreement combined with the Regional Comprehensive Economic Partnership offers to amplify the economy and trade in a big way. These two FTAs serve as two economic and trade dynamos that will ring in a new era in South-South cooperation and economic advancement with Mauritius and China as the two main players.
Moreover, the people-centric focus in the Mauritian National Budget presented in June 2022 and China's focus on modernization in the report presented to the 20th National Congress of the CPC will also help modernize economies and trade for the two peoples.
Finally, in the 50th year of the establishment of diplomatic and economic relations between Mauritius and China, the economic and trade dynamo between Mauritius and China has been modernized with the MCFTA and it will keep modernizing with the aim of providing a brilliant future to the Mauritian and Chinese people.
The author is the Economic & Commercial Counsellor of Mauritius in China and the China Chief Representative of the Mauritius Economic Development Board Representative Office in China.
The views don't necessarily reflect those of China Daily.
If you have a specific expertise, or would like to share your thought about our stories, then send us your writings at opinion@chinadaily.com.cn, and comment@chinadaily.com.cn.
Most Viewed in 24 Hours
China Views