Climate funds must align with needs, expert says
Share - WeChat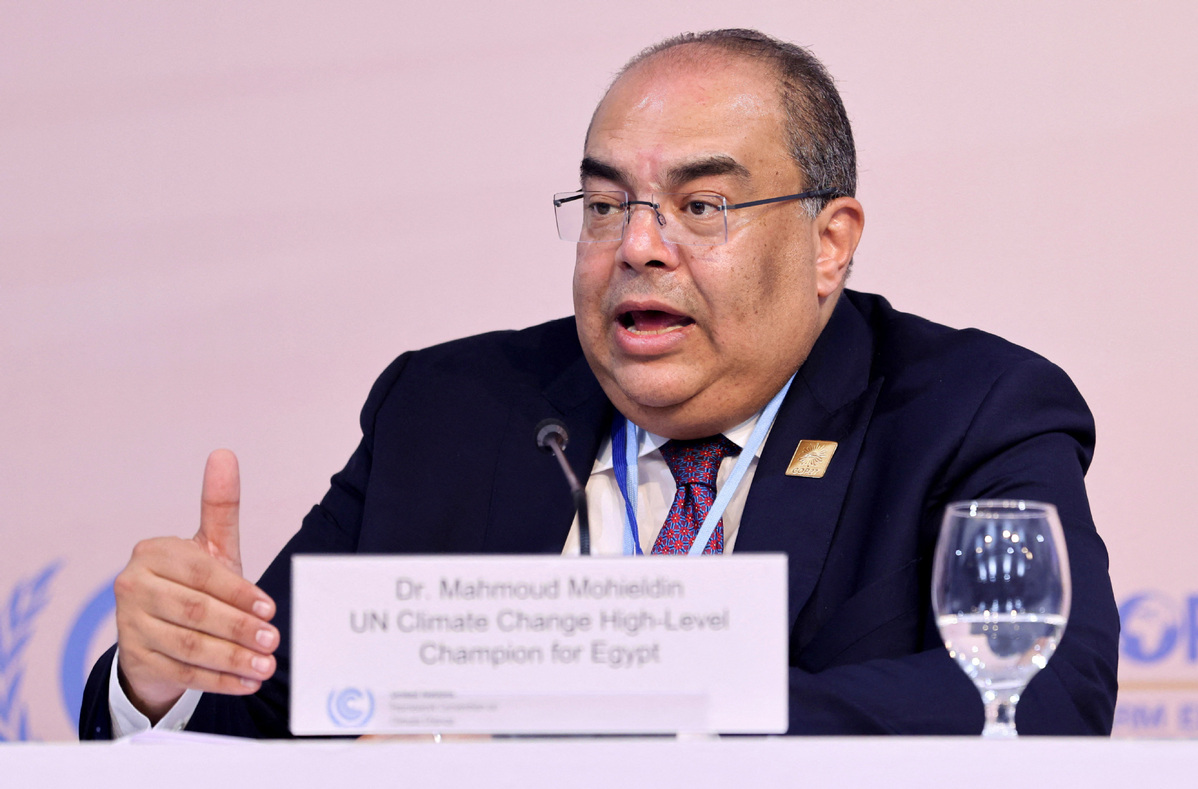 Climate financing pledged for developing countries should be fulfilled and must be expanded to match the evolving needs of developing countries to fight climate change, a leading expert said at the 27th session of the United Nations Climate Change Conference, or COP27.
"It is estimated that developing countries need $2 trillion a year for climate action. This effectively means that not only should the promise of mobilizing the $100 billion be fulfilled, but this amount has to be re-quantified and scaled up to match the evolving needs of climate action, in both adaptation and mitigation, in developing countries," Mahmoud Mohieldin, UN Climate Change high-level champion for COP27, told China Daily in an exclusive interview.
At COP15 in Copenhagen, Denmark, in 2009, developed countries promised to provide $100 billion every year as a goal to achieve by 2020 to help developing countries fight climate change, but so far the minimum level has not been met, Mohieldin said.
"It shouldn't have been that hard to fulfill the promise of mobilizing $100 billion, which constitutes only 0.12 percent of the global GDP," he said.
Climate financing was a major topic during the two-week COP27, which closed in Sharm El-Sheikh, Egypt, on Sunday, with many developing countries calling for rich countries, which have contributed to the bulk share of greenhouse gas emissions over the past centuries, to fulfill their duties.
A breakthrough agreement was reached at the last moment of the conference on Sunday to provide "loss and damage" funding for vulnerable countries hit hard by climate change.
In terms of financing developing countries to cope with climate change, developed countries need to increase investment rather than debt to developing countries, Mohieldin said, adding that 60 percent of low-income countries are now at high risk of, or already in, debt distress, citing figures from the International Monetary Fund.
"We need to see more investments and concessional financing, as well as innovation in financial instruments, blending of climate finance and the establishment of international carbon markets," he said.
In addition, more climate change investments are needed from the private sector, Mohieldin said.
"Today the private sector's share of the total financing of climate adaptation efforts on the African continent is not more than 3 percent ($11.4 billion). To encourage a bigger role for the private sector, governments should lead, until the business case for adaptation is well established," he said.
Providing opportunities
Tackling climate change also provides business opportunities to the commercial sector, including Chinese companies, Mohieldin said.
The Africa Carbon Markets Initiative, which was inaugurated at COP27 to support the growth of carbon credit production and create jobs in Africa, is one such example. Carbon markets can offer many opportunities to unlock billions for the climate finance needs of African economies, while expanding energy access, protecting biodiversity and driving climate action, he said.
"We have already seen huge signals of progress on the green transition from China and Chinese enterprises," said Mohieldin, citing China's share of global passenger electric vehicle sales increasing from 26 percent in 2015 to 56 percent in the first half of this year.
"In forging the path to zero emissions, China's private sector and local governments will give the national government the confidence to create an even more enabling policy environment, in which businesses can further innovate and scale up transformative solutions."
wangxiaodong@chinadaily.com.cn