Chinese embassy in S. Africa awards outstanding students
Share - WeChat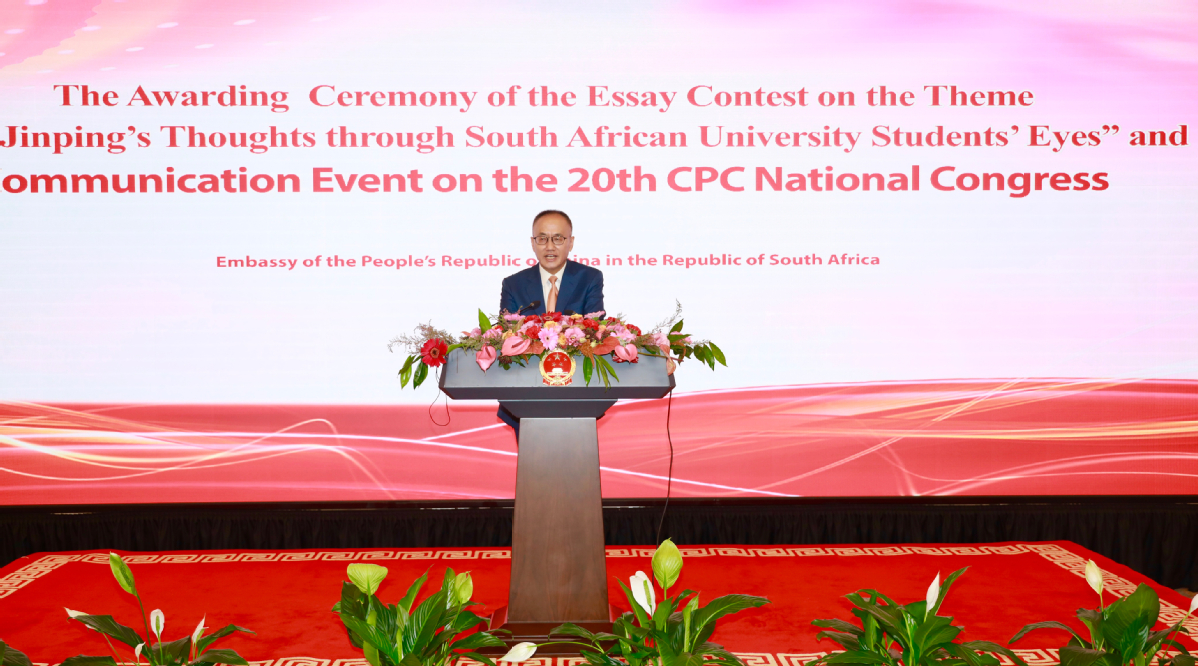 The Chinese embassy in South Africa recently gave awards to 59 South African university students who took part in an essay competition on the theme - "Xi Jinping's Thoughts through South African University Students' Eyes".
A total of 350 students from the South African universities took part in the essay competition. Students wrote essays on poverty alleviation, governance philosophy, ecological conservation, community with a shared future for mankind and BRICS cooperation, among others. A total of seven students won the Chinese ambassador's award, and 13 got the first prizes.
The Chinese Ambassador to South Africa Chen Xiaodong congratulated the winners, saying they displayed knowledge of the China's development experience in the context of South Africa's national conditions.
"After careful evaluation, 59 contestants stood out as winners. You have done in depth analysis of both the broad theory and specific policies. I can see in you the warm feelings of South Africa's younger generation towards China, the powerful force to consolidate the friendship between the people of China and South Africa, and the bright prospect for promoting mutual learning of our two civilizations," said Chen.
He said the new development of China in the new era will bring new opportunities to the world and boost Sino-South Africa relations. Chen said China will strengthen the exchanges of experience in governance, deepen mutually beneficial cooperation, expand solidarity and cooperation in international affairs, promote people-to-people exchanges with South Africa to improve the lives of the people.
Buti Manamela, deputy minister for higher education, science and innovation in South Africa, congratulated the winners. He said South Africa and China share a common experience of colonialism and the fight for freedom.
He said, "Today's award ceremony is further testimony to this cordial relationship that exists between our two great nations. We are greatly inspired by the resilience of the people of China and believe that today's occasion further strengthens the bond of friendship between our two great nations. Congratulations to all the students who are being honored here today. We commend you for your hard work."
Keo Motaung, acting deputy vice-chancellor research innovation and engagement at the Durban University of Technology, said they are proud to have coordinated the essay competition with the University of Cape Town, University of Johannesburg, Stellenbosch University, University of Western Cape and University of the Witwatersrand. She thanked the Chinese embassy for sponsoring the event. Motaung said China has rapidly developed in the past 30 years.
She said, "Its achievements in various fields have impressed the world. I am so glad to see so many outstanding South African youth participated in this contest. As young generation, it is important for them looking for the answer to what enables China and South Africa to get out of poverty, what enables Chinese people to cooperate globally and innovatively create mechanisms for win-win cooperation and what could South Africans learn from China about disciplined thought and disciplined action by government, business/industry, universities and broader organs of society."
Motaung said they hope the "family bond between South Africa and China" should continue to grow as the two countries celebrates the 25th anniversary of the establishment of diplomatic relations in 2023. She urged the youths to contribute in deepening the relations between the two countries.
Motaung said, "The similar history, shared destiny and dependent future made South Africa and China a big family embraced by different cultures. As a sturdy human bridge that connects China and South Africa through mutual respect and understanding of the different cultures and through promoting world peace through mutual exchange, I believe that the youth between two countries will play an increasingly significant role in this engagement. Ultimately, as South Africans, we must not only hear or learn about the values, character and culture that have made China a leading economic powerhouse in the world; we must begin to reshape or re-calibrate ours so we could one day emerge as a leading powerhouse in Africa and beyond."
Siyanda Mlamla, a student from Rhodes University who won an ambassadors' award, said he wrote about how South Africa could alleviate poverty. He said there should be more exchanges between South African and Chinese counterparts to deepen understanding about different countries.
Chen said every year, China provides about 30 full scholarships under the Chinese government scholarships program for South African university students to study in China.