CIIE a witness to closer China-Germany cooperation
Share - WeChat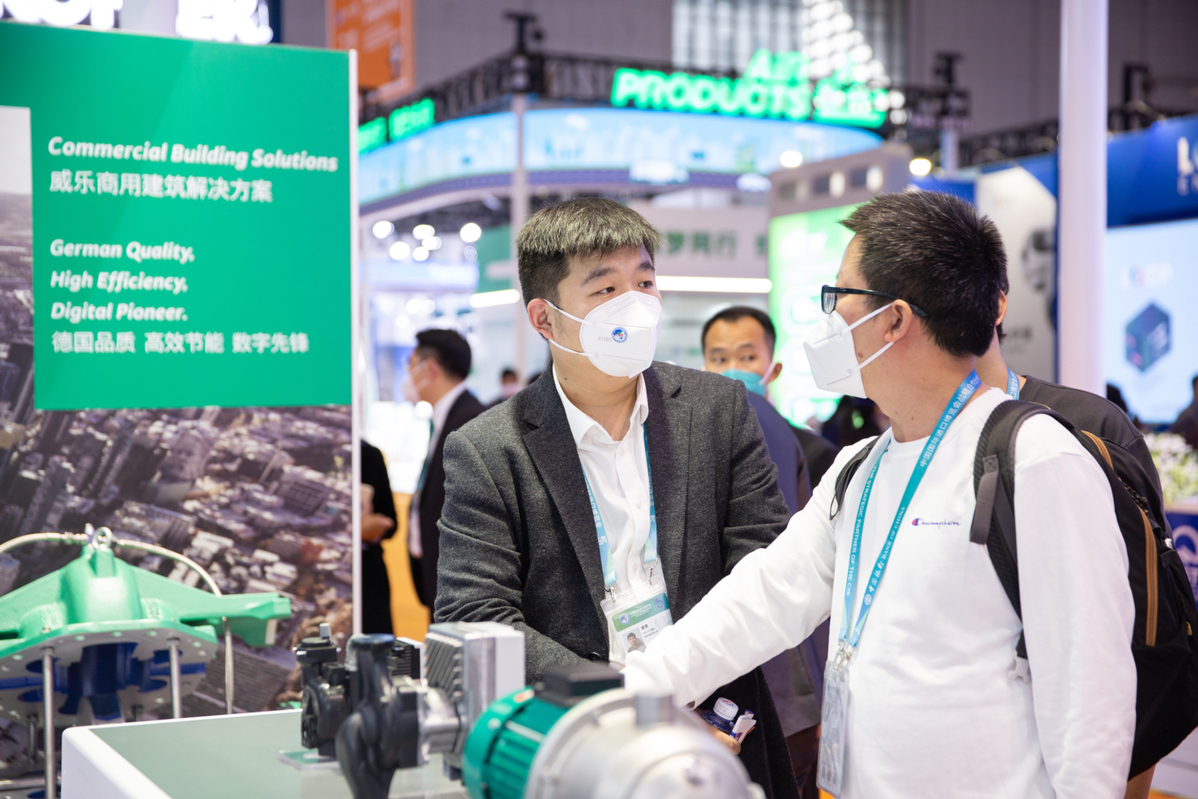 SHANGHAI -- At the fifth China International Import Expo (CIIE) held in Shanghai, such eye-catching products as the latest vehicle models and medical equipment made by German companies have been showcased.
Bringing the German brands a flow of new purchase orders, the annual expo has actually become a witness to ever-growing China-Germany cooperation.
Over the past five decades, bilateral practical cooperation has kept increasing, with two-way trade growing by almost 1,000 times, serving economic and social development in both countries, Chinese President Xi Jinping pointed out Friday when meeting with German Chancellor Olaf Scholz on his official visit to China.
Win-win cooperation
At this year's expo, German automakers including Volkswagen, Mercedes-Benz and BMW have displayed their latest products ranging from electric vehicles to concept cars, making the event a feast for German car lovers. It is worth noting that these new models have used multiple Chinese parts and technologies.
Currently, the global automotive industry is undergoing a transformation, with such new concepts as electrification and green solutions emerging. The reshaping of the industry has brought about fresh opportunities for further cooperation in the field between China, which has an edge in batteries and software, and Germany, which is adept at quality control and assembling parts.
In October, Volkswagen announced that its software subsidiary CARIAD has established a joint venture with Chinese automotive chip company Horizon Robotics. BMW also disclosed that it will invest another 10 billion yuan ($1.38 billion) to expand its high voltage battery production center located in Shenyang, Northeast China's Liaoning province.
"At the BMW Group, we see tremendous potential in continuing to build strong ties and foster cooperation between China and Germany. I am looking forward to many such opportunities in the future," said Oliver Zipse, chairman of the Board of Management of BMW AG.
"The CIIE plays an important role in promoting economic globalization and open trade and thus underscores China's strategic attitude towards a continuous opening-up policy," Zipse added.
Other business sectors have also witnessed this kind of win-win cooperation. In September, Merck, a German multinational science and technology company, inaugurated an OLED production site in Shanghai.
In the eyes of Allan Gabor, president of Merck China, Shanghai is a platform for the company to reach technologies from across the world.
Sharing of china's opportunities
At this year's CIIE, many German companies have showcased their competitive products, including 5G smart hospital beds that help the elderly turn over and monitor their physical signs, ultra-thin glass whose thickness is only the equivalent of two red blood cells, and hydrogen metallurgy technology solutions that assist in the transformation of the steel industry.
While stressing they are "optimistic about the opportunities in China," many German companies expressed their confidence in the Chinese market in interviews, saying they are "determined to stay committed to" and "grow together with" the Chinese market.
This stems from China's clear signal to the world: China will keep opening up.
"China will stay committed to advancing high-standard opening up, keep to the right direction in economic globalization, promote an open world economy, and expand converging interests with other countries," Xi said during his meeting with Scholz on Nov 4.
Xi's words had pointed out the direction for the two countries to further expand the scope and depth of cooperation.
About 100 German businessmen applied to accompany Scholz on his visit to China and 12 corporate executives were allowed, including those from Siemens, Merck, Deutsche Bank, BASF and BioNTech, which cover industries such as manufacturing, chemical, pharmaceutical, and food.
This not only shows the good will of the German business community to promote bilateral economic and trade cooperation, and also shows the strong attraction of China's market scale advantage and efficient industrial system to German enterprises.
Recently, China has attracted a large number of German companies to increase investments in China.
Siemens came up with a plan called "Marco Polo" which will possibly relocate some sectors related to industrial software and factory automation to China.
For German chemical giant BASF, the first plants of its Verbund site in the city of Zhanjiang, south China's Guangdong Province, started production in early September.
German optical giant Zeiss breaks ground on a $25-million plant in Suzhou in a vote of confidence in China in October. The facility will be for R&D and manufacturing of ophthalmic equipment.
"Merck has been deeply engaged in the Chinese market for 89 years, and China has become an important strategic market and growth engine for Merck globally. Thanks to the open and shared international platform of CIIE, Merck's business in China has also achieved considerable development in recent years," said Belen Garijo, chairman of the Executive Board and CEO of Merck.
As a member of the German chancellor's business delegation to China, Garijo added that Merck will continue to step up its investments in the Chinese market, be on par with more Chinese partners to add impetus to deepening China-Germany and China-Europe economic and trade cooperation, firmly support globalization, and join forces to cope with international challenges.
The website of the Financial Times, citing the substantial increase in R&D investment in China by German automakers, said, "Today, 55 percent of all EVs are sold in China, and if Germany's carmakers are to remain competitive globally, they have to access not just the country's consumers but the technological expertise that has been developed there."
Gao Yan, CEO of the German industrial giant ThyssenKrupp Greater China, said that China has a complete and efficient industrial chain, constantly optimizes the business environment and intellectual property protection, and has strong competition in terms of talents, quality, cost, etc. These are the key factors to attract foreign enterprises to develop in China.
Fifty years of diplomatic ties
This year marks the 50th anniversary of China-Germany diplomatic relations, and the trade volume between them has mushroomed to more than $250 billion in 2021 from less than 300 million dollars at the very beginning of diplomatic relations. Currently, Germany is one of China's most important trading partners in Europe, and China has been Germany's top trading partner for six consecutive years.
In the past five decades, the China-Germany relationship has continuously advanced to a new level. Since the establishment of diplomatic relations between the two countries, the bilateral relationship has evolved from a "partnership with global responsibility" to a "strategic partnership" to the current "all-round strategic partnership."
Standing at a new historical juncture and looking forward to the future, how could China-Germany relations continue to write the story of common development and mutually reinforcement?
It is important that China and Germany respect each other, accommodate each other's core interests, adhere to dialogue and consultation, and jointly resist disturbances from bloc confrontation and attempts to see everything through the prism of ideology, Xi said.
Germany wants to maintain communication and coordination with China to better safeguard regional and global peace and security, said Scholz.
On issues where the two countries' positions diverge, Scholz added, Germany is willing to exchange views with China to increase mutual understanding and trust, and stabilize, cement and grow bilateral ties.
The world today is undergoing profound changes unseen in a century. This is such a challenging era, and the more complex and difficult the situation becomes, the more important it is for China and Germany to uphold mutual respect, mutual benefit, dialogue and cooperation.
This era, however, is also full of hope, and it is believed that China-Germany relations will continue to maintain steady and long-term development, play a positive role in improving the well-being of the peoples, promoting global economic recovery and safeguarding world peace and tranquility, and continue to write a new chapter of win-win cooperation.