Indonesian envoy upbeat on G20 summit outcomes
Share - WeChat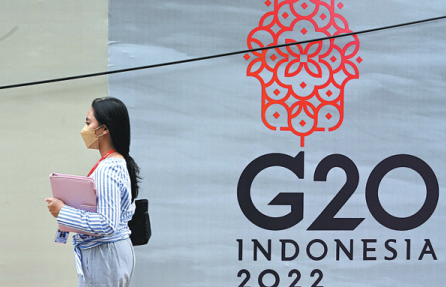 The G20 summit will be successful despite multiple global challenges, said an Indonesian diplomat in South Africa.
Victor Josef Sambuaga, charge d'affaires of the Indonesian embassy in South Africa, said he expects the summit to be a success despite challenges such as the COVID-19 pandemic, the ongoing conflict between Russia and Ukraine, rising geopolitical tensions, and the global food, energy and financial crisis.
"This year's G20 presidency is probably the most challenging, given that the world is facing multiple crises," Sambuaga said.
Indonesia, which holds the G20 presidency this year, has indicated that it will prioritize the strengthening of the global health architecture, digital transformation and energy transition during the summit on Nov 15 and 16.
Sambuaga said it is evident from the pandemic that the global health architecture needs to be strengthened to prepare the world to respond better to future health crises. Digital transformation is also a critical solution in moving the economy during a pandemic and has become a new source of economic growth, he said. The Indonesian presidency will focus on the enhancement of digital skills and literacy to ensure an inclusive digital transformation.
Sambuaga expressed optimism that the G20 will reach a consensus despite geopolitical tensions.
"The world is in another multidimensional turmoil due to the COVID-19 pandemic. As a group of the world's major economies with political and economic power, the G20 can drive the world's recovery," he said.
"I hope the summit can produce a constructive consensus, most and foremost, in the three priority sectors: strengthening of global health architecture, digital transformation and energy transition. G20 must not fail."
The pandemic has taught the world that "no one is safe until everyone is", and the world is pinning its hopes on G20 to be a catalyst for global economic recovery, especially for developing countries, he said.
The Indonesian G20 presidency has scheduled over 180 main activities in over 20 cities in Indonesia. Sambuaga said his country is paying great attention to the interests of emerging economies and developing countries, particularly in the issues of health, the pandemic, global economic recovery, climate change and energy transition.
"Indonesia gives major attention to developing countries in Asia, Africa and South America, including the small island nations in the Pacific and Caribbean," he said.
"In addition to reflecting the spirit of inclusiveness, this also provides a broader representation of the G20.Emerging economies and developing countries raise many common challenges at the G20 meetings …the priority of Indonesia's leadership in the G20 is to leave no one behind."
Anil Sooklal, ambassador-at-large for Asia and BRICS at South Africa's Department of International Relations and Cooperation, concurred with Sambuaga that geopolitical tensions will be apparent at the G20 summit. He said they do not want to divide the world, but would like the summit to come out with favorable outcomes.
The writer is a freelance writer for China Daily.