Expo lures futuristic followers
Share - WeChat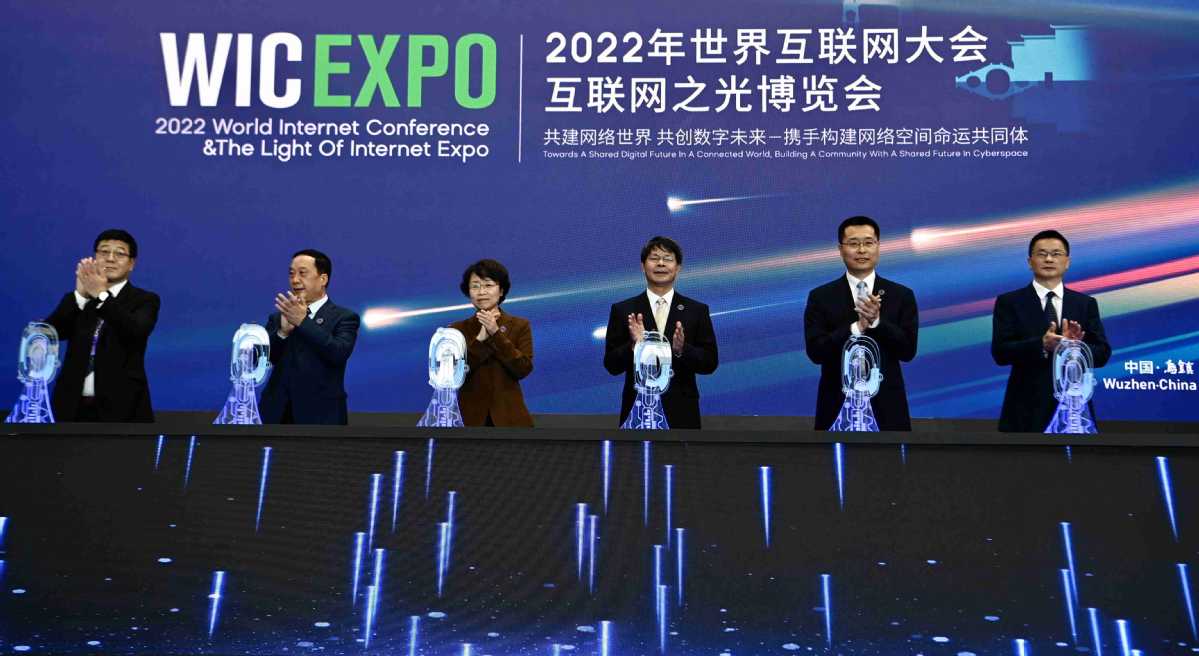 Internet-related section features firms embracing MR, AR, metaverse, goggles
Augmented reality goggles, artificial intelligence-powered helmets, intelligent vehicle-mounted systems and metaverse-related technologies are all attracting attention at this year's Light of Internet Expo, which kicked off on Tuesday, one day ahead of the World Internet Conference Wuzhen Summit.
A total of 415 enterprises and institutions from about 40 countries and regions are showcasing their latest products, technologies and solutions both online and offline during the expo. The event aims to create an important platform for international cooperation and exchanges in the digital economy sector.
Alibaba Group Holding Ltd's online food delivery platform Ele.me showcased its smart helmets for delivery drivers to better protect their safety. The helmets, which serve as intelligent voice assistants, have embedded microphones and Bluetooth headphones to facilitate real-time interaction between couriers and consumers.
Featuring voice recognition technology, natural language processing systems, sensors and safety lights, the helmets can convert in-app notifications into voice messages. Delivery drivers can communicate with customers through the helmet without using their smartphones.
"With the blossoming of the internet of things, big data and AI, we want to create modalities that help people while ensuring their safety. Both helmets and smartphones are essential to a courier's job, so we combined them together and expanded some new functions," said Chen Peiming, an engineer from Alibaba's delivery person management unit.
The helmets have been deployed in Jiangsu and Zhejiang provinces as well as Shanghai, Chen said, adding that the company plans to expand the smart helmets to about 100,000 couriers. "We will also ramp up efforts to develop new intelligent devices, such as food delivery boxes and electric motorcycles to improve delivery services."
Chinese smartphone manufacturer Vivo unveiled its latest cutting-edge technology that enables users to control vehicles through their mobile phones at the glitzy exhibition center.
The applications on smartphones include real-time navigation, video-streaming sites, images and music, which can be transmitted to vehicles, said Wen Liang, product manager of Vivo's internet of vehicles unit, adding that the company has collaborated with electric vehicle makers Denza and BYD to apply its new vehicle-mounted technology to a variety of models.
Other innovative technologies at the expo include the metaverse, which refers to a shared virtual environment or digital space created by technologies including virtual reality and augmented reality.
Powered by 5G-enabled mixed reality or MR technologies, Chinese telecom equipment maker ZTE launched a metaverse experience zone, where visitors can experience sceneries from four seasons in Wuzhen, and enter virtual worlds with robots, spacecraft and other futuristic elements by donning MR glasses.
At the expo, Japanese electronics maker Seiko Epson demonstrated its new-generation augmented reality glasses for industrial application to meet the rapidly growing demand for remote assistance in the manufacturing sector.
Wen Junjie, sales manager of AR glasses at Epson China, said the immersive AR technology can support collaboration between on-site technicians and off-site experts to help enhance work efficiency, cut costs and improve workplace safety.
Saying Epson has been engaged in the AR segment for over 10 years, Wen added that the latest AR glasses with advanced image quality are expected to provide a more immersive viewing experience to today's remote workforce. AR glasses can be used in a wide range of sectors such as education, culture and tourism, he added. The company also demonstrated its ultra-high-definition laser televisions during the expo.