Life made easier for frail seniors
Share - WeChat Dedicated teams assist with showers and hospital visits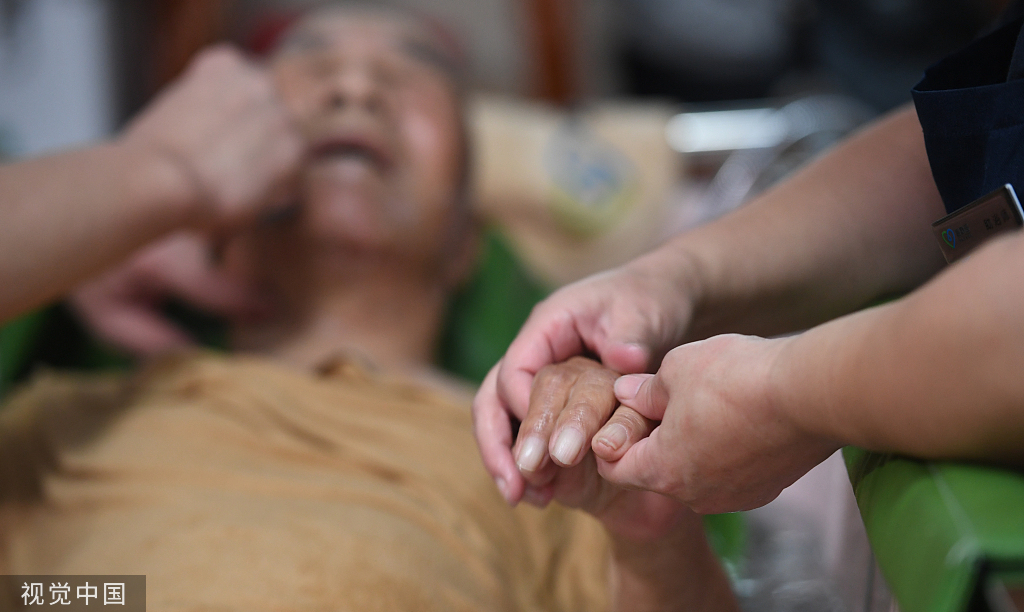 Everyday tasks taken for granted by others can pose obstacles to frail seniors, miring them in misery.
With China's elderly population expected to expand rapidly, many people aware of seniors' urgent needs are taking action to help them.
Last year, Li Minhua, who is in her early 40s, began helping seniors in Beijing with her shower assistance service, with many of her clients treating Li as their own daughter.
A few years ago, she noticed just how desperate her mother was for a shower after her parent was involved in an accident. "She had to lie in bed, unable to move around for six months, and I didn't want to take any risks in giving her a shower," she said.
The only thing Li could do was scrub her mother's skin. "I could tell she was very uncomfortable," she said.
Li was hampered in efforts to help her mother due to a lack of special equipment and professional assistance, which prompted her to research ways to help seniors take showers.
"In extreme cases, some of them haven't taken a shower for two or three years," she said.
According to a survey by the China Research Center on Aging, taking a shower was the biggest problem among six daily self-care activities for the elderly with disabilities. The other five were dressing, eating, going to the toilet, getting in and out of bed, and other indoor activities.
However, there were few specialized businesses in Beijing offering a one-stop service for bathing, scrubbing and showering those in need.
Li said, "No matter if it was a nursing home or a carer, most of them merely provided help that scratched the surface, such as a simple hip bath or scrubbing."
Educated in the Japanese language at Dalian University of Foreign Languages, Liaoning province, Li made a point of talking to Japanese shower service providers.
"The shower assistance culture is prevalent in Japan," she said, adding that this inspired her to tap the niche market in Beijing
After learning about Japanese professional shower assistance procedures and standards, Li bought two water pumps and inflatable bathtubs when she set up her own business in March last year. This equipment enables the elderly to lie down comfortably during a bath, as most of them are unable to stand or sit up.
"The key is reducing the distance as much as possible in which those taking a shower have to move," Li said.