The peak of popularity
Share - WeChat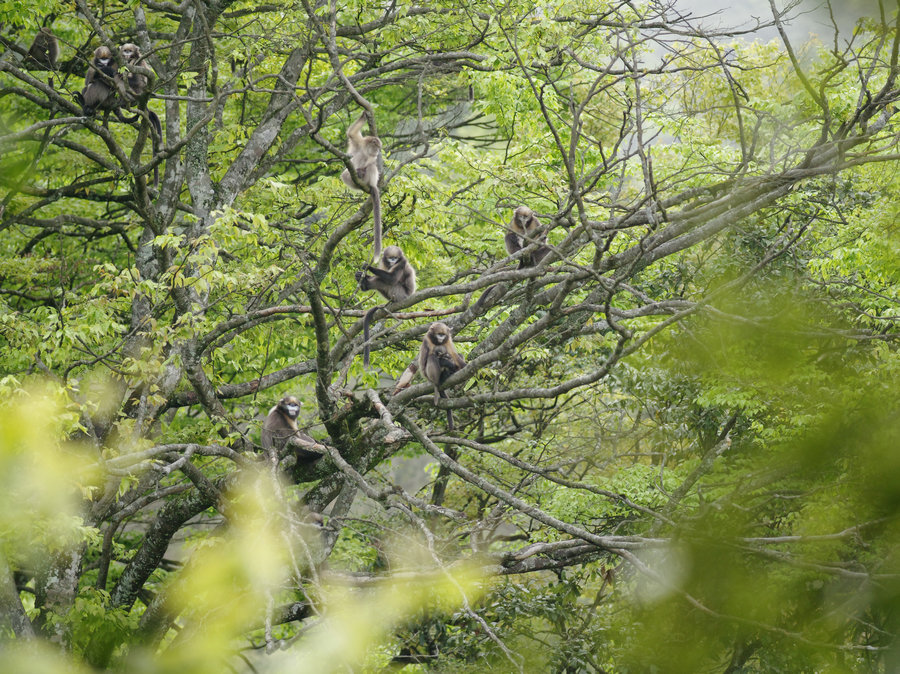 Protection of monkeys
The Fanjingshan nature reserve is the only habitat of the Guizhou snub-nosed monkey, an endangered primate species. There are six of them at the nature reserve's wildlife rescue center, four of which were born there.
Two monkeys, Xiaotian and Xiaofan, have lived in the center for about a decade since they were brought in by forest rangers. Xiaotian arrived after being expelled from the troop, while Xiaofan was brought in to the center for an emergency amputation after sustaining a serious injury by falling from a height.
"That's why the duo stay in the center. Also, we can do breeding research for better preservation of the primate species. The Guizhou snub-nosed monkeys live in troops. It's necessary to release a group of them into the wild to ensure their survival," explains Yang Wei, 29, deputy director of the rescue center.
A bond has been forged between him and the monkeys at the rescue center. At first, they were suspicious and didn't allow him to come close, but after a lengthy period of interaction, they started to trust him and sometimes climbed onto his body.
In April, a monkey cub was born in the center, and Yang Wei was excited to cut its umbilical cord. "It's my first time witnessing the birth and development of a Guizhou snub-nosed monkey. I'm proud to be part of the process," he says.
A supervision platform to monitor the monkeys was established in 2018, with a network of 48 high-definition cameras to enable real-time monitoring.
The monkey population has increased from about 750 in 1992 to more than 800 now, and the area of their habitat has expanded from 200 to 350 square kilometers over the period.