A decade of meteoric growth
Share - WeChat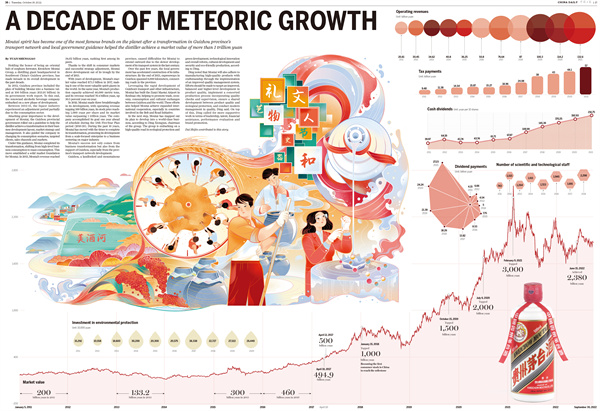 Moutai spirit has become one of the most famous brands on the planet after a transformation in Guizhou province's transport network and local government guidance helped the distiller achieve a market value of more than 1 trillion yuan
Holding the honor of being an oriental hub of sorghum firewater, Kweichow Moutai Group, a distilling giant headquartered in Southwest China's Guizhou province, has made inroads in its overall development in the past decade.
In 2012, Guizhou province included the plan of building Moutai into a business valued at 100 billion yuan ($13.91 billion) in its government work report. To this end, the renowned alcoholic beverage company embarked on a new phase of development.
Between 2012-15, the liquor industry experienced an adjustment period partially due to the consumption sector.
Attaching great importance to the development of Moutai, the Guizhou provincial government rolled out a guideline to help the distiller achieve a transformation in their business development layout, market strategy and management. It also guided the company in changing its consumption scenarios, targeted clients, sales channels and markets.
Under this guidance, Moutai completed its transformation, shifting from high-level business consumption to mass consumption. This move established a solid market foundation for Moutai. In 2013, Moutai's revenue reached 34.62 billion yuan, ranking first among its peers.
Thanks to the shift in consumer markets and successful strategy adjustment, Moutai drove development out of its trough by the end of 2015.
With years of development, Moutai's market value reached $71.5 billion in 2017, making it one of the most valuable spirit giants in the world. In the same year, Moutai's production capacity achieved 40,000 metric tons, and its revenue reached 76.4 billion yuan, up 50.5 percent year-on-year.
Most Popular