Enriching life, enhancing industry
Share - WeChat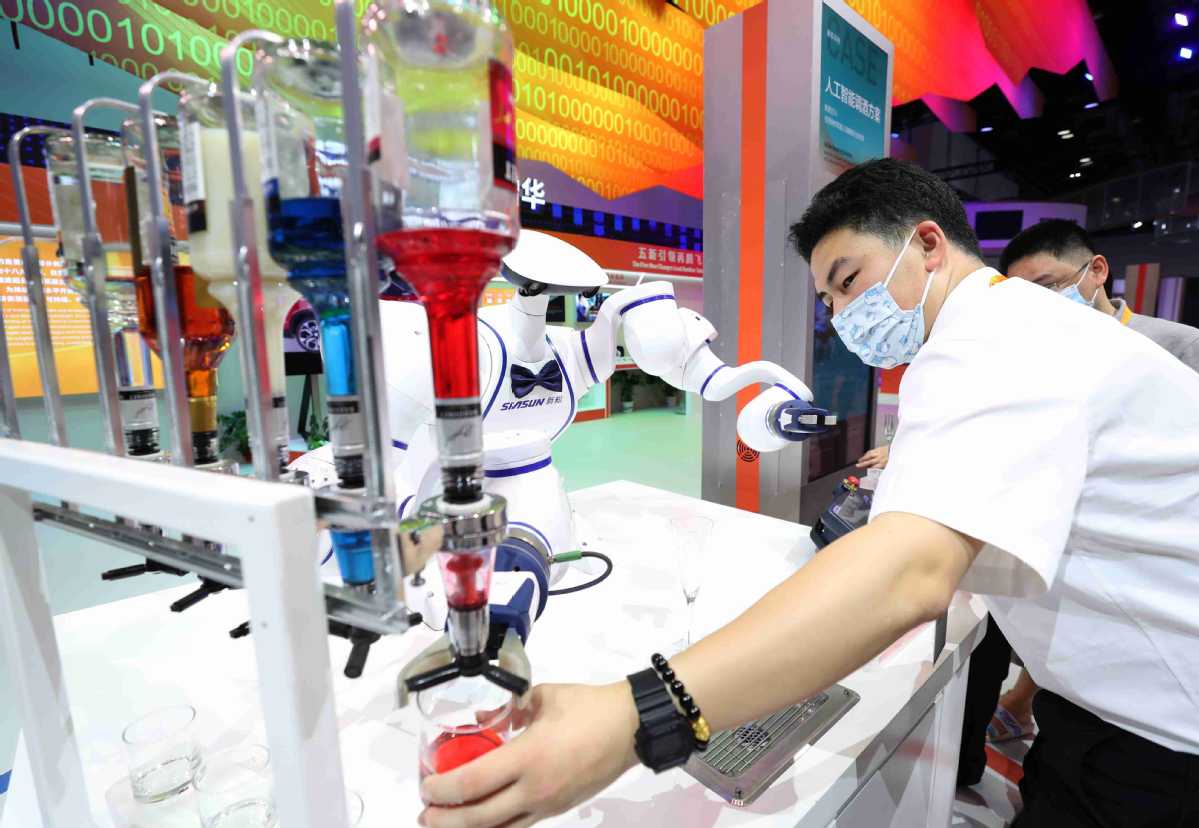 Demand for professional services in China is rising amid the sporadic COVID-19 outbreaks, forming a new growth point for the robotics industry.
Scenarios where service robots are used have increased rapidly of late. Different models of robots are produced now, which has increased the market size, in terms of both output value and sales. The number of robots produced has also increased.
Anti-pandemic robots are being developed rapidly. For example, pharyngeal swab nucleic acid sample collection robots automatically complete tasks like registration code scanning and throat swab sample collection.
The "touchless" unmanned delivery robots have also become a new focus in the market, attracting Chinese internet giants JD, Meituan and Alibaba, which are all developing and testing related systems and services.
Looking ahead, 5G will have an increasing influence on the robots used in the smart warehouse and intelligent delivery scenarios. The new telecom tech will even redefine these products, said Zhe Wenming, head of the intelligent terminal division at JD Logistics.
Compared to WiFi, 5G offers higher reliability and lower latency, and thus will improve the performance of logistics robots and raise the efficiency of delivery. Meanwhile, logistics robots will be applied in more scenarios, ranging from warehouses to last-mile delivery.
After years of development, China ranks among the top countries in terms of artificial intelligence, 5G and other new-generation information technology. The deep integration of robotics and IT enhances robots' perception, calculation and execution capabilities, enabling the machines to be more intelligent, precise and flexible.
The level of autonomous intelligence of service robots has been significantly improved, thanks to the combined use of sensors in fields like vision, deep integration of software and hardware, and continuous optimization of control algorithms.
Medical service robots, for example, feature a tighter combination of emerging technologies like wearable technology in healthcare, intelligent materials and algorithms in the medical field. They have become more intelligent and sophisticated as an integration platform of new technologies.
For example, surgical robots of the high-tech company Beijing Baihui Weikang Technology Co, also known as Remebot, use 5G; and they have been used by doctors to conduct extremely complex brain surgeries more accurately.
The company's cerebral hemorrhage surgery robot can standardize and simplify the operation of complex surgical procedures, allowing doctors to master surgical robots more quickly, said Zhou Xiaoming, director at the operation center of Remebot.
At present, the company has received more than 160 patents and just been awarded the title of national-level "little giant", a well-deserved recognition for the highly specialized and sophisticated enterprise.
"Little giants" typically specialize in business niches, command high market share and boast strong innovation capacity.
Zhou is optimistic about the prospects of surgical robots, saying the macroeconomic environment offers a lot of policy support. For instance, support for the surgical robotics sector and AI-enabled sectors has been prominently discussed in the 14th Five-Year Plan (2021-25), and a large number of innovative companies have already emerged in the fields.
Service robots can be divided into two categories, said Zhao Mingguo, a research fellow at Tsinghua University's Department of Automation. One is business service robots used in public places such as warehouses and logistics centers. The other is customer service robots and sweeping robots that find applications in family and personal scenarios.
"The market size of sweeping robots is expected to explode in China," said Zhao, who predicts huge growth in sales.
Zhao said he believes intelligent service robots, like single-function robots, will be used on a larger scale in the future. So, manufacturers of sweeping robots, food delivery robots used in restaurants, commercial service robots and family service robots may be in for glad tidings.
The 2022 China Robotics Industry Development Report, compiled by the Chinese Institute of Electronics, estimates the global robotics market will notch up $51.3 billion in sales this year. The service robot market alone is expected to net $21.7 billion in sales revenue. In 2024, the global service robot market is expected to grow to $29 billion.
The report shows that China's robotics market has become an important driving force for the global robotics industry in the post-pandemic era. The Chinese robotics market is expected to record $17.4 billion in sales this year, with service robot sales reaching $6.5 billion.
He Jingwei contributed to this story.