Car boot fairs provide jobs, fun
Share - WeChat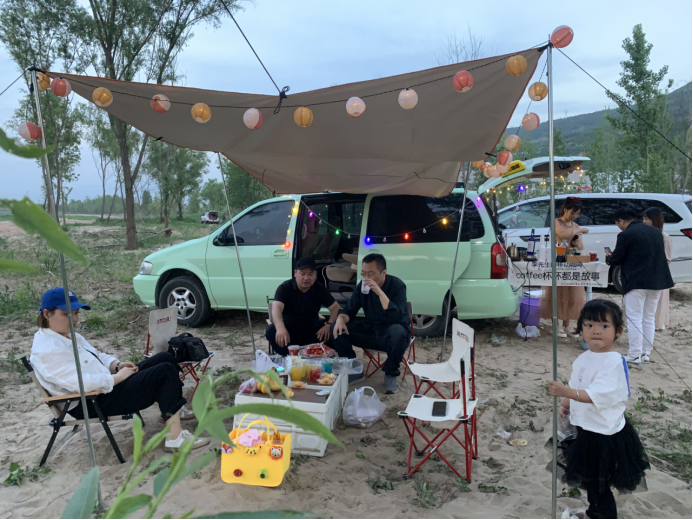 Nightlife, business opportunities bounce back after outbreaks
When night falls and the streetlights go on, a dozen cars arrive at an open outdoor space. Drivers open their car trunks and set up stalls outside their vehicles.
They are selling handmade cakes, coffee and iced drinks, as well as other inexpensive goods out of trunk, while customers relax nearby in camping chairs, listening to live bands and enjoying the soft summer evening.
Car boot fairs have emerged as trendy play this summer in cities across China. Young people have been yearning to go outdoors after being homebound due to COVID-19 restrictions, spurring consumption and economic opportunity for the resourceful.
For the past six months, selling hand-brewed coffee at car boot fairs on the outskirts of Xi'an, Shaanxi province, has been Li Lei's main way of supporting his family, with a daily turnover ranging from 50 ($6.98) to 2,000 yuan.
The 40-year-old — who learned oil painting in college — had to find ways to support his family last year after he was forced to close down his painting training school.
"After staying at home for several months without income, I made up my mind to go out to earn money, even if it was running a stall on the streets," he said. He was inspired by a conversation with a roadside food vendor earlier this year and found that the business with little investment can make a living.
Li once had a coffee shop, so he decided to sell coffee. He bought a 16-year-old secondhand car for 8,000 yuan and drove it to a car boot fair beside a lake in the suburbs where many people go for a walk at night. "I spray painted the car green to give it a new life," he said.
He sets up his mobile stall almost every day and has attracted many regular customers.
"People don't just come for coffee, they like to sit and talk, often staying into the night," Li said.
"It's a way young people like to socialize outdoors. Someone brings a guitar and an amplifier, and after singing a song together, everyone gets to know each other."
"It got popular after the camping craze last year as people have a stronger desire to go outside and get close to nature due to the epidemic," said Zhuang Shenyang, 28, who sells drinks in car boot fairs to earn extra money with his girlfriend in Shenzhen, Guangdong province.
They named their lemon tea stall "A Tea House in Debt" with self-deprecating humor.