Human history is at an inflection point
Share - WeChat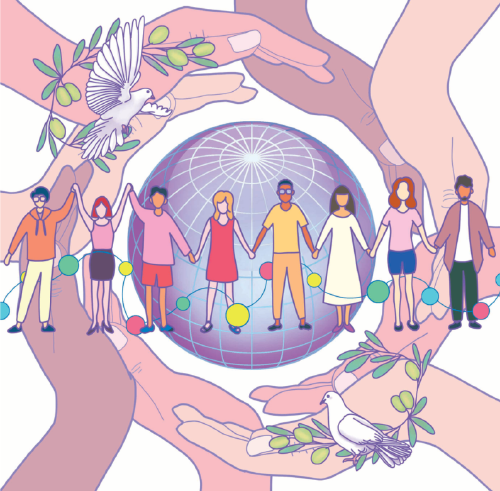 This is a time of overlapped crises and challenges facing humanity as a whole, the overarching problem is that countries are not addressing them collectively and cooperatively, as they should be. Human history once again enters a divided and perilous era, a make-or-break time, notwithstanding the fact that what unites us is much greater than what divides us.
The crises and challenges now facing humanity are not only numerous but multidimensional, multilayered and intertwined, with the lingering COVID-19 pandemic that has killed more than six million people worldwide, plus other sporadic infectious diseases, like monkeypox, ever-worsening climate change that is causing widespread natural disasters, looming worldwide economic stagflation that has had some major Western economies on edge, the ever-escalating conflict in Ukraine that has already given rise to the specter of potential nuclear wars, the ever-rising strategic tensions between the US and China that have almost upended the post-WWII world order, and the trend of globalization and been moving in the worrisome direction of the "Thucydides's Trap" thanks to a relatively declining US desperately clinging on to its hegemonic position. The interplay, overlap and imbroglio of these natural, economic, and geopolitical factors make it almost impossible to find an optimal holistic solution.
The lingering COVID-19 pandemic should be a wake-up call for the world's ill-prepared and fractured response to pandemic diseases that might be even more infectious and lethal in the future. Pandemic diseases know no boundaries. But instead of working together in a coordinated manner to control, contain and eradicate the COVID-19 pandemic, some Western countries have been eager and opportunistic to politicize and exploit it to smear and slander other countries, especially China, which has manifestly done an outstanding job in controlling and containing the infectious disease since the start of the pandemic, despite some unavoidable economic and social pains as a result of prioritizing human life and health over anything else while at the same time making every effort to balance pandemic prevention and control with economic development and people's livelihood.
The ever-worsening climate change has been wreaking havoc worldwide lately with record-breaking hot temperatures, droughts, hurricanes, floods, and other extreme weather conditions. However, with the world distracted by the attritional conflict in Ukraine, the COVID-19 pandemic, the US-initiated strategic competition with China, the endless political infighting in major Western countries, the US in particular, as well as some wobbling policies toward the use of fossil fuels pushed by climate-change deniers, the urgent challenge of climate change has been put on the back burner, despite recent climate-related extreme natural disasters and latest Nord Stream pipeline leaks sounding the alarm for the international community to address climate change with real urgency and a serious shift in people's modus vivendi. The hard truth is that, following the current trajectory of fossil fuel use and greenhouse gas emissions, it is highly likely that climate change would reach a tipping point in the upcoming decades, with catastrophic consequences endangering the very existence of humanity.
The global economy is now heading in a perilous direction with looming worldwide stagflation which is manifesting itself not only in surging prices and lackluster growth in major economies but in whipsawing global financial markets and volatile commodities markets, only to be worsened by the COVID-19 pandemic and the US waging economic wars against Russia and China with unilateral sanctions, embargoes and technological decoupling. The causes of the current global economic woes are multifold, but the underlying root causes lie in the very nature of capitalism and the imbalanced global order plus some irresponsible policies from some Western governments.
Unrestricted debt-fueled consumerism and reckless and rampant financial speculations in major economies are doomed to locking the global economy in boom-and-bust cycles, and the US dollar hegemony has been playing a major role in spreading any US economic crisis into other countries and turning it into a global crisis. As the biggest economy in the world, maybe the US should keep in mind the famous Spiderman motto: "with great power comes great responsibility."
The ever-escalating conflict in Ukraine has been yanking global attention from other pressing issues and challenges, not to mention its manifest spillover effects on global energy security and prices as well as the global order as a whole. The causes of the conflict are so complicated that the dichotomy of good and evil doesn't work here anymore and, squarely speaking, it takes two to tango. After the end of the Cold War, the US-led NATO's relentless and provocative eastward expansion has gravely squeezed Russia's geopolitical and strategic space while turning a blind eye to Russia's reasonable security concerns as a still-relevant great power. Even some renowned US scholars like Dr. Henry Kissinger and Prof. John Mearsheimer believe the US is somewhat responsible for the current conflict and warn against possible calamitous consequences. After all, it takes two to negotiate and compromise for the sake of peace, and the onus has always been on the US to take a leap of faith to abandon its Cold-War mentality and jettison its obsession for hegemony and one-sided security.
The ever-rising strategic tensions between the US and China appear to be edging closer toward the "Thucydides' Trap" day by day and profoundly dividing the world, thanks to a relatively declining US seeing China's peaceful and rapid rise as an overarching threat and challenge to its long-held hegemonic position on the global stage and desperately using all possible excuses and measures at its disposal to slow down China's development and rein in China's ever-growing global influence, including pushing for technological decoupling, instigating geopolitical tensions around China, especially over the Taiwan question, fanning ideological rivalry, launching a disinformation and smear campaign against China, grouping together a coterie of allies to engage in bloc politics, pressuring and coercing other countries to isolate China and pick sides, as well as other hostile and provocative political, diplomatic, economic and strategic maneuvers aimed at weakening and containing China.
At a time when the world urgently needs both China and the US to tackle multiple shared crises and challenges like climate change and a brewing global recession, wayward US hegemonism and unilateralism is bound to have huge destructive global ramifications, to its own peril ultimately.
With humanity's shared future hanging in the balance, the world in a time of uncertainty calls for great leadership, not only great global leadership from major powers, but great national leadership from statesmen. Rather than dividing the world with ideological antithesis, bloc politics and zero-sum mentality, true leaders unite the world with authentic multilateralism, mutual respect, peaceful coexistence and win-win cooperation, and true leaders push the entire human civilization forward with our shared mission to safeguard humanity, promote worldwide peace and prosperity, and build a community with a shared future. Knowing that human civilization as a community with a shared future is an ecosystem where what unites us is much greater than what divides us, true leaders never indulge themselves in the antithesis or contradiction between "Yin" and "Yang", but address "Yin-Yang" as an interconnected, interdependent, interactive, and complementary whole, as Chinese classical philosophy has revealed for thousands of years, epitomized by the notion of "oneness of the cosmos and humanity".
Human history is at an inflection point. To be, or not to be, that is the question. Is the world going to learn something from the COVID-19 pandemic and be fully prepared for the next to be a possibly more destructive one? Is the world going to keep clinging on to fossil fuels, or push for a green revolution as China is? Is the world going to revive globalization and prosper by tapping into mutually beneficial economic cooperation amongst countries? Is the world going to be divided by endless conflicts, or embrace peace and a human community with a shared future? Are the US and China going to establish strategic compatibility and avoid falling into the "Thucydides' Trap"? The onus is on all nations, leaders and individuals who cherish human civilization to answer these questions with humility, compassion, and far-sightedness, and jointly build a human community with a shared future. After all, human civilization is a shared noble cause.
Wang Junrong is an assistant researcher at the Institute of Strategic Studies, Shanghai Jiaotong University. The views do not necessarily reflect those of China Daily.
If you have a specific expertise, or would like to share your thought about our stories, then send us your writings at opinion@chinadaily.com.cn, and comment@chinadaily.com.cn.
Most Viewed in 24 Hours
China Views