Hurricane Ian surges through Florida
Share - WeChat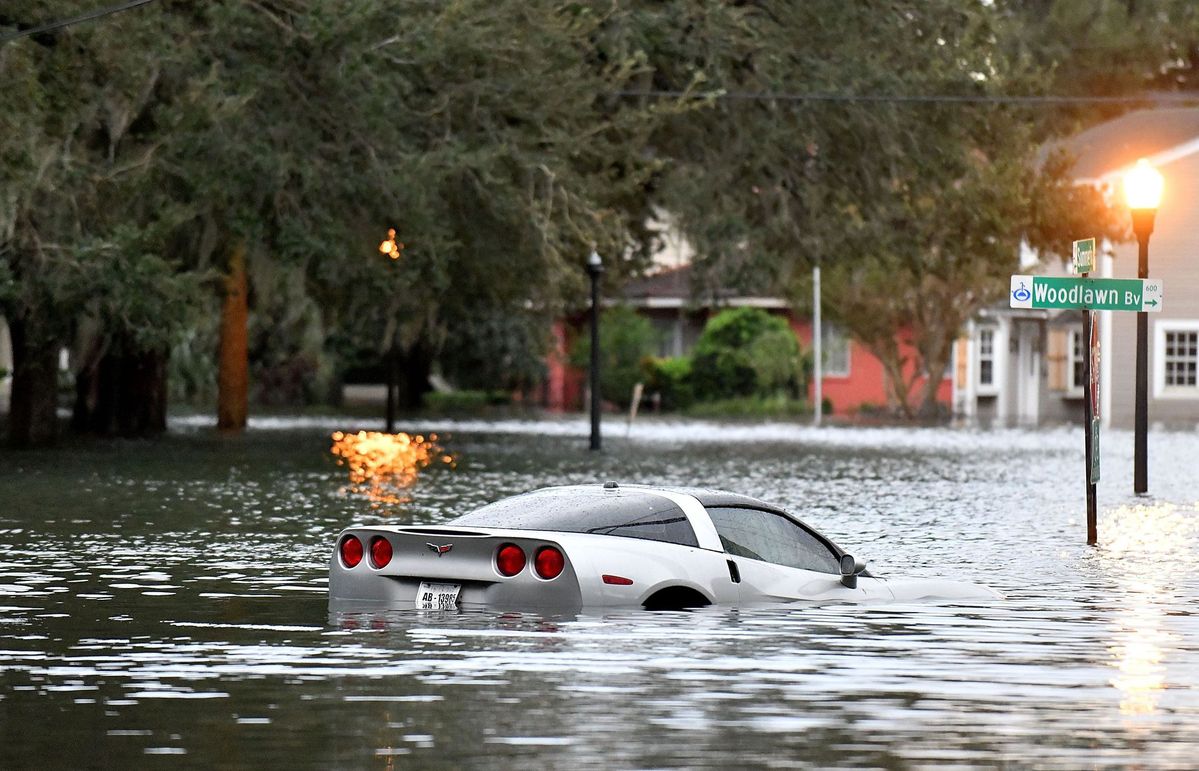 Thousands of people remain stranded in Florida after deadly Hurricane Ian, one of the strongest storms in US history, wrought devastation on the Sunshine State overnight with powerful storm surges.
Ian struck the southwestern coast of Florida as a Category 4 hurricane with 150 mph winds Wednesday, making it the fifth-strongest hurricane to hit the US.
It made landfall near Fort Myers on Wednesday, cut off roads, tossed boats in marinas, ripped apart homes and toppled trees, displacing many people who had not evacuated.
Gliding through streets, rescue workers and residents of Florida's Gulf Coast used boats to search for missing people Thursday.
At least 15 people were confirmed dead as of Thursday afternoon, according to CNN.
The storm knocked out electricity to more than 2.6 million Florida homes and businesses and cut off the Sanibel Causeway, the only bridge that gives 6,300 people access to barrier Sanibel Island.
US President Joe Biden warned there could be a rising death toll during a visit to Federal Emergency Management Agency (FEMA) headquarters in Washington on Thursday.
"This could be the deadliest hurricane in Florida's history. The numbers are still unclear, but we're hearing early reports of what may be substantial loss of life," Biden said.
Biden is set to travel to the state soon. He has vowed that the federal government will do everything it can to get Florida residents what they need after the storm and warned energy companies not to engage in price-gouging.
"Many families are hurting," Biden said. "Our entire country hurts with them."
Biden noted that Florida Governor Ron DeSantis, a political rival, had thanked him for the federal government's quick response to the storm. The president downplayed their differences and said that he had spoken with DeSantis four to five times.
"This is not about ... anything having to do with our disagreements politically. This is about saving people's lives, homes and businesses," Biden said.
DeSantis addressed the storm's devastation at a news conference Thursday: "We've never seen storm surge of this magnitude. The amount of water that's been rising and will likely continue to rise today even as the storm is passing is basically a 500-year flooding event."
He said that Florida Power & Light would help the state recover. They have 20,000 crews across the state restoring power.
Videos posted to social media show flooded homes with furniture floating in living rooms of people who did not evacuate.
Elsewhere, aerial photos of Fort Myers showed some businesses near the beach were ripped from their slabs.
The 911 emergency line was deluged by calls from frightened residents who were trapped, according to sheriffs in southwest Florida.
Lee County Sheriff Carmine Marceno said his office was scrambling to respond to thousands of 911 calls in the Fort Myers area, but many roads and bridges were impassable, according to the AP.
"We still cannot access many of the people that are in need," Marceno told ABC's Good Morning America.
"When you look at Fort Myers Beach in particular, there's no words to describe it," he told reporters.
"I don't know how anyone could have survived in there," William Goodson said to AP amid the wreckage of the mobile home park in Fort Myers Beach where he'd lived for 11 years.
The emergency room at HCA Florida Fawcett Hospital in Port Charlotte, in Charlotte County, southwest Florida, was flooded. Winds ripped of the roof and the intensive care unit was flooded.
The hospital's Dr Birgit Bodine told the AP that some of the sickest patients on ventilators were crowded into the middle two floors as the staff prepared for storm victims to arrive.
Mary Mayhew, president and chief executive officer of the Florida Hospital Association, said that Lee Health, a large hospital system in Lee County, evacuated more than 1,000 patients.
In Arcadia, north of Fort Myers, water swallowed a large swath of one street, The New York Times reported.
A DeSoto County sheriff's deputy told a line of drivers not to try to cross.
"It's at your own risk," he said to drivers, reported the Times. "We're not going to tow you or be able to get you out if you're stuck. Do you understand?"
The National Weather Service tweeted on Thursday: "Hurricane dangers remain [even] after the storm. Watch out for downed power lines and damaged buildings. Avoid floodwaters as they can hide a variety of dangers, and never drive through them, as it doesn't take much to sweep your car away."
The Weather Service also advised against wading into floodwaters.
"Floodwater is extremely dangerous and can contain harmful chemicals and objects that could harm you or make you sick," the agency said.
An 800-member federal search and rescue team is also attempting to find stranded people. Extra help has been drafted by the US Coast Guard. It has been carrying out rescue missions from early in the morning. Firefighters in Orlando used boats to search for people.
An internet search shows volunteers from across the country were headed to Florida. New Jersey sent 135 National Guard members and 40 support vehicles. Connecticut, Massachusetts, New Hampshire, Illinois, Minnesota, Pennsylvania and Virginia were among the many other states that sent help.
The storm surge remained a threat Thursday morning, according to the National Hurricane Center (NHC).
It came despite the hurricane being downgraded to a tropical storm. Forecasters predicted the Atlantic Ocean waters would strengthen it to a Category 1 hurricane before it makes landfall Friday in South Carolina.
NHC warned that a storm surge of 6 feet was possible from Daytona Beach, Florida, to north of Charleston, South Carolina. The Carolinas and Virginia could get flooded from rainfall.
As the deadly storm travels to South Carolina, a hurricane warning has been issued.
Officials in Charleston County, South Carolina, home to 400,000 people, urged residents in low-lying areas to move to higher ground amid concerns over flooding. Buses were taking people to shelters.
Heng Weili in New York contributed to this story.