Chess icon Carlsen accuses US teen rival of cheating
Share - WeChat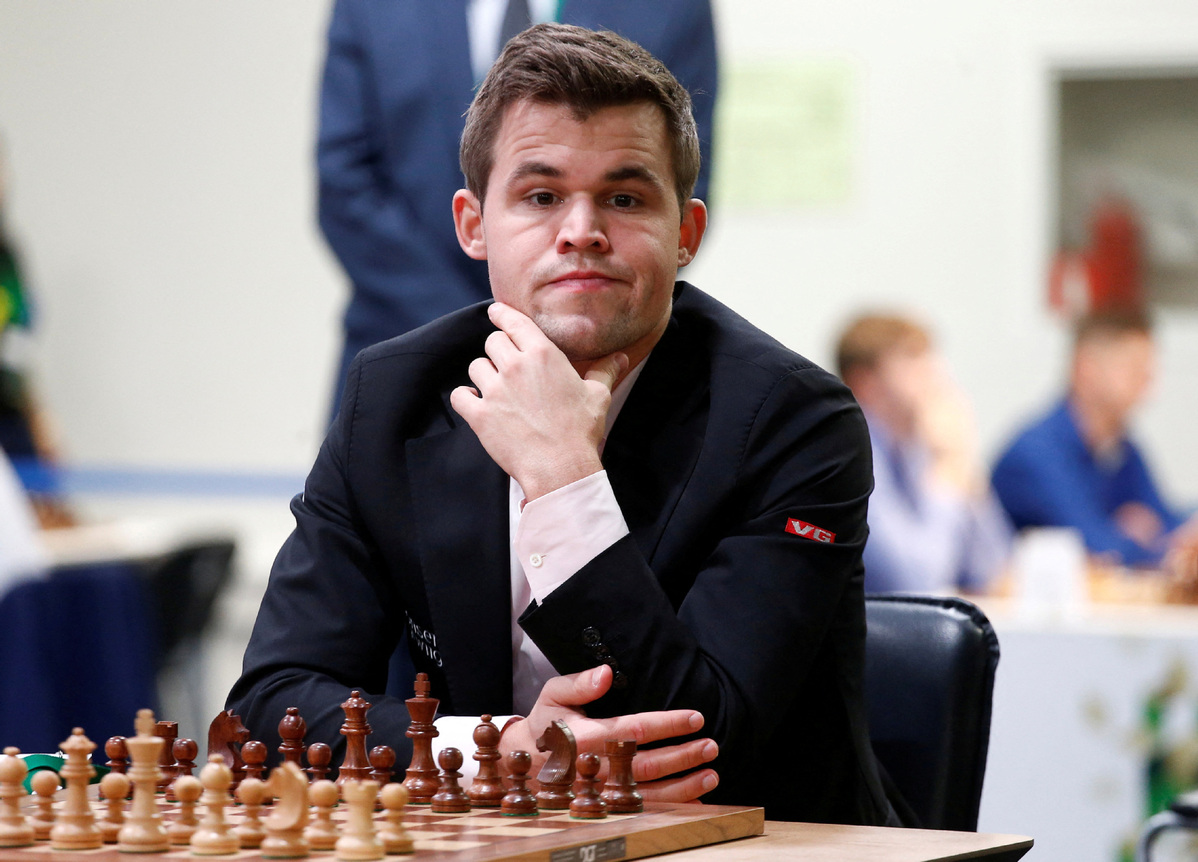 A weeks-long scandal in the world of chess has finally boiled over, with five-time world champion Magnus Carlsen openly accusing United States rising star Hans Niemann of cheating.
In a statement released on social media, Norway's Carlsen said he believes 19-year-old Niemann has "cheated more — and more recently — than he has publicly admitted".
"I believe that cheating in chess is a big deal and an existential threat to the game," said Carlsen, who is arguably the most high-profile and powerful figure in the modern game.
Niemann has previously admitted to cheating in online tournaments several years ago; however, he denies using subterfuge in a recent run of incredible form that saw him rise more than 2,300 ranking places in just one year, to break into the world top 100 for the first time.
In a huge upset, Niemann ended Carlsen's 53-game-unbeaten run at the FTX Crypto Cup in August, and defeated him again at the Sinquefield Cup the following month. After the second loss, Carlsen dropped out of the tournament altogether, stating he would "get into trouble" if he gave reasons for his surprise withdrawal.
The two players met again recently and Carlsen resigned after one move, essentially refusing to compete against the teen. In a subsequent statement, Carlsen said it was the second loss that "changed his perspective".
"His over-the-board progress has been unusual," Carlsen said. "He wasn't tense or even fully concentrating on the game in critical positions, while outplaying me as black in a way I think only a handful of players can do."
Carlsen did not provide any proof that Niemann is cheating, although he said he was limited in what he could share and that "the truth would come out".
Niemann has admitted to cheating by using computer assistance programs in two online tournaments early in his career. He claims that he has not cheated since, but earlier this month Chess.com announced it had banned Niemann from its competitions after allegedly discovering more recent and frequent examples of cheating.
While more difficult to pull off, cheating in live, over-the-board tournaments has been done many times before. In 2019, Latvian grandmaster Igors Rausis was caught looking up moves on a phone hidden in a toilet, and in 2011 the Chess Olympiad uncovered an elaborate scheme cooked up by the French team involving text message and visual signals.
The recent scandal has divided the chess world. Some argue that Carlsen has behaved like a sore loser and labeled his decision to retire during the Sinquefield Cup as bad sportsmanship. Others point to Niemann's meteoric rise through the rankings and previous indiscretions as reasons for suspicion.
Those who believe Niemann is cheating have put forward several theories. Some have suggested he may have gained access to Carlsen's preparations and opening strategies through a leak in his camp, while others speculate that he is receiving suggested moves from a third party via some kind of concealed, vibrating electronic device.
Kenneth Regan, a computer scientist and leading authority on cheating in chess, has analyzed all of Niemann's games over the last two years and said there is no reason to suspect foul play.