Build Japan-China relations for next 50 years
Share - WeChat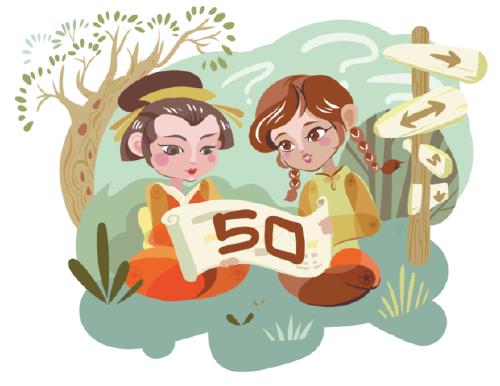 On Sept 29, 1972, then Japanese prime minister Kakuei Tanaka and Chinese premier Zhou Enlai issued a joint statement announcing the normalization of diplomatic relations between Japan and China. This year marks the 50th anniversary of the normalization of Sino-Japanese ties, and I would like to extend my heartfelt congratulations to both countries on the occasion.
Unfortunately, however, the atmosphere to celebrate this memorable event can hardly be seen either in Japan or in China. Fifty years ago, our predecessors understood that peace between, and prosperity of, the two countries and East Asia would not be possible unless Japan and China, as nearest neighbors separated by only a narrow strip of water, established a stable relationship.
Today, too many people seem to have forgotten the importance of a stable Japan-China relationship.
Throughout history, there have been many instances of friction or even war between a rapidly rising power and an existing great power. For example, the United States and China face the same challenge in these times. This potential conflict is described as the "Thucydides trap". My biggest concern is how to mitigate the confrontation between the US and China and avoid this trap.
Sadly, however, an increasing number of Japanese people think that we should work with the US to contain China. This could be partly attributed to Japan's economic stagnation over the past 30 years.
The idea of a balance of power can only fuel the Sino-US confrontation. As a result, should the situation across the Taiwan Straits become unstable, it will be extremely difficult to stop the use of force. And if the US and China were to go to war, all parties involved, including Japan, would be losers.
Japan is one of the most important US allies in Asia as well as China's friend for 50 years. So Japan should serve as a bridge between the US and China, in order to prevent a US-China conflict.
But for Japan to act as a bridge between the US and China, it is essential that Japan and China maintain close exchanges. In recent years, however, the Japanese government, like the US government, has been emphasizing the importance of the conflict between "democracy and authoritarianism". This will only reduce the chances of compromise and increase the chances of conflict.
On the other hand, it seems that China is yet to fully understand the significance of becoming a great power, both in name and reality, in a short period of time. In fact, Sino-Japanese relations will not prosper if China does not try to understand the concerns of other countries.
Fifty years ago, the values of Japan and China were even more different than they are today. But despite that, our predecessors exhibited exemplary wisdom to shelve their differences and work together for the betterment of people in both countries.
Different countries have different opinions on different issues. It is all the more important for the political leaders of Japan and therefore China to communicate more frequently so that the differences between the two countries do not undermine this important bilateral relationship. As for me, I propose the leaders of Japan and China make it a rule to meet each other once a year.
I am concerned by the recent moves of Japan and the US over the Taiwan question. However, it is also true that the Japanese government still maintains a more cautious stance than the US government on the Taiwan question.
On this occasion, the Japanese government should make it clear, both in words and action, that it will adhere to the "one-China principle." It should also send a message to the United States and Taiwan, voicing its strongest opposition to the road toward possible war. If the "one-China principle" becomes hollow, it could accelerate arms race and trigger a conflict in East Asia. That is what no one wants to see.
Last year, Sino-Japanese trade hit a record high. And now, in addition to the Regional Comprehensive Economic Partnership agreement, which took effect on Jan 1, China's likely accession to the Comprehensive and Progressive Agreement on Trans-Pacific Partnership would also be of great significance to bilateral ties. I believe the Chinese mainland and Taiwan should be allowed to join the CPTPP together as long as all the requirements are met.
I strongly oppose the blocking of global markets based on values, including the blocking of supply chains. However, if China continues its strict anti-pandemic policy, it could weaken the Chinese market's ties with the global market. China should give this issue serious thought.
Due to the pandemic, the number of Chinese people visiting Japan last year was only about 43,000, a sharp decline from 11,885,000 in 2019. The drastic decline means more than just economic loss; it also weakens people-to-people exchanges between the two countries.
In this sense, it is necessary to strengthen private-sector cultural exchanges based on the cultural commonalities of the two countries. Promoting youth and student exchanges is also extremely important. In the future, as the world is expected to coexist with the novel coronavirus, I hope the Chinese government will further reopen its borders, and private-sector exchanges between Japan and China will recover and develop smoothly.
A stable Japan-China relationship is like oxygen. You do not notice it until you begin to lose it.
We should take the 50th anniversary of the diplomatic normalization of ties as a wake-up call. To maintain peace and develop bilateral relations for the next 50 years, Japan and China should return to the original intention of establishing bilateral ties based on mutual respect, mutual understanding and mutual assistance, and strive to stabilize their precious relationship.
If Japan-China relations, which are the most important bilateral relationship in East Asia, stabilize, the concept of an East Asian community that I advocate and the community with a shared future for mankind advocated by President Xi Jinping will also make great progress.
The author is former prime minister of Japan. The views don't necessarily reflect those of China Daily.
If you have a specific expertise, or would like to share your thought about our stories, then send us your writings at opinion@chinadaily.com.cn, and comment@chinadaily.com.cn.
Most Viewed in 24 Hours
China Views