Consumers' rising awareness sweetens sugar-free tea market
Share - WeChat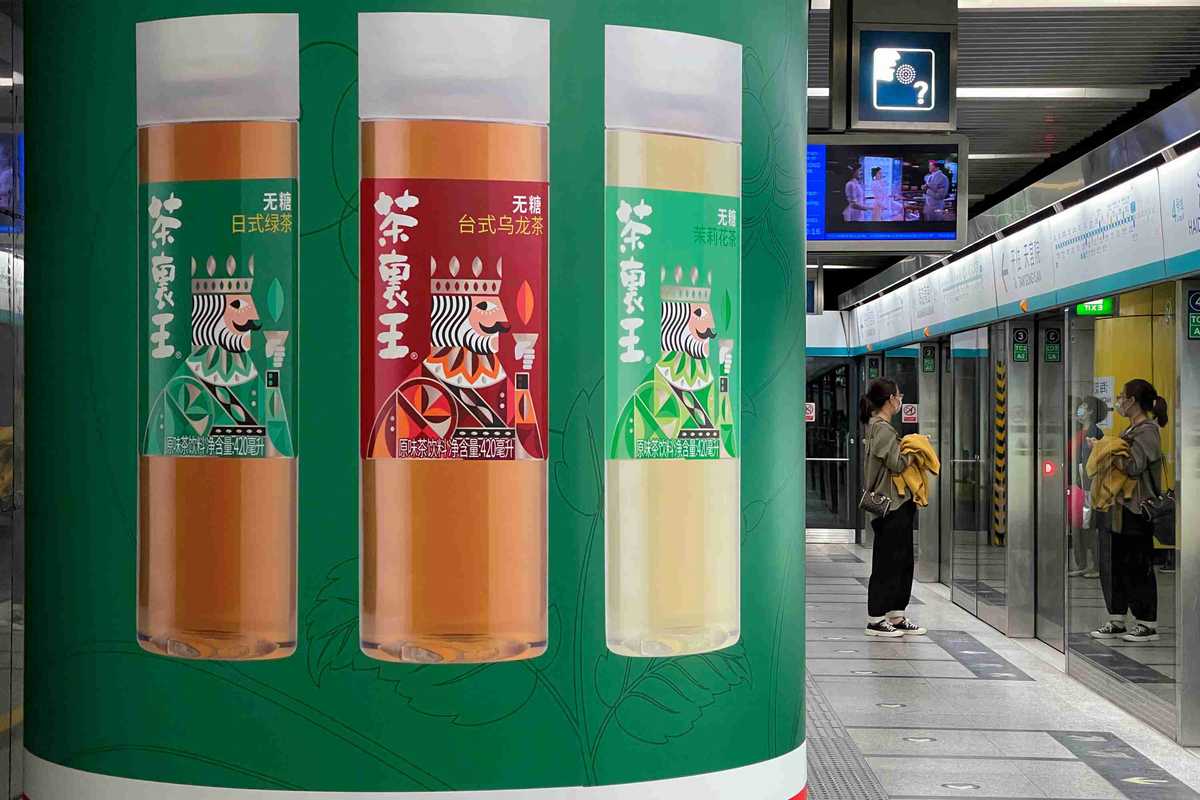 Buoyed by the consumption upgrade and rising consumer awareness in healthcare, China's sugar-free tea market is expected to embrace a surge of development.
In a convenience store in Beijing, the stock of sugar-free ready-to-drink (RTD) tea products in flavors such as jasmine, oolong and green tea with prices varying from 4 yuan (57 cents) to 10 yuan sit tidily on the shelf, which dazzled Wang Wanqing, a 32-year-old office clerk.
"I spend around 200 yuan per month on sugar-free teas. The flavored beverages are not as sweet as milk tea, but they have their own unique flavor and they help make my pants become looser," Wang said.
According to a recent report by Beijing-based market consultancy Analysys, with the rise in disposable incomes and the variation of consumer groups, health and nutrition has become a major consideration for consumers.
The report also said the post-90s and post-00s generations, who are becoming the major consumer groups, are paying more for healthier lifestyles, boosting the consumption trend in the sector.
According to the National Health Commission, China's diabetic population may reach 164 million by 2030.
"On one hand, younger generations are alerted to the expanding diabetic population; on the other hand, 'addiction to sweet flavor' is common among such consumers, which as a result spurs huge market demand for the sugar-free tea beverage market," said Li Xinyi, an analyst in retail with Analysys.
In the past five years, the growth of China's tea beverage market has slowed down, with only a 3 percent compound annual growth rate. However, that of the sugar-free tea beverage sector has been climbing, with the figure surpassing 20 percent.
According to a report from market research company Frost & Sullivan, sugar-free teas took up only 1.5 percent of the total tea beverage market in 2014. The ratio surged to 5.2 percent in 2019 and is expected to continue to grow to 12.3 percent by 2024.
"Sugar-free tea drinks are taking over those with sugar to become a new propeller of China's tea beverage market," Li said.
The Analysys report also said that currently, China's sugar-free tea beverage market is mainly dominated by well-known domestic brands, newly merged homegrown brands and multinational corporations, with domestic players taking increasing market share.
Nongfu Spring, one of China's largest bottled water producers, is taking advantage of the demand surge for sugar-free tea beverages as a new growth engine. According to the company's fiscal report for the first half of the year, sales revenue of its tea beverage sector surged 51.6 percent year-on-year to 3.3 billion yuan.
Specifically, a Nielsen report showed that in the past 12 months, Oriental Leaf Tea Drink, a sugar-free tea brand under Nongfu Spring, reported a sales increase of 70 percent year-on-year, while the overall growth rate of China's RTD tea market was merely 0.8 percent.
In the first half, driven by Oriental Leaf Tea, the sugar-free tea beverage market has become the only segmented RTD tea sector that realized positive growth, with the sub-brand contributing nearly 70 percent of the increment, Nielsen's report said.
Nongfu Spring said that as early as 2010, it had forecast the exponential growth of Oriental Leaf Tea. In 2011, when the sub-brand was launched, there were hardly any sugar-free tea products on the market. Based on the preliminary analysis of the market trend, the company decided to plow deeply into the sector by using advanced processing technology and getting rid of preservatives.
The consumption upgrade in recent years is a testament to Nongfu Spring's prediction. In 2019, sales revenue of Oriental Leaf Tea surged by 28.9 percent, and in 2021, sales revenue doubled, Nielsen said.
Genki Forest, a Beijing-based beverage maker, also noticed the trend in the sugar-free beverage sector and launched its own RTD tea series, including corn silk, mulberry and chrysanthemum.
"China is currently at the critical breaking point of the sugar-free tea beverage market," Li from Analysys said.
According to consultancy Dataway, by 2025, the sugar-free tea beverage market size in the Chinese mainland is expected to surpass 10 billion yuan.
"The non-sugar trend is expected to expand from first-tier cities to smaller cities and attract more consumer groups," Li added.