Italy looks set to elect a far-right government
Share - WeChat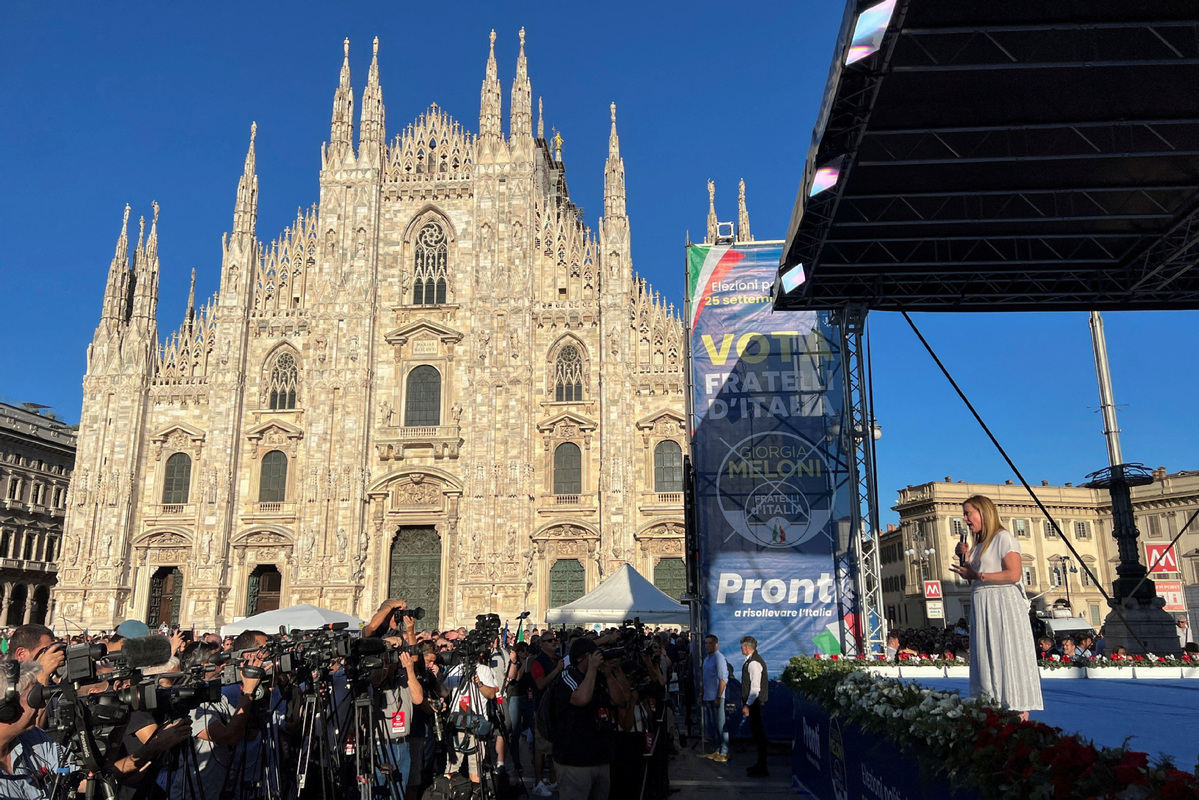 Italy is on course to have a far-right government after elections on Sept 25, according to the final round of opinion polls.
The surveys show a bloc of parties headed by Giorgia Meloni's Brothers of Italy should win around 60 percent of the popular vote, and victory in both houses of Parliament.
Meloni, who has forged an alliance with Matteo Salvini's antimigrant League party and Silvio Berlusconi's Forza Italia, should widen its lead over the center-left Democratic Party, or PD, according to analysis by think tank Cattaneo Institute.
The organization formed its opinion after studying a raft of opinion polls and concluded the right-wing alliance will likely end up with 258 lawmakers in the 400-seat Chamber of Deputies and 131 in the 200-seat Senate.
The Brothers of Italy should be the largest single party in either house following the votes, the study found.
There will be no additional polling ahead of the votes because Italian law prohibits them within two weeks of an election.
Buoyant from the strong showing in the final opinion polls, Italian media quoted Meloni as telling her supporters over the weekend: "We don't want to look at the world any more as if they were better than us."
Appealing to nationalist pride, she added at a political rally: "We are Italians and every now and then, we need to remember that."
Closest rivals
The Reuters news agency reported the final round of opinion polls suggested that Meloni's closest rival, a center-left alliance led by Enrico Letta's PD, is on course to see 88 lawmakers elected in the Chamber of Deputies and 44 in the Senate.
The third largest party, according to the final round of polls, was the left-leaning Five Star Movement led by former prime minister Giuseppe Conte.
The centrist Action party led by former businessman Carlo Calenda has made good progress in polls, but is nevertheless only attracting around 7 percent of the popular vote.
Meloni's strong position suggests she is highly likely to become the nation's first female prime minister.
One of the final opinion polls was conducted by Ipsos and printed in the Corriere della Sera newspaper on Friday.
It said the Brothers of Italy are commanding 25.1 percent of the popular vote, and the PD with 20.5 percent, Five Star with 14.5 percent, and the League with 12.5 percent.
The Times newspaper noted that Meloni and her party emerged out of relative obscurity, having attracted only 4 percent of the vote in the 2018 elections.
But, with Italian governments lasting an average of 18 months since 1984 and cracks already forming in Meloni's alliance with Salvini and Berlusconi, it is not clear how long Italy's first female prime minister will remain in office if she is indeed elected.