Floods spur more calls for climate justice
Share - WeChat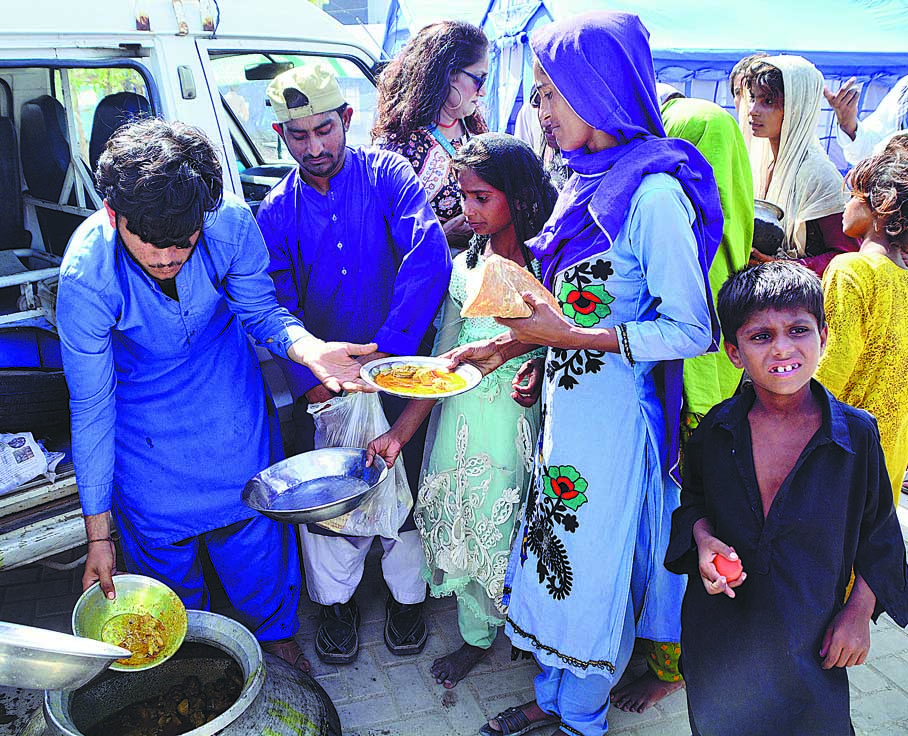 Climate justice for developing nations has become a hot topic again as devastating floods in Pakistan have killed more than 1,300 people, including over 400 children, injured over 12,000 and left thousands homeless in the South Asian country in recent weeks.
Amina Khan, director of the Centre for Afghanistan, Middle East and Africa at the Institute of Strategic Studies Islamabad, said Pakistan produces less than 1 percent of global carbon emissions, but it is one of the top 10 countries that are most affected by the effects of climate change.
Sherry Rehman, Pakistan's minister of climate change, said over the weekend that rich countries that are predominantly to blame for the climate disaster should pay reparations to the developing nations that are bearing the brunt of extreme weather.
"There is so much loss and damage with so little reparations to countries that contributed so little to the world's carbon footprint that obviously the bargain made between the global north and global south is not working," she told The Guardian in an interview.
Muhammad Abdul Basit, a political analyst based in Pakistan, said the international community needs to address climate injustice.
"There is a need for a mechanism to put united effort internationally to handle climate change in the developing world," he said.
Recent floods in Pakistan have affected more than 33 million people, according to Pakistan's National Disaster Management Authority, or NDMA. The United Nations said over 1.1 million houses have been damaged or destroyed in Pakistan and more than 470,000 displaced people are living in camps.
Pakistan's meteorological department said over the weekend that rain and thundershowers in some parts of the country over the next few days could trigger landslides.
Monsoon deluge
Pakistan suffered a 188 percent increase in rainfall throughout this season until Aug 28, in comparison to the average rainfall over the last three decades, said the NDMA, adding that the 30-year average rainfall in Pakistan had been 135 millimeters, but it went up to 390 mm during the monsoon season this year.
South Asia is one of the world's climate crisis hot spots. People living in these hot spots are 15 times more likely to die from climate impacts, UN Secretary-General Antonio Guterres said last month.
Last week, the UN issued a flash appeal for $160 million to help Pakistan deal with devastating flooding. Guterres, who will travel to Pakistan this week, said the funds will provide 5.2 million people with food, water, sanitation, emergency education, protection and health support.
The Chinese government and Chinese enterprises have been organizing collective action and humanitarian assistance to help Pakistan.
"Since the beginning of the floods, the Chinese side has stood with Pakistan and made every effort to provide relief assistance," Chinese Foreign Ministry spokeswoman Mao Ning said on Monday.
She said the Chinese government promptly sent urgently needed supplies, including tents to Pakistan, and that the Red Cross Society of China made donations to the Pakistan Red Crescent Society.
"Subnational governments, organizations and people in China have all expressed their sympathies and support in various ways," Mao added.
The Chinese government has decided to provide additional disaster relief supplies worth 300 million yuan ($43.2 million) on top of a 100 million yuan emergency humanitarian assistance fund.
Also, the Chinese side has put together 200 metric tons of vegetables, and the China Meteorological Administration is providing Pakistan with the weather forecast and technological support.
Salman Bashir, a former Pakistani ambassador to China, said the magnitude of destruction of the flooding in Pakistan is immense, and that China's help is very valuable.
Xinhua contributed to this story.