In this town, highly strung is so much fun
Share - WeChat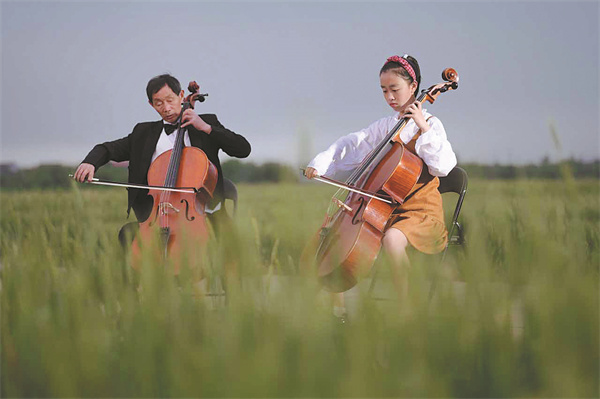 "I never pictured myself playing the cello in the rice paddies and my performance being live online," says Chen Shuaiping, 66, recalling the Field Concert held in Ningbo, Zhejiang province, in May.
In the concert, he presented a cello performance with his granddaughter in the rice paddies in the town of Xianxiang, the ancestral home of cellist Yo-Yo Ma.
Unlike those who have played the cello since childhood, Chen, a retired factory laborer whose daily routine used to be working with machines, had never been exposed to the instrument before 2014.
That year a youth cello club was formed in Xianxiang, part of the efforts the town has made to promote rural vitalization by building itself into a "cello town".
The local government invited Li Jiwu, a cello professor of the Shanghai Conservatory of Music, to be the music consultant. In the ensuing years, many cello teachers and cello players have offered free lessons to local children.