Bangladeshi art woven into cooperation
Share - WeChat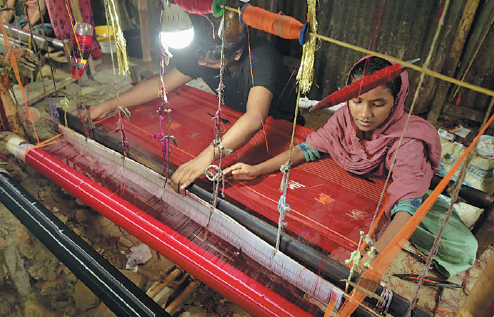 DHAKA-During the inauguration of a Chinese-built bridge in Bangladesh in June, a vital part of Bangladeshi culture was prominently on display.
On a beautiful mural commemorating the opening of the 6.15-kilometer Padma Bridge, exquisite motifs of the Jamdani saree, a traditional women's garment, were showcased.
Known as a Geographical Indication product of Bangladesh, tens of thousands of Bangladeshi people are involved in the production of Jamdani, which has also been recognized as a UNESCO Intangible Cultural Heritage of Humanity.
Jamdani is considered a surviving variety of a fine muslin textile that has been produced for centuries in the present-day Rupganj area of Narayanganj district in Bangladesh.
Every year, weavers make hundreds of thousands of Jamdani pieces, in which geometric and floral designs are typically woven by using a mixture of cotton and gold thread.
Owing to colonial import policies favoring industrially manufactured textiles, the Bengali Jamdani and muslin industries almost died out in subsequent centuries.
But in recent years, the production of Jamdani has witnessed a great revival in Bangladesh.
Weavers said a wide variety of cheap Chinese materials for making the exquisite motifs, woven on the loom, could revive the past glory of the Jamdani saree.
Md Milon learned how to weave Jamdani at the age of 7. When he was about 12 or 13 years old, he asked his father to bring him a loom so that he could start his own business.
Quality praised
"I'm doing well now at my own workshop. Now, eight or nine handlooms are running at my workshop," he said, crediting Chinese materials for the success in his Jamdani business.
"The colors we use are different quality colors, different yarns. They all come from China because the quality of Chinese materials is good, so people of our country use more. That's why we use Chinese materials to produce our products."
Female entrepreneur Sultana Jannat Shiksha runs a shop selling indigenous products, notably Jamdani sarees made on handlooms.
"I usually buy Jamdani sarees from this village," she said. "Here, the weavers make Jamdani. I can buy directly from the weavers. I can see the quality myself."
Yarn and other materials, such as nylon and silk thread used in making Jamdani, are usually procured from China, she said.
Weaver and trader Md Asadullah said China's silk yarn is of very good quality. "We get better materials at lower prices from China, and weavers are comfortable working with Chinese materials," he said.
He added that traders would like to take advantage of the duty-free facilities offered by China.
"We want these sarees, produced by us, to be sold in the Chinese market," he said.
Xinhua