UK's Johnson refuses to rule out comeback as he leaves spotlight
Share - WeChat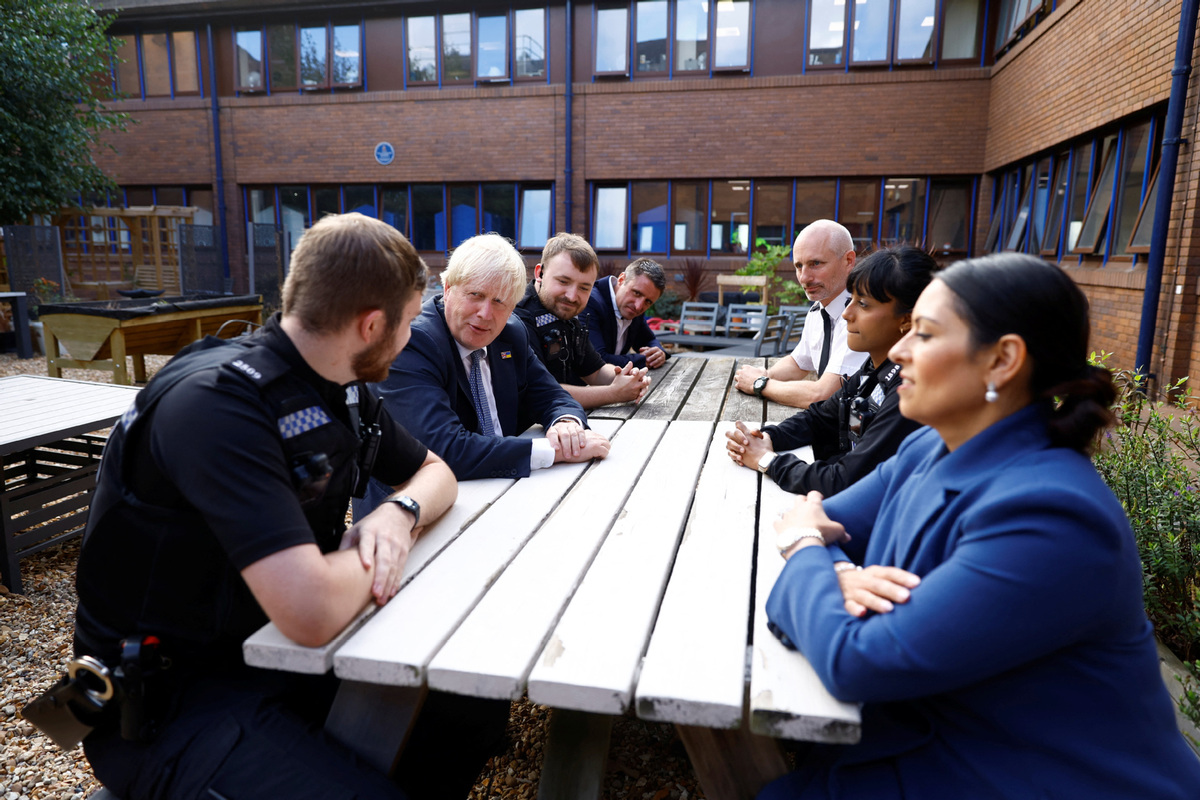 The United Kingdom's departing Prime Minister Boris Johnson, who has been forced to step down after three years in power following a series of scandals, began his final week in office by refusing to rule out a possible future comeback.
While Boris Johnson did not overtly say he would seek a return to 10 Downing Street, he also steadfastly refused to rule one out.
He also said ordinary people were "more interested in their gigabit broadband than they are in the fate of this or that politician".
Johnson made the comments to reporters following him during a final week of tours and visits that The Guardian newspaper described as an attempt to cement his legacy and highlight the achievements of his government.
The paper added that close friends of the outgoing leader have said Johnson believes he was forced out of office prematurely, while he still had work to do, and that lawmakers in his ruling Conservative Party will regret undermining him and triggering a leadership election. That battle is set to end on Monday, when either former chancellor of the exchequer Rishi Sunak or Foreign Secretary Liz Truss will be named his replacement.
The Financial Times said Johnson warned that the nation's next leader will face huge problems because of the high cost of energy and the rampant inflation that has already sparked industrial unrest among workers seeking pay rises that keep up.
"What we've got to do is get through the tough months," he said. "And I'm not going to shrink from this; it is going to be tough in the months to come."
Johnson's refusal to rule out a future bid to return to Downing Street and his friends' comments followed remarks earlier this week from former Cabinet minister Rory Stewart, who said he expects Johnson to try to win a future leadership contest.
"I'm afraid he has an extraordinary ego and he believes that he was badly treated," Stewart said on Radio 4's Today program. "He doesn't see the reality, which is that he was a terrible prime minister and that he lost his job because of deep flaws of character."
Recent polling from YouGov suggests most voters think Conservative Party lawmakers did the right thing when they got rid of Johnson, with 63 percent saying it was the right move, and only 15 percent saying it was not.
Johnson stood down after a series of scandals rocked his credibility, including him being fined for breaking novel coronavirus restrictions on gatherings, and criticism of him promoting a lawmaker who had allegations of sexual impropriety hanging over him.
But some members of his party have pointed out that he was popular among voters who had not previously voted Conservative, and that he led the party to one of its biggest wins in the 2019 general elections.