State companies see stable shipment growth
Share - WeChat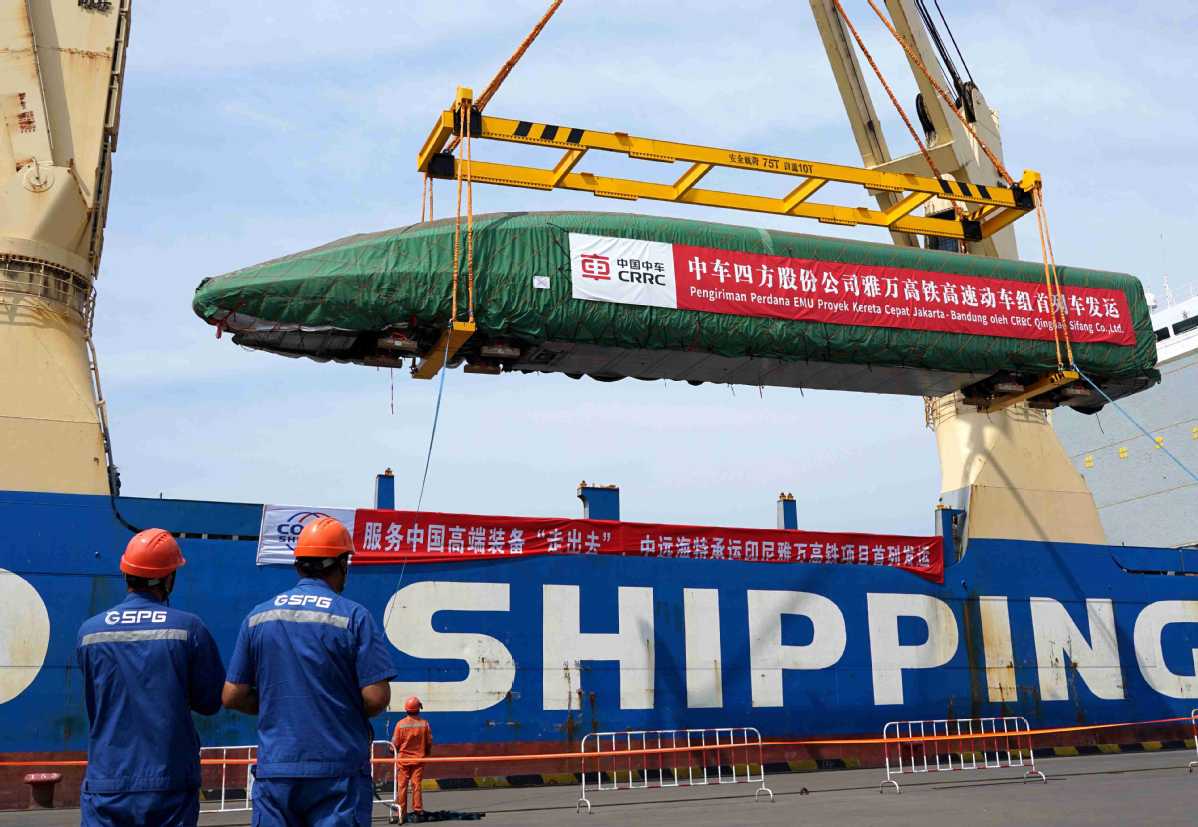 Exports of China's State-owned enterprises are expected to maintain stable growth in the second half as a result of the country's vigorous economic resilience and efforts to ensure smooth operation of global supply chains, experts said.
China's SOEs saw their foreign trade volume grow by 15.2 percent on a yearly basis to 3.2 trillion yuan ($462.47 billion) in the first half, serving as a powerful force to sustain the country's economic growth despite challenges threatening global economic recovery, according to the General Administration of Customs.
Foreign trade of SOEs in Jiangsu province soared 16.8 percent on a yearly basis to 248.18 billion yuan between January and June, while their foreign trade in Shandong province surged 14 percent year-on-year to 135.25 billion yuan.
Such figures have not only boosted confidence of companies from both the private and State-owned sectors in these provinces, but also further supported their opening-up and exports, said Bai Ming, a researcher with the Chinese Academy of International Trade and Economic Cooperation under the Ministry of Commerce.
In one example, CRRC Qingdao Sifang Co Ltd, a Shandong province-based subsidiary of Beijing-based China Railway Rolling Stock Corp, shipped 11 bullet trains and an inspection train last week, customized for the Jakarta-Bandung high-speed railway in Indonesia.
The delivery of the trains will mark significant progress in the construction of the railway, a landmark project under the Belt and Road Initiative. That will lay a solid foundation for the high-quality and on-time completion of the Jakarta-Bandung railway, according to China Railway International, a subsidiary of Beijing-based China State Railway Group, the national railway operator.
The 11 passenger trains, known as electric multiple units (EMU), were designed and manufactured by CRRC Sifang. They have a maximum operating speed of 350 kilometers per hour, and feature advanced technology, safety, intelligence, strong environmental adaptability and distinctive local characteristics, said Zhang Fangtao, chief designer of the trains at CRRC Sifang.
"The EMUs are equipped with 2,500 monitoring points for timely detection, early warning and diagnosis of all key systems," Zhang said. "The inspection train has been designed to provide comprehensive inspection functions for the Jakarta-Bandung high-speed railway, including a diverse array of inspection equipment for track alignment, overhead cables and communications and signaling systems."
With a total length of 142 km, the railway connects Jakarta, the Indonesian capital, and Bandung, a well-known tourist destination in Indonesia.
Aviation Industries Corp of China also delivered two MA600 "Xinzhou" turboprop passenger aircraft to the African country of Malawi in mid-July.
The aircraft took off from Kunming Changshui International Airport in Kunming, Yunnan province, and flew 11,717 km to Malawi, passing over 13 countries, the company said in a statement.
"The fast growth in SOE exports to emerging markets reflects the improving economic and trade ties between China and those economies, and the momentum is expected to continue," said Liang Jun, president of the Guangdong Association of State-owned Capital.
The fast growth was mainly attributable to the removal of supply chain snarls in China and ramped-up production in those economies, which improved demand for raw materials and many intermediate goods from China's SOEs, he added.
COSCO Shipping Specialized Carriers Co Ltd, a subsidiary of Shanghai-based China COSCO Shipping Corp Ltd, the country's largest shipping company by both fleet size and sales revenue, was used by domestic companies to export 467 construction and mining machines, via a specialized carrier, to Kenya, South Africa and other African countries in mid-August. This helped resolve capacity issues on certain shipping routes between China and other countries in recent months.