Modern railway key to Kenya's Vision 2030
Share - WeChat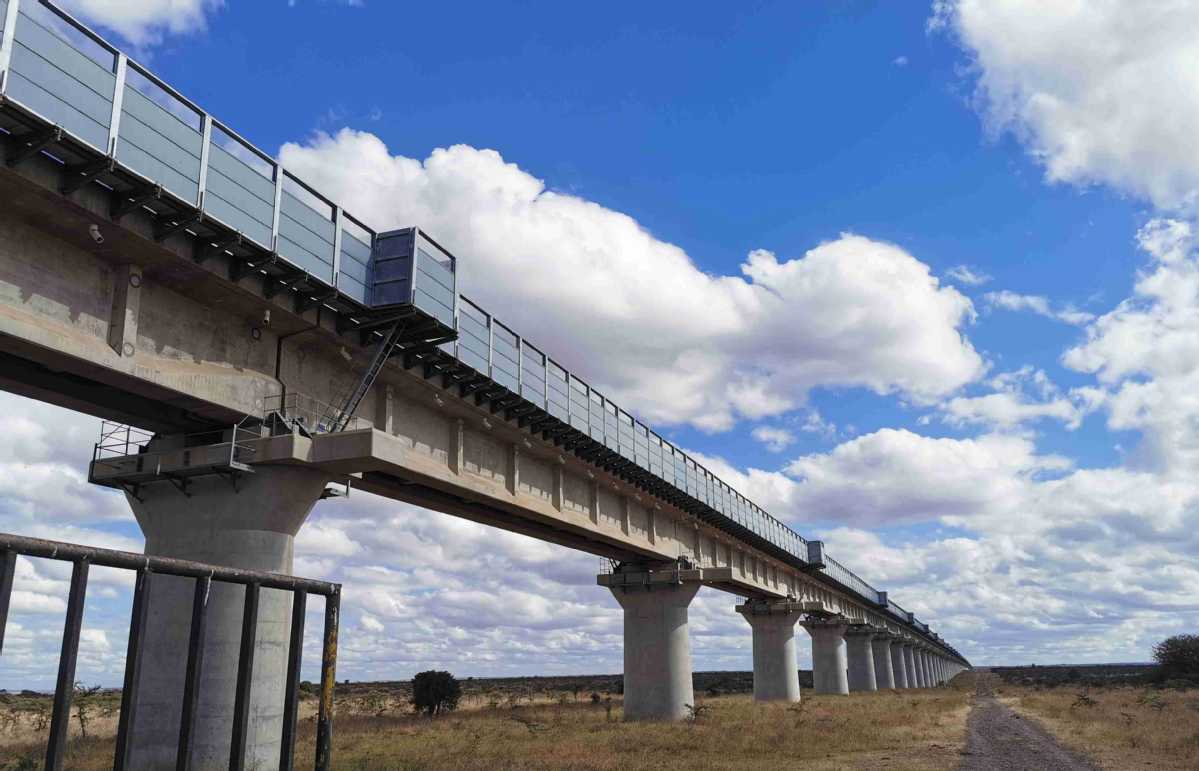 China-built SGR offers efficient, affordable mobility
NAIROBI-As a veteran insurance sales agent, Farahana Mghoi used to spend seven hours on matatus, the public service vehicles in Kenya, from her hometown of Voi in southeastern Kenya to Nairobi, to meet a potential client. It was both slow and tiresome.
Since 2018, time spent on the 328-kilometer journey has been reduced to four hours thanks to the Mombasa-Nairobi Standard Gauge Railway (SGR) passenger train service launched in May 2017.
Financed mainly by China and constructed by China Road and Bridge Corp, the 480-km railway connecting Mombasa, the largest port in East Africa, and Kenya's capital city of Nairobi is a flagship project under the China-proposed Belt and Road Initiative, and is Kenya's largest infrastructure project since its independence in 1963.
Mghoi said the efficient, reliable and affordable mobility, which the SGR has always guaranteed her whenever she travels to meet new clients, has boosted her career.
The SGR has been "an extremely good experience in the last few years", James Macharia, Kenya's Cabinet secretary for transport, infrastructure, housing and urban development, told Xinhua News Agency. "We can expect a lot more profitable operations going forward."
As a strategic infrastructure project, the SGR is aiding the realization of Kenya's two flagship socioeconomic transformation blueprints-Vision 2030 and the Big Four Agenda, said Philip Mainga, managing director of Kenya Railways Corp.
Less road time, more opportunities
With the SGR, Mghoi is able to reach her destinations on time and negotiate potential business opportunities with ease. She said the punctuality has helped her cement trust and confidence with her clients.
Mghoi belongs to the growing Kenyan skilled labor force, entrepreneurs and tourists who have embraced the SGR service.
The Mombasa-Nairobi SGR and the additional 120-km Nairobi-Naivasha SGR have also facilitated the hauling of bulk cargo to the hinterlands.
With the SGR freight service, it takes eight hours to transport bulk cargo like raw materials from Mombasa Port to an inland container depot in Nairobi, as opposed to around two days using the century-old Meter Gauge Railway constructed by British colonists, said Edward Opiyo, terminal manager at Nairobi Freight Terminals Ltd, a logistics firm.
As logistics firms are now able to transport bulk cargo in a speedy, cheaper, efficient and environmentally-friendly manner, they have built cordial relationships with major clients, Opiyo said.
Transit hours and the cost of hauling bulk cargo to neighboring landlocked countries have also been reduced, injecting fresh vitality into regional supply chains, he said.
The SGR has enhanced Kenya's trade with neighboring countries and offers an economic lifeline to member states of the East African community, said Mainga.
In the past five years, the modern railway has transported 20 million metric tons of cargo and about 8 million passengers, elevating Kenya's status as a regional manufacturing, trade and logistics hub, he noted.
"I must say we are lucky. We are doing more exports and diversification of goods than before. We are seeing a dynamic change due to what the SGR is doing in terms of exports," he said.
The Mombasa-Nairobi SGR is projected to contribute 2-3 percent to Kenya's GDP, said Mainga, adding that the railway has become a dominant player in Kenya's pursuit of inclusive growth, as it has revolutionized the transportation of passengers and bulk cargo, stimulated commerce and investments and fostered job creation for local youth.